Global Cases Top 1.5 Million; Singapore Numbers Up: Virus Update
Get regular updates about the spread of the coronavirus and global efforts to contain the crisis here.  
(Bloomberg) -- Global cases of the coronavirus topped 1.5 million, less than a week after surpassing the 1-million mark. New York, the U.K. and Belgium reported their deadliest days so far. Singapore announced its largest daily increase.
The crisis will escalate if countries don't start showing more solidarity, the head of the World Health Organization said, urging the U.S. and China to show "honest leadership" and stop bickering.
U.S. Democrats are seeking at least $500 billion in the next stimulus bill, and Hong Kong announced a fresh package valued at about $18 billion. U.K. Prime Minister Boris Johnson is stable and responding to treatment at a London hospital.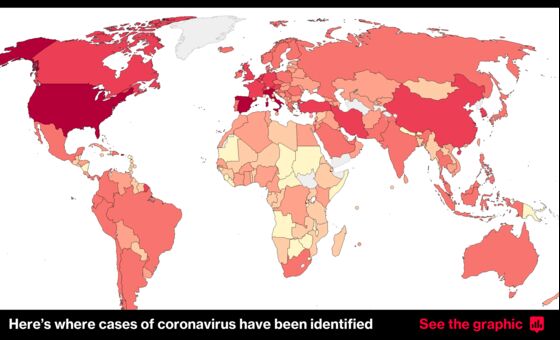 Jack Ma Helps Repair China's Image (8:15 a.m. HK)
China's richest person is now playing a prominent role in philanthropic efforts that are effectively helping President Xi Jinping improve the country's image overseas after Covid-19 spread around the world, unleashing a devastating human and economic toll. That's a stark turn from just 18 months earlier, when Ma had to publicly dispute speculation that the government had prompted him to step down from the e-commerce giant he founded.
Half a Billion People at Risk of Poverty (8:00 a.m. HK)
The economic hit from coronavirus threatens to put more than half a billion people into poverty unless countries take action to cushion the blow, according to a report from the charity group, Oxfam. Under the most serious scenario of a 20% contraction in income, the number of people living in poverty could increase by between 434 million and 611 million, said the report, which is based on an analysis by researchers at King's College London and the Australian National University.
China Has 63 Cases (7:56 a.m. HK)
China had 63 additional confirmed coronavirus cases on April 8, with 61 of them from abroad, according to statement from the country's National Health Commission. There were 56 asymptomatic cases, half of them from overseas.
Singapore Numbers Surge (7:30 a.m. HK)
The city-state reported its largest daily increase in coronaviruscases on Wednesday, just as the country started a partial lockdown. Authorities said there were 142 new cases, bringing Singapore's total to 1,623. An Indian national who died while awaiting his test result was subsequently confirmed to have the infection, according to the Ministry of Health. Investigations are going on to establish the cause of death, it said. If confirmed, that would be the seventh fatality linked to the disease.
Starbucks Sees Six Months of Pain (7:27 a.m. HK)
Starbucks Corp. said a sharp slowdown from the coronavirus pandemic will worsen before getting better, with the financial impact extending as far as September. The company based its assessment on the tentative recovery in the Chinese market, its most important along with the U.S. The coffee chain went through social distancing and mandatory closures in the Asian nation earlier in the year, giving it an early glimpse at how the situation would play out in the U.S. and elsewhere.
Airlines Squeezed By Delays in U.S. Rescue Package (7:13 a.m. HK)
U.S. airlines' desperate bid for $29 billion in government rescue cash is being frustrated by a lengthening process and demands that companies provide more detailed financial information, people familiar with the situation said.
Carriers that filed April 3 for the grants intended to help meet payroll costs expected the checks to begin arriving days ago, said people familiar with the aid discussions. Instead, U.S. Treasury officials have asked for another round of data that appears to be more related to a separate loan process instead of the cash grants, further delaying the relief, the people said.
California Has $1.4 Billion Plan to Buy Medical Equipment (5:17 p.m. NY)
California Governor Gavin Newsom secured a deal to import 200 million masks on a monthly basis for health care workers, grocery store employees and others on the front line of the coronavirus pandemic, part of a $1.4 billion planned investment in personal protective equipment.
Some of that equipment could be shared with other states facing shortages, Newsom said at a press briefing Wednesday,
"California is just uniquely resourced," Newsom said. It can use "the kind of scale that few other states, few other countries can even resource, so we're pleased to do that and it's our responsibility to do more."
U.S. Cases Climb 9.6%, Deaths Top 14,000 (4:20 p.m. NY)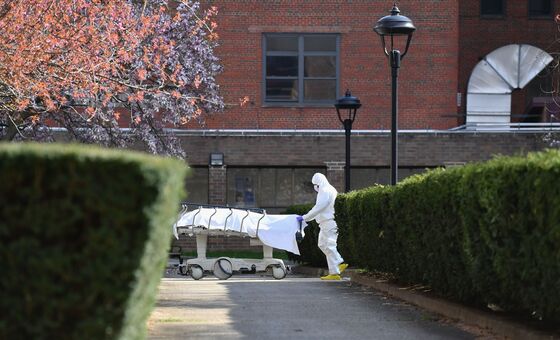 The growth in U.S. coronavirus cases showed signs of slowing Wednesday, even as deaths accelerated in some of the hardest-hit states.
U.S. cases rose 9.6% from the day before to 419,975 as of Wednesday afternoon, according to data compiled by Johns Hopkins University and Bloomberg News. Cases nationally had been climbing an average of 11% a day over the past week. Deaths rose 19% to 14,262.
New York had another day of record fatalities, reporting 779 more deaths. The state has lost more than 1,500 to the virus over the past two days, for a total of almost 6,300. Still, Governor Andrew Cuomo said hospitalizations are falling, showing social distancing is working.
"Nobody is saying we peaked," Cuomo said. "We've flattened the curve for this point of time."
New Jersey reported a record 275 deaths. California also had one of its deadliest days, with 68 fatalities. Illinois had 82.
Michigan, which has the most infections after New York and New Jersey, saw cases increase 7% to surpass 20,000, according to the state health department. Deaths rose by 114 to 959
N.J. Has Record New Deaths (1:36 p.m. NY)
New Jersey reported a second day of record new deaths from Covid-19 and a tapering of infections. Cases rose by 7% to 47,437, the fourth straight day of increases of 10% or less. In the last two weeks of March, New Jersey saw daily increases from 20% to 82%. Governor Phil Murphy reported 275 new fatalities since yesterday, the biggest one-day increase since the crisis began.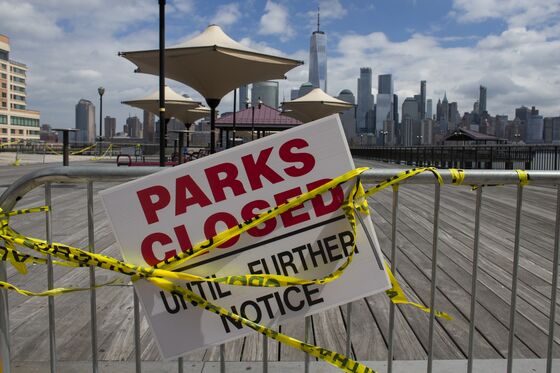 N.Y. Reports Record 779 Daily Deaths (1:36 p.m. NY)
New York suffered another day of record fatalities from the coronavirus outbreak, reporting 779 additional deaths even as hospitalizations declined.
"The number of deaths will continue to rise as those hospitalized for a period of time pass away," Governor Andrew Cuomo said Wednesday at his daily virus briefing. The state has lost more than 1,500 people to the virus in the last two days, for a total of almost 6,300.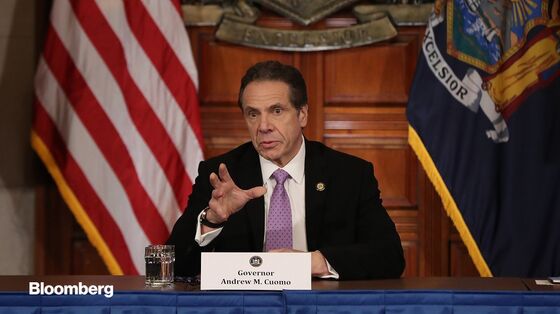 WHO Says World Must Pull Together (1 p.m. NY)
The coronavirus crisis will escalate if countries don't start showing more solidarity, the head of the World Health Organization said, urging the U.S. and China to show "honest leadership" and stop bickering.
"If you don't want many more body bags, then you refrain from politicizing it," Director-General Tedros Adhanom Ghebreyesus said at a briefing in Geneva Wednesday. "No using Covid-19 to score political points."
When asked about President Donald Trump's threat to cut funding and claim that the WHO favors China, Tedros said the WHO tries to treat everyone equally, and the WHO will do an assessment of its successes and failures. He urged the U.S., China, Group of 20 countries and the rest of the world to come together and fight.
"For God's sake, we have lost more than 60,000 citizens of the world," he said. "Even one person is precious."
'Too Early' for Europe to Start Easing Restrictions, Agency Says (12:47 p.m. NY)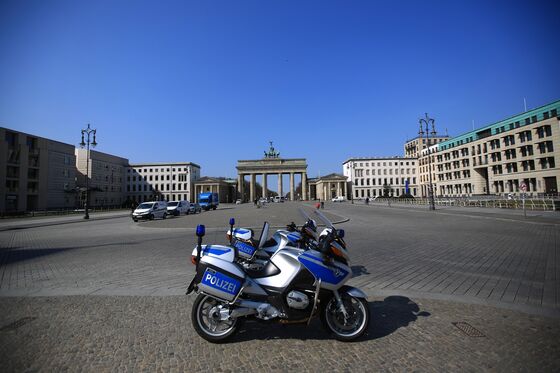 The European Centre for Disease Prevention and Control warned Europe not to rush into lifting restrictions that are helping slow the spread of the pandemic.
"Based on the available evidence, it is currently too early to start lifting all community and physical distancing measures" in Europe, the agency said in its latest risk assessment. "Sustained transmission of the virus is to be expected if current interventions are lifted too quickly."
U.K. Announces New High for Fatalities (12:02 p.m. NY)
The U.K. reported a further 938 deaths from the coronavirus on Wednesday, up from yesterday's record daily total of 786.
In total 60,733 people have tested positive for the illness, up from 55,242 reported on Tuesday, according to the latest figures from the Department of Heath and Social Care. The day's figures indicate a slight increase in the rate of growth.
Some 14,682 tests were conducted in the country on April 7, more than the 14,006 conducted the day before. The U.K. aims to conduct 100,000 tests a day by the end of April, seeking to replicate the mass screening seen in countries such as South Korea and Germany.
EU Plans to Prolong External-Border
Closure

Until May 15 (11:45 a.m. NY)
The European Commission proposed prolonging until May 15 a ban on most travel into the European Union. Maintaining the restriction on non-essential travel into the bloc for another 30 days is necessary to contain the spread of the coronavirus, the commission said in a recommendation that needs the approval of member-country governments.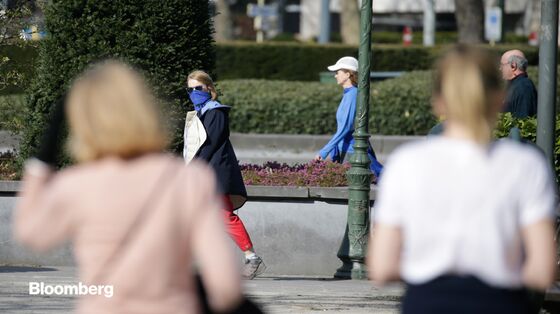 EU Braces for Arrival of 8,000 Cruise-Ship Passengers (11:00 a.m. NY)
Eleven cruise ships carrying around 8,000 passengers in total will arrive at European Unions ports between April 8 and 11, the European Commission said. The EU laid out guidelines for member nations on handling the travelers, saying ships with passengers known to be infected with the coronavirus should be directed to ports close to hospitals with adequate capacity.
De Blasio Says Distancing Eases Ventilator Demand (10:55 a.m. NY)
New York City's social-distancing strategy appears to be working, and one result is less demand for ventilators than had been projected, Mayor Bill de Blasio said.
The city had estimated that it would need as many as 300 more of the life-saving machines this week to treat coronavirus patients but has needed to add only 100, de Blasio said Wednesday at his daily virus briefing. It has 5,500 in all.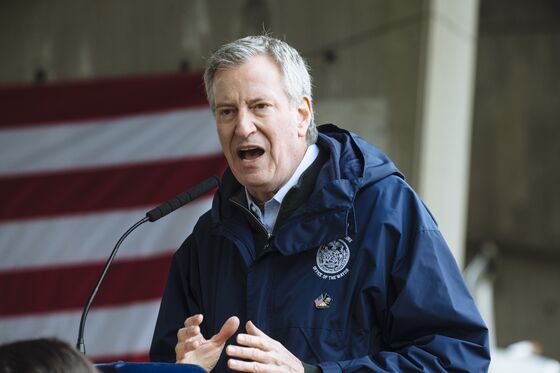 Statewide, the infection rate has begun flattening, even as the death count rises.
EU Working for Coordinated Ends to Members' Lockdowns (10:40 a.m. NY)
The European Commission is trying to coordinate how member states end lockdowns following criticism that the bloc's initial response to the pandemic was chaotic. An internal draft of a memo seen by Bloomberg sets out conditions for easing to begin as well as other steps that be needed, such as expanding testing capacities and using apps to gather data. The adoption of the plan has been pushed back, according to commission spokesman Eric Mamer, who told journalists in Brussels that timing is a "tricky issue" since countries are at different stages of the outbreak.
Oktoberfest in Doubt as Germany Sees Lasting Impact (8:59 a.m. NY)
Bavaria's state premier cast doubt over the annual Oktoberfest, offering an idea of how long German authorities expect the pandemic to upend social life. Markus Soeder, a political ally of Chancellor Angela Merkel, told the Bild newspaper that a decision will be taken in June, but that widespread travel and border openings by then are "very unlikely." The traditional beer festival, which draws millions to the Bavarian capital of Munich, is scheduled to start Sept. 19 and last two weeks. If it takes place at all, "it will be under completely different conditions," Soeder told Bild.
India's Most Populous State Seals 15 Districts (8:23 a.m. NY)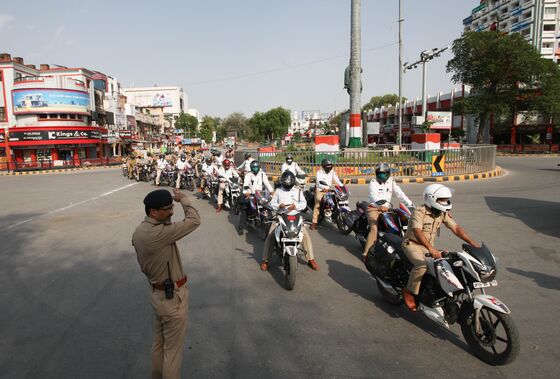 India's most populous state, Uttar Pradesh, has sealed off 15 of its districts worst affected by infections. The state has so far recorded 326 infections and three deaths. India has had total infections of 5,360 and 164 deaths, according to data from Johns Hopkins University. A 21-day national lockdown ends April 14.
Boris Johnson is Stable, Responding to Treatment (7:54 a.m. NY)
U.K. Prime Minister Boris Johnson is in a stable condition in intensive care and is "responding to treatment" for a severe coronavirus infection, his spokesman said. Johnson was taken into St Thomas' hospital in London on Sunday and moved to the critical care unit on Monday after struggling to shake off the symptoms, including a cough and a fever.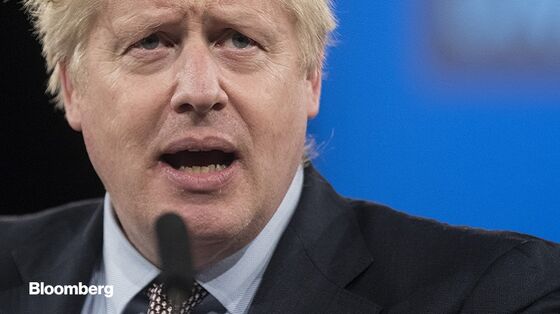 Democrats Seek At Least $500 Billion in Next Stimulus Bill (7:36 a.m. NY)
Democrats want $250 billion in small business aid, with $125 billion channeled through community-based financial institutions that serve farmers, family, women, minority and veteran-owned cos, House Speaker Nancy Pelosi and Senate Democratic leader Chuck Schumer said in a joint statement.
Hong Kong Unveils Virus Relief Package (6:33 a.m. NY)
Hong Kong Chief Executive Carrie Lam announced a fresh government stimulus package worth about HK$137.5 billion ($17.7 billion) to support the city's deteriorating economy. The spending package will include an HK$80 billion job security program to subsidize 50% of wages for affected workers for six months.
WHO Says Lifting Lockdowns May Be Premature (6 a.m. NY)
"To think we're close to an endpoint would be dangerous," Hans Kluge, the World Health Organization's regional director for Europe, said at a briefing. Sweden is showing a fresh surge in cases, while the WHO is concerned about a dramatic increase in Turkey, he said. Countries should not lower their guard, he said.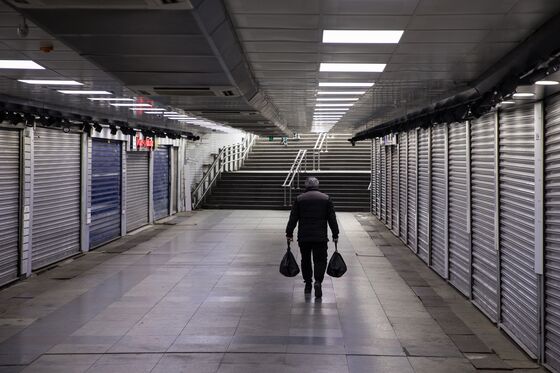 "We have got to ensure that the public understands we're moving to a new phase," said Bruce Aylward, one of the WHO's top officials who recently led a mission to Spain. Countries need to make sure they're hunting the disease down, because the key to eradication is testing patients, isolating them and tracing their close contacts. Some restrictions may need to continue for some time while others are gradually loosened, he said. "It's not lifting lockdowns and going back to normal. It's a new normal."
With assistance from Bloomberg