U.S. Cases Rise 5.7% as Trump to Pause Immigration: Virus Update
(Bloomberg) -- President Donald Trump said he'll suspend legal immigration for 60 days to help Americans put out of work by the virus. The Senate passed a $484 billion pandemic relief package and the House could take it up as soon as Thursday.
Singapore, once a standard bearer for taming the virus, reported more than 1,000 cases for a second day and will extend its partial lockdown for four more weeks. Recoveries in Italy almost surpassed new cases for the first time.
Germany reported the smallest increase in infections this month. Still, Munich's Oktoberfest festival was canceled for the first time since World War II, a sign that life won't return to normal for months. The Running of the Bulls in Pamplona, Spain, was also suspended.
Subscribe to a daily update on the virus from Bloomberg's Prognosis team here. Click VRUS on the terminal for news and data on the coronavirus.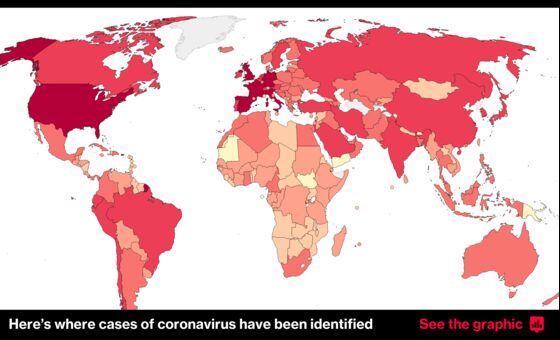 Top Health Official Sees Improvement Across U.S. (6:40 a.m. HK)
Almost all major U.S. metropolitan areas are seeing improvements in their outbreaks, said Deborah Birx, a top health official on the Trump administration's coronavirus task force. Cases appear to be flattening in areas including Chicago and Boston, while New Orleans is back to its baseline for infections, Birx said at the daily White House briefing. Philadelphia, Houston, Atlanta and Nashville are also among cities improving, she said.
The Washington, D.C., region is one where "we don't see a decline yet," Birx said. Nursing homes in rural areas are also seeing outbreaks.
USNS Comfort to Leave N.Y. (6:20 a.m. HK)
President Donald Trump said the Naval hospital ship the USNS Comfort will return to Virginia, where it's based, after it was sent to New York City to supplement the health-care system and add capacity following the surge in coronavirus cases last month.
Trump said at his daily press conference that he discussed the matter with in a meeting Tuesday with New York Governor Andrew Cuomo, who Trump said agreed to returning the ship.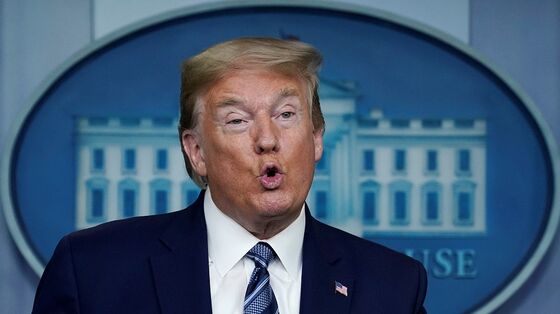 Trump to Ask Big Companies to Repay Aid (6:15 a.m. HK)
President Donald Trump said he'll ask larger companies to return money they accessed from the federal stimulus package because it was intended to help small businesses.
Trump, speaking Tuesday at a White House press conference, criticized Harvard University's endowment for borrowing more than $8 million through the program.
"They shouldn't have taken it," Trump said. "And they're going to pay back that money."
Speaking at the same press conference, Treasury Secretary Steven Mnuchin threatened "severe consequences" for those who take money from the program without meeting the criteria and fail to return it.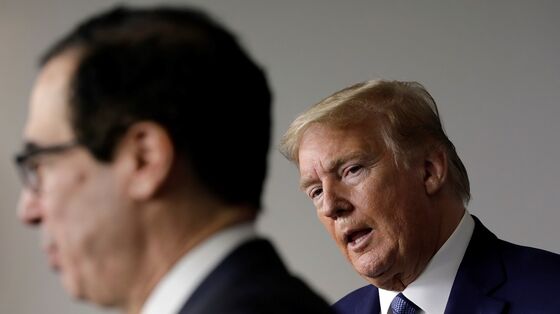 Senate Passes Third Virus Package (5:30 p.m. NY)
The U.S. Senate passed $484 billion in new pandemic relief funds Tuesday to bolster a tapped-out small business aid program, pay for coronavirus testing and help hospitals deluged by sick patients.
The legislation, which the House could take up as early as Thursday, includes $320 billion for the Paycheck Protection Program designed to help struggling small businesses keep their workers on the payroll. The program has already committed all of the $350 billion allocated when it was created just weeks ago.
The Paycheck Protection Program "is already helping millions of small-business employees receive paychecks instead of pink slips," Senate Majority Leader Mitch McConnell said in a statement before the voice vote.
President Donald Trump said he would sign the legislation and then turn to the next round of stimulus for an economy that has ground to a halt.
South Africa Sets Up Aid Package (5 p.m. NY)
South Africa's government unveiled a 500 billion rand ($26 billion) package to shore up an economy devastated by the fallout from the coronavirus pandemic and support those who've been worst affected.
The plan will be funded by reprioritizing 130 billion rand of expenditure from existing budgets, and borrowing from domestic and international lenders, President Cyril Ramaphosa said Tuesday in a televised address to the nation. There will be 200 billion rand in guarantees for banks to encourage them to lend, a 100 billion-rand allocation to protect and create jobs and an additional 50 billion rand for welfare grants for the poor and unemployed, he said.
"The coronavirus pandemic requires an economic response equal to the scale of the disruption it's causing," Ramaphosa said. "The scale of this emergency relief program is historic. It demonstrates that we will not spare any effort or any expense in our determination to support our people and protect them from harm."
South Africa has been relatively spared the worst of the ravages of the pandemic -- it's had 3,465 infections and 58 fatalities so far. Still, a lockdown aimed at curbing the spread of the disease and preventing the health system from being overwhelmed is damaging the economy, with the central bank expecting it to contract 6.1% this year.
Netflix, Chipotle Gain on Lockdown (4:50 p.m. NY)
Netflix Inc. added nearly twice as many subscribers as predicted in the first quarter, cementing its role as one of the rare companies to benefit from the global health crisis. Netflix added a record 15.8 million paid subscribers during the first quarter, almost double the 8.47 million forecast by Wall Street analysts. The company also clobbered its own forecast of 7 million, with droves of new customers binge-watching "Tiger King" or "Love Is Blind" to ride out the quarantine.
Chipotle's loyalty program is helping it connect with customers as digital sales grew 80%. It's had to temporarily close about 100 restaurants, primarily those inside malls and shopping centers, as well as some locations in Europe. It withdrew its earlier guidance for the fiscal year, citing the uncertainty related to the virus. The company has enough cash on hand for over a year, so it doesn't plan to tap the government's Paycheck Protection Program, it said in reporting first quarter results.
Treasury Has Used Half of Relief Fund (4:40 p.m. NY)
The U.S. Treasury has deployed more than half of the Coronavirus Relief Fund, which provides for payments to state, local, and tribal governments.
As of Monday, $81.9 billion had been used this month, according to the daily Treasury statement. The $150 billion fund was established to help lessen the economic impact of the Covid-19 outbreak. The pandemic has crushed sources of tax revenue for states and municipalities at a time when resources, including paramedics and hospitals, are being committed to combat the threat to public health.
U.S. Confirmed Cases Rise 5.7% (4 p.m. NY)
U.S. cases rose 5.7% from the day before to 810,561, the biggest daily increase since April 10, according to data compiled by Johns Hopkins University and Bloomberg News. That topped Monday's growth rate of 2.7% and the average daily increase of 4.4% over the past week.
In New York, the epicenter of the U.S. outbreak, cases rose 3.5%.
New Jersey reported a one-day record of 379 new deaths, bringing total fatalities in the second hardest-hit state to 4,753. New Jersey cases rose 3.9%.
California had a 7.4% increase in positive cases from Monday, Governor Gavin Newsom said. The state reported 60 deaths, a 5% increase. Hospitalizations climbed 3.3%, with intensive-care patients up 3.8%.
Texas reported its first bump in new cases in five days, with a 38% increase to 738, according to the state's health department. Total cases are now just under 22,000.
Florida reported 27,495 cases, up 3.1%, from a day earlier. Deaths reached 839, an increase of 6.3%.
Panel Warns on Trump-Backed Drug Combo (2:28 p.m. NY)
A panel of medical experts convened by the U.S. National Institutes of Health recommended against the use of a drug combination touted by President Donald Trump for Covid-19 patients.
The NIH panel, made up of 50 doctors, pharmacy experts and government researchers and officials, specifically recommended against the use of the anti-malaria drug hydroxychloroquine in combination with the antibiotic azithromycin. The malaria pill can cause heart issues, and the NIH panel warned of the potential for harm from the combination.
Trump has repeatedly backed the use of the drugs on Twitter and at numerous briefings of the Coronavirus Task Force, though some medical experts in his administration have cautioned about the lack of evidence.
Netherlands to Reopen Primary Schools (2 p.m. NY)
The Netherlands will reopen primary schools and daycare centers starting May 11 while all other measures constituting what Prime Minister Mark Rutte has called an "intelligent lockdown" are extended until at least May 19. The ban on mass events, including professional football, was extended until Sept. 1.
French ICU Patients at Lowest in 3 Weeks (2 p.m. NY)
France reported the number of patients in intensive care due to the coronavirus outbreak fell to the lowest in three weeks, while new deaths linked to the virus declined from a day earlier.
Patients in intensive care dropped by 250 to 5,433, Director General for Health Jerome Salomon said in a Tuesday briefing in Paris. The number of ICU patients, which Salomon has said is an indicator of the outbreak's impact on the country's hospital system, fell for a 13th day to the lowest since March 30.
Texas Cases Rise 38% (1:30 p.m.)
Texas reported its first bump in new cases in five days, with a 38% increase to 738, according to the state's health department. The jump came a day after testing almost doubled to more than 15,000. Total cases now stand at just under 22,000.
Deaths in the Lone Star State edged higher to 22 on Tuesday, bringing the total to 517. The Houston and Dallas metropolitan areas have accounted for more than half the fatalities so far, although that is based on incomplete figures because not every death is geographically tagged in the state's database.
There are about 1,400 patients in Texas hospitals and more than 6,200 ventilators still available, according to the state.
U.K. Vaccine Trials Begin Thursday (12:49 p.m. NY)
The U.K. will give 40.5 million pounds ($50 million) to vaccine development projects, with human trials beginning Thursday, according to Health Secretary Matt Hancock.
Of that amount, 20 million pounds will go to the University of Oxford to fund clinical trials while 20.5 million pounds will go to development projects at Imperial College London, he said.
Italy Recoveries Almost Surpass New Cases (12:15 p.m.)
Italy reported an almost equal number of virus recoveries and new infections on Tuesday as Prime Minister Giuseppe Conte draws up a plan to cautiously extricate the country from a nationwide lockdown.

There were 2,729 new cases of the disease, compared with 2,256 a day earlier, the first increase in five days, according to the civil protection agency. The number of freshly recovered patients was 2,723 over the past 24 hours, a daily record. Confirmed cases now total 183,957.
Cuomo Prods U.S. for Test Supplies (12:11 p.m. NY)
Hours before meeting President Donald Trump, New York Governor Andrew Cuomo said that while it may be states' responsibility to organize virus testing, the federal government needs to handle international supply-chain issues.
His comments address a touchy subject between the two politicians. Trump has repeatedly said that states should be in charge of the testing needed to reopen their economies. Cuomo said he plans to ask Trump to take charge of getting manufacturers to provide testing supplies and feeding them to the states, and the states can take it from there.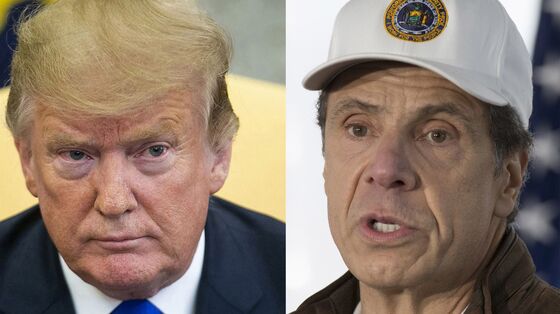 Florida Cases Rise 3.1% as Reopening Looms (11:46 a.m. NY)
Florida reported 27,495 Covid-19 cases Tuesday, up 845, or 3.1%, from a day earlier. Deaths reached 839, an increase of 6.3%.
For most of April, coronavirus cases in Florida have increased at a clip of about 1,000 a day, and have shown some signs of slowing in recent days.
Governor Ron DeSantis, a Republican, has seized upon the numbers as he began holding meetings this week of his "Re-Open Florida Task Force." Addressing the group on a conference call Monday, DeSantis said the premise of shutting down the state was to avoid overwhelming the health-care system. That has been accomplished, he said.
N.Y to Allow Elective Outpatient Treatment (11:15 a.m. NY)
New York state will begin allowing elective outpatient surgery in some areas as coronavirus hospitalizations level off, Governor Andrew Cuomo said Tuesday.
The state will allow outpatient treatments in counties and hospitals that don't have a significant risk of a virus surge in the near-term, mostly outside the New York City region, Cuomo said in his daily press briefing. Outpatient services won't put any strain on hospital beds, the governors said.
Deaths in New York rose 481 yesterday to 14,828 in total, while hospitalizations were basically flat, Cuomo said. The death rate has slowed over the past few weeks.
U.K. Parliament Agrees to Virtual Sittings (11:06 a.m. NY)
Britain's House of Commons agreed to new rules allowing members to take part in proceedings remotely during the lockdown. The chamber, often packed because it's too small for its 650 members, will now be restricted so only 50 people can be present at a time.
Benches have been blocked off to keep those present at least 6 feet (1.8 meters) apart and other MPs will be able to ask questions using Zoom. Speaker Lindsay Hoyle will continue to chair proceedings from the chamber. Plans for virtual voting are still being worked up.
Running of the Bulls Suspended (10:40 a.m. NY)
The Spanish city of Pamplona suspended the week-long San Fermin festival set for July that includes the world famous running of the bulls.
"As much as it was expected, it gives us great sadness," the city's acting mayor, Ana Elizalde, said in a statement, adding that it's too early to know if the event will be rescheduled. The city's actual mayor, Enrique Maya, is at home, recovering from COVID-19 "little by little."
As the event traditionally draws thousands of visitors from around the world, the city said it's launching a campaign with videos to honor the tradition.
Humanitarian Fund Is Short (9:22 a.m. NY)
The heads of 15 international organizations, including the World Health Organization, wrote an open letter to the donor community saying a United Nations effort to raise $2 billion to help fight Covid-19 in the most vulnerable countries has so far raised only about a quarter of the goal. The World Food Programme needs more money to help pay for flights and shipments of medical supplies, and any delay may undermine efforts to control the coronavirus, the letter said.
EU Set to Prolong PPE Export Curbs (9:20 a.m. NY)
The European Union plans to prolong curbs on the export of personal protective equipment while narrowing the scope, EU Trade Commissioner Phil Hogan said. The restrictions, due to lapse on Saturday after six weeks, will be extended for 30 days, Hogan told a video-conference with the European Parliament's trade committee. The current measures require an authorization for the export outside the bloc of goods including masks, gloves and garments.
Home Testing Kit Gets U.S. Approval (9:05 a.m. NY)
Laboratory Corp. of America Holdings gained U.S. authorization for the first home-testing kit for Covid-19. Patients will collect samples from their noses and send them to LapCorp for testing, the Food and Drug Administration said in a statement Tuesday.
The kits are expected to be available in most states with a doctor's order in the coming weeks, according to the FDA. The agency said it worked with LabCorp to ensure the tests are as accurate as those done in a doctor's office or hospital.
Pandemic Hits U.S. Earnings (9:04 a.m. NY)
HCA Healthcare Inc. suspended its quarterly dividend program and withdrew its outlook.
Philip Morris International Inc. abandoned its 2020 earnings guidance as the coronavirus outbreak weighs on duty-free tobacco sales, while Coca-Cola Co. said the impact of the pandemic on the second quarter will be "material." International Business Machines Corp. shares fell after the company reported a drop in first-quarter revenue and pulled its full-year earnings outlook.
A UBS model suggests that U.S. companies' earnings-per-share estimates for the next 12 months could be slashed by almost 15% in the coming eight weeks.
Schumer Says Aid Deal Reached; White House Says It's Close (9:03 a.m. NY)
Senate Democratic leader Chuck Schumer said Tuesday his party's congressional leaders and the Trump administration reached a tentative deal on an emergency economic rescue package that will replenish a tapped-out small business aid program and provide money for coronavirus testing and overwhelmed hospitals.
An administration official said Tuesday the sides were "very close" to a deal. A Senate Republican aide said no agreement had been reached yet.
U.K. May Post 'Modest Contraction' in First Quarter: Haldane (8:46 a.m. NY)
Economic figures for the first half of the year will probably be "very ugly," Bank of England Chief Economist Andy Haldane said in a podcast with the Institute for Government. He said the second quarter will show a sharper contraction, and those patterns will be replicated across the world.
Separately, Prime Minister Boris Johnson's spokesman, James Slack, told reporters on Tuesday that the government is standing by its testing target. At the beginning of April, Health Secretary Matt Hancock had pledged to get the daily testing rate up to 100,000. While capacity is now closing in on 40,000, a fourfold increase since the start of the month, finding people to test is proving more problematic.
"Clearly we need to make sure that that capacity is being used and that's what we're working on," Slack said.
Netherlands New Cases Fall to Lowest Since March 23 (8:12 a.m. NY)
The Netherlands reported 729 new cases, the least in nearly a month, bringing the total up 2% to 34,134. Deaths rose by 4% to 3,916, while reported hospital admissions increased 1%, the RIVM National Institute for Public Health and the Environment said in its daily update.
Prime Minister Mark Rutte will announce late Tuesday whether lockdown measures in the country will be relaxed.
EU Health Commissioner Urges Caution (7:20 a.m. NY)
Governments in the European Union mustn't be complacent even if the number of infections is stabilizing, EU Health Commissioner Stella Kyriakides said, urging caution in easing lockdown measures. Quick, uncoordinated exits risk jeopardizing the sacrifices of citizens and medical staff, she told members of the European Parliament's health committee.
The EU is also boosting efforts to develop a vaccine. European Commission President Ursula von der Leyen will host an online pledging conference on May 4 to help fill funding gaps and mobilize investment necessary for research into effective therapeutics.
In a video-conference with his counterparts from Germany and Austria, Swiss Foreign Minister Ignazio Cassis called on neighbouring countries and the EU to proceed in a coordinated manner to ease restrictions as quickly as possible, according to a statement by the Bern-based government on Tuesday
Virus May Only Be a 'Blip' in German Mortality Rate (6:40 a.m. NY)
The new coronavirus will barely cause a "blip" in German mortality statistics if the country is able to keep its spread under control as well as it is now, the country's public-health authority said.
"If we continue to control the virus as well as is currently the case, then we probably will barely see the effect on total deaths," said Lars Schaade, vice president of the Robert Koch Institute. "This is different in other countries with a very large number of cases." Schaade warned against complacency, saying Germans must keep up their guard until a vaccine is found. Some 95,200 people in Germany have recovered from the virus, more than any other nation, while 4,862 have died.
More European Countries Ease Lockdowns (6:20 a.m. NY)
Serbia eased one of Europe's strictest coronavirus lockdown regimes, allowing small businesses to reopen and relaxing a daily curfew that had kept most citizens indoors since mid-March. In Croatia, citizens can now move within their county of residence and Slovenia opened some businesses on Monday, while Greek Prime Minister Kyriakos Mitsotakis will next week provide details on a plan for a return to normalcy.
Oil Meltdown Spreads Beyond Expiring Contracts (6 a.m. NY)
The meltdown in oil markets widened, with huge losses spreading beyond contracts affected by technical anomalies as the world runs out of places to store unwanted crude. West Texas Intermediate crude for May delivery plunged below zero on Monday for the first time in history, but the panic selling spread to the June contract on Tuesday, which briefly dropped as much as 42% to $11.79 a barrel.
The widening of the price collapse to futures that aren't close to expiry underscored the severity of the crisis in the oil market. Storage tanks, pipelines and tankers are rapidly being overwhelmed by a vast oversupply caused by slumping fuel demand as countries are locked down to slow the spread of the coronavirus.
Earlier, Brent crude futures dropped below $20 a barrel, the lowest since 2002.
With assistance from Bloomberg