Pfizer Booster Nears U.S. Approval; N.Y. Warning: Virus Update
Track the global Covid-19 pandemic and vaccination efforts here.
(Bloomberg) -- Booster shots of the Pfizer Inc.-BioNTech SE vaccine for all U.S. adults could win Food and Drug Administration approval as soon as Thursday, the New York Times reported. An advisory panel of the Centers for Disease Control and Prevention is set to discuss the matter on Friday.
Pfizer sought emergency approval of its Covid-19 pill for high-risk patients in the U.S. as the Biden administration laid plans to buy 10 million courses of the treatment. The company separately agreed to let generic-drug makers produce inexpensive versions of the therapy for lower-income nations.
New York City opened the New Year's Eve celebration in Times Square to vaccinated revelers, having limited access to front-line workers last year, while the state's governor warned that restrictions could be imposed if new cases continue to climb.
As authorities across Europe tried to control a new surge, Ireland and Germany headed toward new restrictions on movement, Spain's Basque Country reimposed some curbs on large gatherings, and Ireland expanded booster eligibility.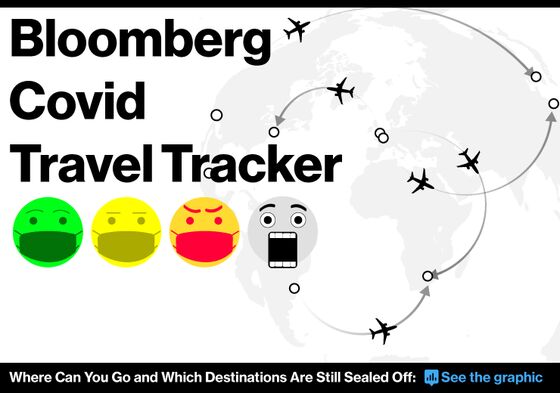 FDA Set to Approve Pfizer Booster for Adults (5:23 p.m. NY)
The U.S. Food and Drug Administration plans to authorize booster shots of the Pfizer-BioNTech Covid-19 vaccine for all adults as early as Thursday, the New York Times reported, citing unidentified sources.
GOP-Majority Court to Weigh Biden Rule (4:15 p.m. NY)
A federal appeals court in Cincinatti has won the lottery to handle the consolidated case challenging the Biden administration's emergency regulation requiring large employers to mandate that their workers either get vaccinated against Covid-19 or test regularly.
The case will go to a panel of three judges from the U.S. Court of Appeals for the Sixth Circuit, a federal panel on multidistrict litigation announced Tuesday. The majority of judges in that circuit were appointed by Republican presidents.
CDC Panel to Meet on Pfizer Booster Eligibility (4:02 p.m. NY)
An advisory panel of the Centers for Disease Control and Prevention scheduled a meeting for Nov. 19 to discuss expanding booster eligibility for the vaccine produced by Pfizer Inc. and BioNTech SE. The third shots currently are authorized for people 65 and older, as well as those 18 and up at high risk of getting a severe case.  
New York Governor Warns of More Restrictions (3:32 p.m. NY)
New York Governor Kathy Hochul urged people who live in areas with high transmission rates to get the booster, as cases rise across the state.
"We are heading into a vulnerable time," she said. "We are seeing the spikes go up." 
People should start avoiding large indoor gatherings, Hochul said at a briefing, adding that the state could implement harsher restrictions if cases continue to increase. "The warning is going out loud and clear today," she said.
Five regions in the state have infection rates of more than 50 cases per 100,000 residents, up from one region a week ago, she said. The seven-day average positivity rate topped 8% in Western New York and the Finger Lakes. Hospitalizations have topped 2,000 statewide and are increasing.
Pfizer Seeks Pill Approval for High-Risk (3:17 p.m. NY)
Pfizer Inc. asked U.S. regulators for emergency-use authorization for high-risk patients of its Covid-19 pill. The drug, Paxlovid, blocks a crucial enzyme that's key to coronavirus replication and would be the first of its kind if cleared, Pfizer said. It could be prescribed for home use, unlike most other treatments.
The company said it would invest as much as $1 billion to support manufacturing and distribution. It has launched rolling submissions in other countries, including the U.K. Australia, New Zealand and South Korea.
Ireland Imposes New Restrictions (2:07 p.m. NY)
Bars and restaurants must close by midnight, cinemas and theaters must require proof of vaccination and people should work from home where possible, under measures announced by Irish Prime Minister Micheal Martin to contend with surging infections and rising hospitalizations.
"If the number of Covid infections and hospitalizations continues to grow at the rate we are currently seeing, no health system anywhere in the world would be able to cope," Martin said in a national address.
Household contacts of anyone infected will have to restrict their movement for five days and complete an antigen test, under the new initiative. The government also extended a booster program to all people age 50 and over and to anyone with an underlying health condition.
U.S. to Buy 10 Million Pfizer Treatments (1:49 p.m. NY)
The Biden administration plans to buy 10 million treatments of Pfizer Inc.'s Covid-19 pill. The company plans to submit data for the pill, administered twice a day for five days, to U.S. regulators by Thanksgiving.
Texas, Louisiana Sue Over Health-Worker Rule (12:27 p.m. NY)
Louisiana and Texas filed separate suits seeking to block a federal vaccine mandate for employees at hospitals, hospices, skilled nursing facilities and home health agencies.
The mandate is a "one-size-fits-all sledgehammer" that will force workers to choose between their jobs and "the jabs," according to the Louisiana complaint, which was joined by Montana, Arizona, Alabama, Georgia, Idaho, Indiana, Mississippi, Oklahoma, South Carolina, Utah and West Virginia.
The requirement, issued by the Centers for Medicare and Medicaid Services, will worsen staffing concerns, especially in nursing homes and rural communities, Texas said. 
Washington, D.C., to Scrap Mask Mandate (12:07 p.m. NY) 
Washington, D.C., will lift its indoor mask mandate Nov. 22, nearly four months after the order was imposed because of a spike in cases.
"Instead of following a blanket mandate, residents, visitors and workers will be advised to follow risk-based guidance from D.C. Health that accounts for current health metrics and a person's vaccination status," Mayor Muriel Bowser said in a statement.
Masks still will be required in some locations, such as schools, public transportation, nursing homes and district government facilities where there is direct interaction between employees and the public.
Mexico Expands Teenager Vaccinations (11:47 a.m. NY)
Mexico will make vaccinations available to children age 15 to 17 without underlying health conditions. Pre-registration will begin Friday.
"Between 10 and 14 years mortality is very low, after 15 years there is an increase in mortality, although it is still low," virus czar Hugo Lopez Gatell said. The country has sought to reverse judicial rulings that open vaccination to children between 12 and 17.
New Zealand Issues Vaccine Passes (11:28 a.m. NY)
Vaccine passes were made available for the more than 3.4 million New Zealanders who are fully vaccinated, Covid-19 Response Minister Chris Hipkins said.
The pass can be downloaded to a phone or printed out. It can be used to attend hospitality settings, retail establishments, community and sporting events, religious gatherings and other functions. Vaccination status isn't required at supermarkets, pharmacies, health services and other essential establishments.
NYC Opens Times Square for New Year's Eve (11:20 a.m. NY)
New York City will open Times Square on New Year's Eve to fully vaccinated revelers, after limiting the celebration last year to front-line workers. 
This year, those too young to be get a shot must be accompanied by a vaccinated adult, said Tom Harris, president of the Times Square Alliance. Visitors who aren't able to get vaccinated because of a disability will need to provide proof of a negative Covid-19 test and wear a mask if able.
"New York City is back," Mayor Bill de Blasio said. "We want to show the world we're back."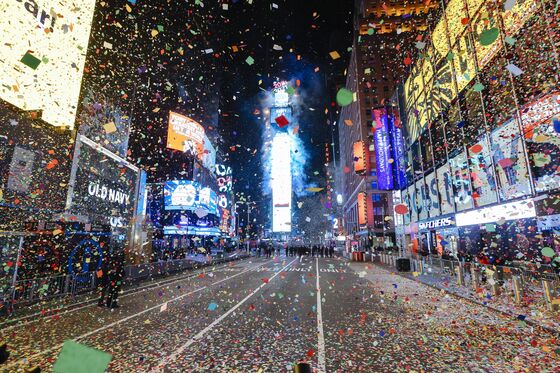 Ireland Allows Boosters for People Over 50 (10:57 a.m. NY)
Ireland will offer boosters to people over 50, the Health Ministry said. Individuals age 16 and older with underlying conditions, as well as residents of long-term health facilities also will be eligible. Recipients must have their vaccine shot at least five months ago.
Spain's Basque Region to Limit Large Crowds (8:02 a.m. NY)
Basque Country reimposed some restrictions on large gatherings as infection rates rise, the first Spanish region to do so since curbs were eased earlier in the year.
In municipalities where the infection rate is above 150 per 100,000 inhabitants, the government will limit large public sports or other events where people can eat or drink, regional health chief Gotzone Sagardui said. The region will request permission from the Basque Supreme Court to implement a Covid passport requirement for access to restaurants and night clubs, she said. 
"We have to reinforce the measures so that we do not have to take a step back," Sagardui said. "We have to be vigilant." The region's infection rate rose this week to the highest in two months.
Pfizer Allows Generic Versions of Pill (6:45 a.m. NY)
Pfizer Inc. reached a licensing agreement that will allow generic-drug manufacturers to produce inexpensive versions of its Covid-19 pill for 95 low- and middle-income countries, following a similar move by Merck & Co.
Pfizer said it had signed an agreement with the United Nations-backed Medicines Patent Pool to license the experimental pill, once it is authorized by regulators, to generic companies that can supply it to countries that account for roughly 53% of the world population. 
With assistance from Bloomberg