U.S. Cases Up 0.6%; California Hospital Use Drops: Virus Update
Catch the latest updates on the coronavirus pandemic from across the world here.
New infections in Florida slowed to the lowest level since mid-June, a sign the outbreak is easing after a summer spike. Arizona, another U.S. Sun Belt state coping with a surge in infections, reported no deaths for the second time in a week.
Scientists in Hong Kong confirmed the first case of coronavirus reinfection. Moderna Inc. said it's near a deal to supply at least 80 million vaccine doses to the European Union, as the spread of cases accelerates across Europe.
U.S. President Donald Trump said a treatment based on blood plasma donated by people who've recovered from Covid-19 will be expanded, even before researchers fully understand how well it works.
Subscribe to a daily update on the virus from Bloomberg's Prognosis team here. Click CVID on the terminal for global data on coronavirus cases and deaths.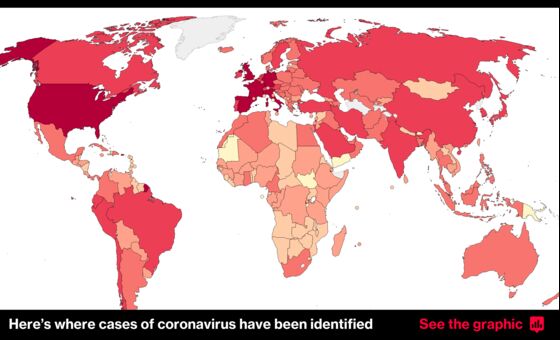 Puerto Rico Representative Tests Positive (5 p.m. NY)
Jenniffer Gonzalez, Puerto Rico's non-voting delegate to the U.S. House of Representatives, said she has tested positive for Covid-19 and acknowledged that she should have practiced social distancing during the island's gubernatorial primary election this month.
In a message posted on her Facebook page, Gonzalez said she might have caught the virus at the Aug. 16 victory party for Pedro Pierluisi, the candidate she is backing for the Nov. 3 governor's race. She said she is asymptomatic and will isolate herself for two weeks.
California Improves; Fires Hamper Testing (4:45 p.m. NY)
California Governor Gavin Newsom said the state is seeing progress "across the spectrum" in its virus fight, even as wildfires raging in the San Francisco Bay Area spur evacuations and affect testing.
The state reported 4,946 new cases Monday, a 0.7% increase and well below the 14-day average of 7,622. There were 18 additional deaths, compared with its two-week daily average of 128, but those figures tend to be lower on Mondays because of delays in reporting over the weekend.
Hospitalizations from the virus decreased 2.1% to 4,467 patients, the lowest since late June, and are down 20% over a 14-day period, Newsom said at a briefing. The average rate of positive tests over the past week has reached 5.6%, compared with more than 7% last month.
Newsom said virus testing has been disrupted by the wildfires, with 11 state labs "impacted very directly" by the blazes. Still, the state is testing more than 100,000 people a day.
South Africa's Outbreak Slows (4:35 p.m. NY)
South Africa is "over the plateau" in its outbreak, said Salim Abdool Karim, the chairman of the Ministerial Advisory Committee on the virus, said durin ga briefing Monday.
While new cases doubled every two days in March, that rate has now slowed to doubling in as many as 79 days, Karim said. Hospital admissions in all of South Africa's nine provinces have declined, and the testing positivity rate now averages about 13%, from a peak of 27% in the week ended July 23.
U.S. Cases Rise 0.6% (4 p.m. NY)
Coronavirus cases in the U.S. increased 0.6% as compared with the same time Sunday to 5.72 million, according to data collected by Johns Hopkins University and Bloomberg News. The increase was lower than the average daily gain of 0.8% over the past week. Deaths rose by 0.2% to 176,991.
Florida reported 602,829 cases, up 0.4% from a day earlier, compared with an average increase of 0.7% the previous seven days. Deaths reached 10,397, an increase of 72, or 0.7%.
Arizona reported no new Covid-19 deaths for the second time in a week. New cases rose by 311 to 198,414, a 0.2% increase compared with the 0.3% average of the prior seven days. The death toll remained at 4,771.
Hawaii experienced a 3.8% increase in the number of cases, bringing the total to 6,600, according to the data from Johns Hopkins and Bloomberg News.
French Cases Drop After Weekend Spike (2:50 p.m. NY)
France reported 1,955 new Covid-19 cases over the past 24 hours, less than half the previous day's figure that was a four-month high.
Monday's number was well below the 4,897 recorded a day earlier and fit into a recent pattern of lower new cases at the start of each week. Fatalities rose by 15 in the past 24 hours to a total of 30,528, according to a health ministry statement.
Germany to Scrap Test Requirements for Travelers (2:20 p.m. NY)
Germany plans to scrap a requirement for people returning from high-risk areas to be tested for the coronavirus as capacity is stretched.
Such travelers will still be subject to a two-week quarantine, which can be ended after five days if a test result shows they don't have the virus, state health ministers said Monday in a joint statement. The officials favor making the change in mid-September or the start of October.
Testing materials and staff are tight across Germany, Dilek Kalayci, the top health official for the state of Berlin, said in the statement. The changes also reflect the decline in travel at the end of the summer holiday season as well as preparation for dealing with the pandemic later this year, according to the statement.
Spanish Infections Drop From Near Four-Month High (12:30 p.m. NY)
Spain's coronavirus infections fell on Monday after cases spiked in recent weeks in regions including Madrid and Catalonia.
The country recorded 2,060 infections in the past 24 hours, down from 3,349 on Friday, according to Health Ministry data published on Monday. New cases rose to a near four-month high last week. The ministry doesn't disclose virus data over the weekend and the number of infections recorded on Mondays tends to be lower than on most other days.
SeaWorld to Reopen in San Diego (12:15 p.m. NY)
SeaWorld Entertainment Inc. is reopening its San Diego theme park on a limited basis starting Aug. 28, a key milestone in the company's efforts to recover from Covid-19 shutdowns.
Guests will be able to see shows featuring killer whales, dolphins and sea lions while chowing down on brisket sliders and craft beers.
N.Y. Infection Rate Hits New Low (11:50 a.m. NY)
The infection rate in New York state as of Sunday was 0.66%, the lowest since the start of the pandemic, New York Governor Andrew Cuomo said Monday.
Of the more than 62,000 tests conducted, 408 were positive as of Aug. 23, he said. The number of hospitalizations was 482, and there were seven virus-related deaths.
State officials are monitoring an increase in positive Covid-19 cases in Western New York. Cuomo said there have been clusters at a steel plant in Erie County, a food-processing factory in Chautauqua County, and two nursing homes in that region. The five-day average of new daily cases is up to 63 from 34 a week ago in the Buffalo region, Cuomo said.
Arizona Again Reports No Deaths (11:30 a.m. NY)
Arizona on Monday reported no new Covid-19 deaths for the second time in a week. New cases rose by 311 to 198,414, a 0.2% increase compared with the 0.3% average of the prior seven days. The death toll remained at 4,771.
Dutch Issue Quarantine For Spain, France (11:15 a.m. NY)
The Netherlands has raised its travel advisory level for all of Spain, including the Canary Islands, to orange, triggering a 10-day quarantine for visitors returning from the region.
The warning will be implemented midnight local time and also applies to Monaco, the Sarthe and Herault en Alpes Maritimes regions in France, and the Scottish city of Aberdeen. The travel advisories for Paris and the Bouches-du-Rhone region around Marseille in the south of France were already raised to orange just over a week ago.
Florida Reports Fewest Cases Since June (11 a.m. NY)
Florida reported 602,829 Covid-19 cases on Monday, up 0.4% from a day earlier, compared with an average increase of 0.7% in the previous seven days. The daily increase of 2,258 was the least since June 15.
Case numbers are typically lower in the early part of the week due to reduced lab hours on weekends, but the seven-day rolling case total fell to the lowest since June 24, according to the health department report, which includes data through Sunday.
The new daily rate of people testing positive for the first time fell to 5.2% for Sunday, down from 5.7% a day earlier. The 5% reading for Friday was also the lowest since mid-June.

Deaths among Florida residents reached 10,397, an increase of 72, or 0.7%, and the seven-day rolling total was under 1,000 for the third straight day. Deaths often trail infections by weeks, and generally take even longer to be reflected in the data.
Zurich Tightens Limits (10:55 a.m. NY)
Authorities in Zurich, Switzerland's most populous canton, or state, announced new limits on large gatherings in response to an uptick in Covid-19 infections. Events such as theater performances, concerns, church services and private parties will be limited to 100 participants unless masks are worn. As of Thursday, people in shops will also be required to wear masks.
Duke Sports Will Start Without Fans (10:30 a.m. NY)
Duke University will begin its fall sports season without spectators at home events, the school announced Monday.
Contests played on Duke's campus in Durham, North Carolina, will only include essential game management and broadcast media, Duke said in a statement.
Moderna Near Deal to Supply EU With Vaccine (9:20 a.m. NY)
Moderna Inc. said it plans to provide 80 million doses of its experimental coronavirus shot to the EU. The U.S. biotech company has finished talks with the European Commission over a potential agreement, which includes an option for EU member states to purchase an additional 80 million doses, according to a statement Monday.
Hong Kong Reports First Coronavirus Re-Infection (7:33 a.m. NY)
A man was infected with the coronavirus after recovering from an initial bout in April in what scientists said was the first case showing that re-infection may occur within a few months. The 33-year-old's second SARS-CoV-2 infection was detected via airport screening on his return to Hong Kong from Europe this month. Researchers at the University of Hong Kong used genomic sequence analysis to prove that he had been infected by two different strains. The information technology worker didn't develop any symptoms from his second infection, which might indicate any "subsequent infections may be milder," the researchers said.
With assistance from Bloomberg