U.S. Cases Climb 1.1%; NYC, N.J. Openings Advance: Virus Update
Track the latest news and updates on the coronavirus pandemic from across the globe here.
(Bloomberg) -- New Jersey's nonessential businesses will reopen on June 15 and New York Mayor Bill de Blasio said he hoped to begin outdoor dining in July, further signs that the regional economy is slowly emerging from a three-month lockdown.
The U.S. is developing a test to check for both seasonal influenza and Covid-19, which could help authorities determine whether there is a second wave of coronavirus later this year.
China will ease its ban on foreign airlines starting Monday after the Trump administration threatened curbs on Chinese carriers.
Subscribe to a daily update on the virus from Bloomberg's Prognosis team here. Click VRUS on the terminal for news and data on the coronavirus. For a look back at this week's top stories from QuickTake, click here.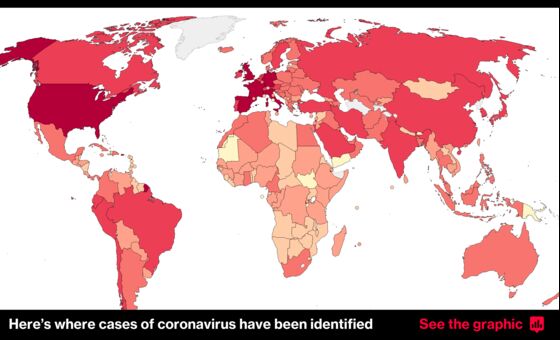 Portugal Economy to Shrink 6.9% (4:50 p.m. NY)
Portuguese Prime Minister Antonio Costa forecast the economy will shrink 6.9% this year after the coronavirus outbreak forced confinement measures and shut some businesses.
The government plans to help companies with more financing and incentives, Costa said in Lisbon. It will also increase some benefit payments, with unemployment expected to rise to 9.6% by the end of the year.
The prime minister said that anti-virus measures that remain in place in the Lisbon region may be lifted on June 15. The government last week delayed the planned reopening of malls in Lisbon after recording new clusters of the virus outbreak near the city.
Peru to Reopen More Industries (4:45 p.m. NY)
Peru authorized more parts of the economy to reopen even as virus deaths approached 5,000 and hospitals in Lima begin running low of oxygen for patients.
Industries from road building to beer making and printing were cleared to restart along with inter-provincial transport services, according to a decree on Thursday. President Martin Vizcarra said the move would see 80% of the economy reopened, up from 55%.
The country has become a virus hot spot, with the most cases in Latin America after Brazil and total deaths approaching 5,000.
U.S. Cases Rise 1.1% (4 p.m. NY)
Coronavirus cases in the U.S. increased 1.1% as compared with the same time Wednesday, to 1.86 million, according to data collected by Johns Hopkins University and Bloomberg News. That was in line with the average increase over the past seven days. Deaths rose 0.9% to 107,685.
New York cases rose 0.3% to 375,133, compared with the average of 0.4% over the past seven days, according to the state's health department.
Florida reported 60,183 cases, up 2.4% from a day earlier, compared with an average increase of 1.6% in the previous seven days. Deaths reached 2,607, an increase of 1.4%.
California cases rose 1.8% to 119,807 while deaths rose 1.4% to 4,422, according to the state's website.
Study on Risks Tied to Malaria Drug Retracted (3:30 p.m. NY)
A study that said a malaria drug backed by U.S. President Donald Trump raised the risk of heart side effects and death has been retracted by the authors.
The study published two weeks ago in the prestigious Lancet U.K. medical journal had raised questions about the accuracy of the underlying data, said researchers said in retraction note published Thursday.
While Surgisphere Corp., the company behind the data on hydroxychloroquine and chloroquine, had signaled it would cooperate with an independent review, it reneged, citing confidentiality agreements, the study's authors wrote. "As such, our reviewers were not able to conduct an independent and private peer review," the authors said.
NBA Sets to Resume Play July 31 (2:45 p.m NY)
Professional basketball is on track to restart its season July 31 at Walt Disney World in Orlando, Florida, more than four months after halting play. In a 29-1 vote, the National Basketball Association's owners approved a plan to have 22 of the league's 30 teams start play at at the theme-park complex, according to the New York Times.
The NBA, which suspended games on March 11, is seen as a bellwether for much of the sports world. The National Basketball Players Association will meet Friday to ratify the plan.
N.J. Sets Retail Reopening June 15 (2:20 p.m. NY)
New Jersey's nonessential retail businesses can open starting June 15, Governor Phil Murphy said, with stores limited to 50% capacity and customers required to wear face coverings.
"Social distancing must remain our routine," Murphy said. "We will take a big step forward in our restart and our recovery."
The coronavirus has put more than one in nine state residents out of work since mid-March. New Jersey's death toll rose by 92 to 11,970 while the number of virus cases increased 603 to 162,530.
Nevada Reopens Casinos (2:145 p.m. NY)
Casinos in Nevada reopened Thursday following a nearly three-month shutdown due to the coronavirus, and some properties let guests in right after midnight.
Videos posted online showed more than 100 people tumbling into the D Las Vegas casino downtown. Go-go dancers wearing masks could also be seen amid fairly busy tables. Caesars Entertainment Corp. welcomed guests into Caesars Palace for a ribbon cutting.
The Nevada Gaming Control Board said resorts should operate at no more than 50% of capacity on their gambling floors.
U.S. Acts to Clean Up Jumbled Data (1:30 p.m. NY)
The U.S. Department of Health and Human Services introduced new guidance to provide a better picture of Covid-19 testing efforts, particularly in terms of race, gender and ZIP code.
The quality of government data has been faulted for months, particularly as evidence emerges that minority communities have been affected the most by the virus. The new guidance standardizes reporting of test data to the Centers for Disease Control and Prevention, including on fields such as gender and type of test performed. Laboratories must comply by Aug. 1.
Brett Giroir, a top HHS official who oversees testing efforts, said that "most of these fields are not reported at all by hospital labs and rarely by large commercial labs," which have performed the bulk of thet U.S. testing.
CDC Says Face Coverings Remain Key (12:50 p.m. NY)
Masks and face coverings remain an important tool to stop spread of the coronavirus, the director of the Centers for Disease Control and Prevention told Congress, adding that he's worried that some Americans appear to be ignoring the advice.
"We continue to see this as a critical public health tool," CDC Director Robert Redfield said in Washington Thursday. Responding to questions about large public gathers of unmasked people, he said that, "obviously we're very concerned that our public health message isn't resonating."
Redfield said the agency would continue to try and push the message that people should wear marks: "We're going to continue to try to figure out how to get more and more people to embrace it."
Italy Has Fewest Cases Since February (12:47 p.m. NY)
Italy registered 177 new Covid-19 cases, down from 321 on Wednesday and the fewest since Feb. 26. Total cases climbed to 234,013. Deaths were 88 up from 71 on Wednesday for a total of 33,689.
Nine regions reported no daily cases, while Lombardy added 84 infections.
N.Y. Expands Test Criteria After Protests (11:45 a.m. NY)
New York Governor Andrew Cuomo, noting people demonstrating over the death of George Floyd may have become infected, said the state's testing criteria has been expanded to cover the protesters.
"If you went to a protest, get a test," Cuomo said. "Act as if you may have been exposed."
Cuomo said the state had 52 new deaths in the past day, up slightly from Wednesday, but the said the overall decline "is still in a positive direction." Cases rose 0.3% in the past 24 hours, below the 0.4% seven-day average.
Florida Cases Jump Most Since May 21 (11:40 a.m. NY)
Florida reported 60,183 Covid-19 cases, up 2.4% from a day earlier, compared with an average increase of 1.6% in the previous seven days. It was the biggest increase since the May 21 report and the second straight day with an increase above 2%. Deaths reached 2,607, an increase of 1.4%,
Governor Ron DeSantis has blamed "data dumps" for momentary upticks in the numbers. Indeed, the data showed 38,220 test results received Wednesday, the third-highest level in the past two weeks, in which the daily range is 11,303 to 41,561. Among those results, the positivity rate was 5.3%, in line with the 4%-8% range in the past two weeks.
The state started its phased reopening on May 4.
NYC Targets July for Outdoor Dining (11:30 a.m. NY)
New York Mayor Bill de Blasio is targeting a July reopening of outdoor dining. The mayor, preparing for the June 8 start of the first phase of reopening, said he anticipates reaching the second phase in July. Restaurants are a key part of the city's economy, de Blasio said at a press briefing.
AstraZeneca Signs Vaccine Deals (11:15 a.m. NY)
AstraZeneca agreed on a $750 million deal with the Coalition for Epidemic Preparedness Innovations and Gavi the Vaccine Alliance to support making and distributing 300 million doses of a Covid-19 vaccine, with delivery starting by the end of the year.
The drugmaker also announced a licensing agreement with the Serum Institute of India to supply 1 billion doses for low- and middle-income countries, with 400 million before the end of 2020.
Astra said it has now global supply capacity to exceed 2 billion doses of Oxford University's Covid-19 vaccine.
CDC Developing Dual Flu-Coronavirus Test (10:27 a.m. NY)
The U.S. Centers for Disease Control and Prevention is developing a test that can check for seasonal influenza and Covid-19 infections at the same time, the agency's director said in testimony to Congress.
Symptoms of the two illnesses are similar, and when seasonal influenza season arrives later this year it will be important for public-health authorities and health workers to be able to differentiate between the two viruses. Such a test would help determine whether Covid-19 infections are experiencing a second wave, or if patients are showing up with normal seasonal flu.
CDC Director Robert Redfield announced the plan in prepared testimony to Congress ahead of a hearing on the agency's budget later Thursday in Washington.
Top German Banking Regulator Warns on Defaults (9:37 a.m. NY)
Banks need to brace for a second wave of loan defaults next year, Germany's top financial regulator said on Thursday, adding that the continent's lenders will see the bulk of the challenges posed by Covid in the next two quarters. The longer-term effects of the crisis will be drawn out and could lead to another peak in 2021, Bafin President Felix Hufeld said at a virtual event hosted by Bloomberg.
With assistance from Bloomberg