N.J. Surge on Track to Echo N.Y.; Italy Cases Slow: Virus Update
Governor Andrew Cuomo of New York said the stimulus package working its way through Congress is inadequate. He also restricted access to a malaria drug that President Donald Trump has touted as a treatment for the novel coronavirus.
Russian President Vladimir Putin postponed a public vote on constitutional changes next month that would allow him to rule to 2036. In Brazil, President Jair Bolsonaro, echoing Trump, urged the country to resume normal life to protect the economy.
Cases top 458,000; 20,807 dead, 113,687 recovered: Johns Hopkins
Trump will stop using the term 'Chinese virus,' easing blame game
Tokyo asks people to stay inside as new cases spur lockdown risk
India locked down, U.K. shuts Parliament; Iran, Singapore tighten curbs
Fired Americans send state unemployment websites crashing
World leaders get sweeping powers they may never give up
The humming of Chinese plants returns as rest of world reels
Subscribe to a daily update on the virus from Bloomberg's Prognosis team here.
Click VRUS on the terminal for news and data on the coronavirus and here for maps and charts. For analysis of the impact from Bloomberg Economics, click here. To see the impact on oil and commodities demand, click here.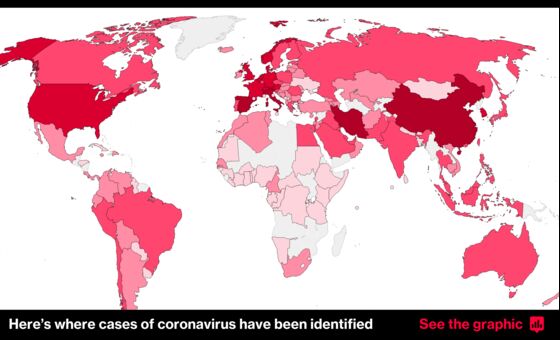 California in Deal With Banks for Mortgage Relief (4:50 p.m. NY)
Wells Fargo & Co., US Bancorp, Citigroup Inc. and JPMorgan Chase & Co. have agreed to a 90-waiver of residential mortgage payments for Californians affected by the virus, Governor Gavin Newsom said. He also is considering a state-wide moratorium on evictions, a move some cities and counties have already made.
"We'd reserve the right to look at a state overlay," Newsom said at a briefing. "We have a team reviewing the legal parameters of that issue."
There have been 2,535 confirmed cases in the most populous U.S. state, a 17% increase from Tuesday, Newsom said. He praised the stimulus bill being considered by Congress and said more help will be needed, noting that one million Californians have filed for unemployment insurance since March 13.
N.J.'s Virus Numbers on Track to Echo N.Y.'s (4:20 p.m. NY)
Northern New Jersey is on track for the kind of viral surge that New York is experiencing, the state's health commissioner said on Wednesday.
Judy Persichilli said the trends in her state were tracking those of neighboring New York, which projects a peak infection rate in 14 to 21 days.
"When we see this peak in New York, I think we can expect Bergen, Essex and Hudson counties will follow the trends," she said at a news conference in Trenton on New Jersey's response to the pandemic.
U.K.'s Johnson Threatens Action to Stop Profiteering (4 p.m. NY)
U.K. Prime Minister Boris Johnson said he's considering making profiteering illegal as Britain battles the coronavirus, following reports that some firms had been hiking prices on essential products.
"We are looking very carefully at what's going on," Johnson said at a press conference Wednesday. "I do not want to see people exploiting peoples' need at a critical time, a national emergency."
WHO: Countries Wasted Time Amid Spread (2:52 p.m. NY)
The world squandered a window of opportunity to fight the coronavirus and many actions should have been taken one or two months ago, according to World Health Organization Director-General Tedros Adhanom Ghebreyesus.
Worldwide lockdowns have created a second window of opportunity that shouldn't be wasted, he said at a press briefing in Geneva. There are 150 countries with fewer than 100 reported cases, he said, adding that those in lockdown should use this time to contain the virus.
"The last thing any country needs is to reopen schools and businesses only to close them again because of resurgent cases," he said.
New Cases Decline in Italy (1:50 p.m. NY)
Italy reported that new coronavirus cases fell on Wednesday, after nearly three weeks of lockdown measures. There were 5,210 new cases, compared with 5,249 a day earlier.
Fatalities from the disease over the past 24 hours totaled 683, compared with 743 on Tuesday, according to figures from the civil protection agency. Confirmed cases in the country now total 74,386.
The news came as the government broadened rules that shield companies from hostile takeovers as the virus takes a heavy toll on the economy.
Cuomo: Stimulus a 'Drop in the Bucket' (12:54 p.m. NY)
The stimulus package working through Congress is "terrible" for New York state, the epicenter of the coronavirus pandemic in the U.S., Governor Andrew Cuomo said.
The $2 trillion in aid approved by the U.S. Senate includes $3.8 billion for New York state and $1.3 billion for New York City, Cuomo said, which he called a "drop in the bucket." Lost tax revenue will cost the state as much as $15 billion, he said.
Cuomo has been a chief critic of the Trump administration's response to the coronavirus outbreak, demanding Trump invoke his national-security authority to speed production of ventilators and other medical equipment.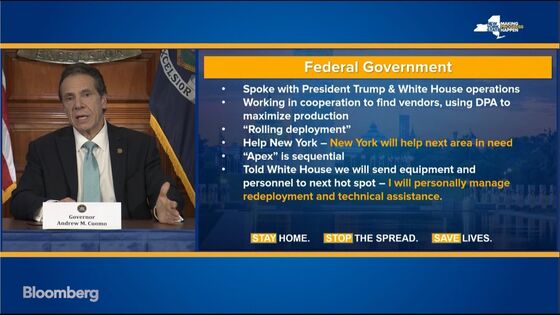 N.Y. Restricts Access To Malaria Drugs (12:15 p.m. NY)
New York Governor Andrew Cuomo joined other states in restricting access to malaria treatments that President Donald Trump has touted for the novel coronavirus despite a lack of proof they will work.
Cuomo updated an executive order Monday evening to block pharmacists from filling prescriptions for the malaria drugs chloroquine and hydroxychloroquine for any uses not approved by the Food and Drug Administration unless it is for a patient who has tested positive for Covid-19 and is part of a clinical trial. The medications are not approved to treat coronavirus.
The government doesn't typically impose on the practice of medicine. Doctors are typically allowed to prescribe drugs for any illness or condition, not just those a specific medication is approved to treat. Ohio, Texas, Idaho and Nevada have also moved to limit access to the drugs.
Most NYC Covid-19 Dead Had Other Health Problems (11:30 a.m. NY)
Ninety-five percent of New York City's almost 200 deaths from the new coronavirus had underlying health conditions, though almost half were under the age of 75, according to data published by the city's health department on Tuesday.
The deaths, as well as data on cases and hospitalizations, mimic the patterns found in other cities with major outbreaks. New York City had more than 15,000 Covid-19 cases as of 5 p.m. Tuesday, the largest outbreak in the U.S.
Signs of Slowing Spread in Netherlands (10:49 a.m. NY)
New hospitalized cases of the coronavirus in the Netherlands seem to be leveling off after a recent rise, according to the RIVM National Institute for Public Health and the Environment.
That may indicate a decrease in the rate at which the virus is spreading in the Netherlands, RIVM said in its daily update, adding that the next few days should show whether the curve is really flattening.
The daily tally of confirmed cases rose 15% to 6,412. That compares with a rise of 17% on Tuesday.
Home-Testing Kits Coming to U.K. (10:34 a.m. NY)
Sharon Peacock, director of the U.K.'s National Infection Service, said 3.5 million virus home-testing kits have been ordered and will be available in days once scientists in Oxford have finished evaluating them for public use.
The blood tests, which check for antibodies, will be sold via Amazon and pharmacy chains so people can test themselves, Peacock told a panel of lawmakers in Parliament. Prime Minister Boris Johnson's government has been criticized for not carrying out enough testing during the coronavirus crisis.
U.K.'s Sunak to Detail Support for Self-Employed (10:34 a.m. NY)
U.K. Chancellor of the Exchequer Rishi Sunak on Thursday will announce a package of assistance for self-employed Britons. It'll be Sunak's fourth emergency package to help British companies and workers cope with the economic fallout from the coronavirus pandemic. Last week, he guaranteed 80% of the wages of those with jobs that are at risk because of the outbreak.
Prime Minister Boris Johnson's spokesman also said authorities will crack down on people profiteering from the coronavirus crisis.
Putin Delays Vote on Plan to Stay in Power (9:50 a.m. NY)
President Vladimir Putin postponed a public vote on constitutional changes next month that would allow him to rule to 2036 as Russia attempts to stem the spread of the coronavirus.
Putin, who has promised Russians final say on amendments to the constitution he has rushed through, said the vote planned for April 22 would be rescheduled at a later date.
Saying Russia couldn't cut itself off from the pandemic, he said that people wouldn't work next week, though workers would still get paid. He announced the delay during a hastily arranged national address Wednesday.
Though its totals remain well below those in some big European countries, Russia reported that coronavirus cases jumped by a third over the past day to 658.
Ackman Puts Part of His Fortune in Covid-19 Testing (9:04 a.m. NY)
Billionaire Bill Ackman said he invested a portion of his personal wealth to help manufacture antibody testing kits produced by Covaxx, a newly formed subsidiary of closely-held United Biomedical Inc.
Ackman has repeatedly called for a complete shutdown of the U.S. for 30 days to help combat the spread of the virus. He has also called for antibody testing, like the one Covaxx develops, across the country to determine who has already contracted the virus.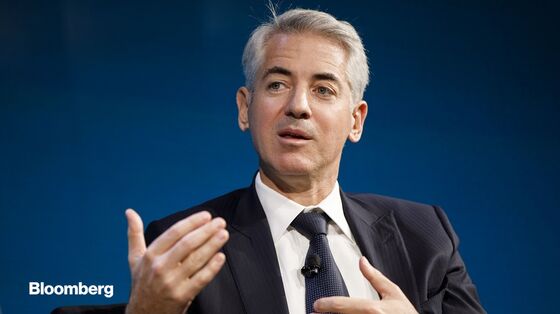 Bullard Says 2Q Will See Most Pandemic Disruption (8:52 a.m. NY)
St. Louis Fed President James Bullard told CNBC the second quarter is likely to see the most disruption from the coronavirus outbreak, but the economy should bounce back by year's end. "If we can get this to work right, everything will snap back to normal once this is over," he said.
Bullard tempered earlier remarks predicting that the U.S. unemployment rate may hit 30% in the second quarter. "This number will be unparalleled, but don't get discouraged."
Switzerland Expands Entry Curbs (8:47 a.m. NY)
Switzerland on Wednesday stepped up the curbs on incoming travel to include all countries within the Schengen area. It previously had limited arrivals from Spain, Italy, Germany, France and Austria.
The Schengen area is a passport-free travel zone among 26 European nations.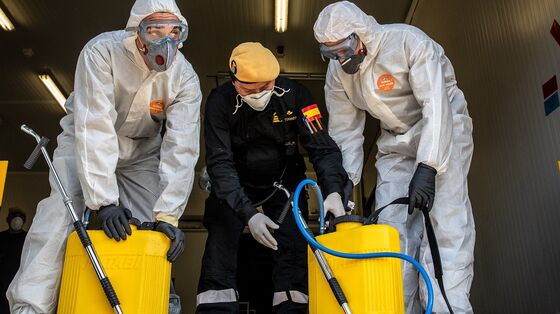 Portugal Confirmed Coronavirus Cases Rise (8:35 a.m. NY)
The number of confirmed coronavirus cases in Portugal increased 27% to 2,995 on Wednesday from 2,362. That compares with a daily increase of 15% reported on Tuesday and a 29% gain on Monday.
The total number of deaths increased to 43 on Wednesday from 33 reported through Tuesday morning; 22 patients have now recovered, unchanged from Tuesday. Almost 80% of coronavirus-related deaths in Portugal so far are of people aged 70 or older.
Schumer Expects Senate to Pass Stimulus Deal Today (8:34 a.m. NY)
Senate Democratic leader Chuck Schumer calls the stimulus deal the "art of compromise" and says help is on the way for American workers, state and local governments and small businesses. He told CNN he expects the Senate to pass the bill today.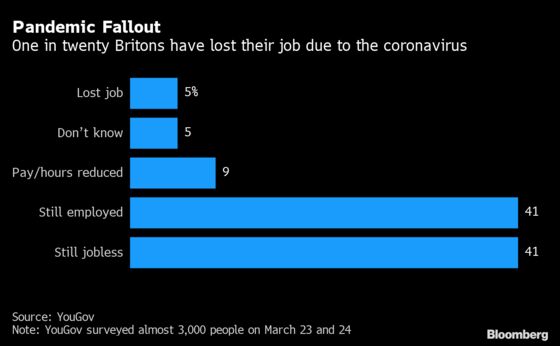 One in 20 Britons has lost a job because of the outbreak and 9% experienced a reduction in hours or pay, according to YouGov. The survey was taken on the first two days of the U.K.'s official lockdown, with the government banning all unnecessary movement of people for at least three weeks and requiring the closure of non-essential businesses. There have been about 477,000 new claims for state support payments, according to the Department for Work and Pensions.
EU Leaders Call for Corona Bonds (8:26 a.m. NY)
Nine EU leaders, including Emmanuel Macron and Giuseppe Conte, urged the introduction of so-called coronabonds in a letter cited by AFP on Wednesday.
India Delays Plans for Population Register (7:50 a.m. NY)
The government has indefinitely postponed plans to begin surveys leading to its next census and a comprehensive population register. The process was to have begun in April and was seen as a precursor to a national citizens register that, along with a new citizenship law, had led to angry protests across India since December.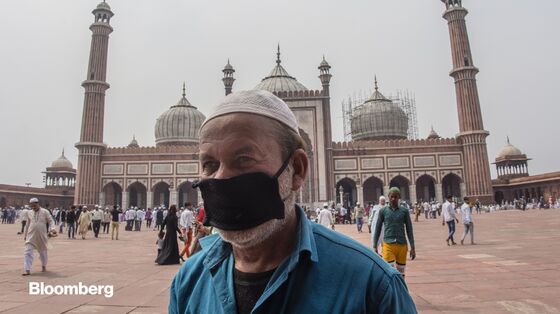 India is likely to agree on an economic stimulus package of more than 1.5 trillion rupees (about $20 billion), Reuters reported, citing two unidentified people familiar with the plans.
Italian Opposition Pushes Takeover Protection for Weakened Banks (7:50 a.m. NY)
Italy must toughen the rules shielding strategic sectors from hostile takeovers because the coronavirus has left banks, insurance companies and pharmaceutical firms vulnerable to foreign predators, according to a senior opposition lawmaker.
Senator Adolfo Urso, vice-president of the parliament's security and intelligence committee, said in an interview Wednesday that he will file amendments to the government's decree on a 25 billion-euro ($27 billion) stimulus package for the economy by Friday afternoon.
Stock Rebound Fades (7:45 a.m. NY)
European equities swung between gains and losses in a volatile session as optimism about a U.S. stimulus package dimmed amid renewed worries over the economic blow from the coronavirus outbreak. The Stoxx Europe 600 Index was up 0.6% after having earlier risen as much as 4.8%. U.S. stock futures declined and Treasuries gained.
Amazon, Walmart Struggle to Cope as India Enters Lockdown (7:45 a.m. NY)
The country's 1.3 billion people are in a three-week lockdown, sending many to scour the web for food and daily essentials. But unlike in China, where online fresh grocery services offered a lifeline during its Covid-19 outbreak, Indian authorities are stopping food trucks on highways, and shutting down warehouses and rice mills. They're also preventing delivery and supply-chain workers from doing their jobs.
With assistance from Bloomberg