NYC Hot Spot Schools to Shut; CDC Alters Guidance: Virus Update
Track the latest developments on the global coronavirus pandemic, here.
The U.S. Centers for Disease Control and Prevention updated its guidance to say Covid-19 can be spread indoors to people more than 6 feet (1.8 meters) away. Global infections surpassed 35 million as the focus remained on the health of President Donald Trump and potentially tighter curbs in parts of Europe.
New York City schools in hot spots will be closed starting tomorrow, Governor Andrew Cuomo said. Trump's press secretary, Kayleigh McEnany, said she tested positive. Regeneron climbed the most in almost seven months after the president received the biotech company's antibody cocktail to treat Covid-19.
U.K. Prime Minister Boris Johnson warned of a "very tough" winter as Europe faces rising infections. France said diners in Paris and Marseille must wear masks between courses, while Ireland is debating a return to full lockdown.
Subscribe to a daily update on the virus from Bloomberg's Prognosis team here. Click CVID on the terminal for global data on coronavirus cases and deaths.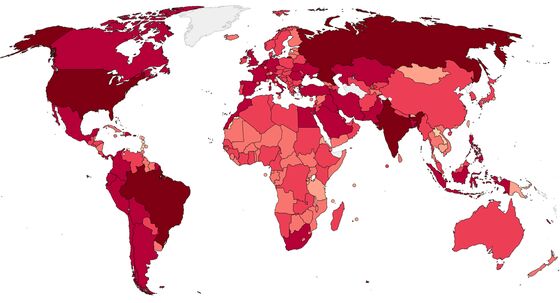 Ireland Rejects a Full Lockdown (4:40 p.m. NY)
Ireland's government moved to tighten coronavirus restrictions across the country, but rejected proposals from health officials for a full lockdown of the country.
While the virus is spreading exponentially in most parts of the nation, the response must be proportionate, Prime Minister Micheal Martin said in a national address. Instead, the country will move to level 3 on a five point scale of restrictions.
Among other restrictions, the move means restaurants will only be allowed serve take out, while bars that don't serve food must close. Dublin is already at level 3. Ireland reported 518 newly confirmed cases on Monday.
Texas Governor Plans More Reopenings (4:18 pm NY)
Texas Governor Greg Abbott plans to announce additional relaxation of anti-virus rules just weeks after he first began easing restrictions.
"The hospitalizations, number of new positive cases, and positivity rate remain contained," the Republican governor said in a tweet on Monday. "Today was one of the lowest for fatalities in a long time. I will be announcing more openings soon."
Restaurants, office buildings, factories, gyms and other businesses have been allowed to operate at 75% of capacity since Sept. 21 across most of the Lone Star state after hospital admissions plummeted.
Neurologic Symptoms Found in 4 of 5 Hospitalized Patients (3:43 p.m. NY)
About 4 out of 5 patients hospitalized with Covid-19 suffer neurologic symptoms such as muscle pain, headaches, confusion, dizziness and the loss of smell or taste, new research shows.
The most severe condition listed was encephalopathy, "characterized by altered mental function ranging from mild confusion to coma," said Igor Koralnik, the chief of neuro-infectious disease at Northwestern Medicine in Chicago and one of the study's authors. The study outlined the frequency and severity of neurologic symptoms in 509 patients hospitalized for Covid-19 in the Chicago-based health system at the start of the pandemic.
CDC Updates Guidance on Airborne Infection (2:10 p.m. NY)
The Centers for Disease Control and Prevention acknowledged Monday that the coronavirus can sometimes be spread through small particles that can linger in the air, infecting people beyond six-feet from the infectious person.
The agency updated its website on how Covid-19 spreads with the information and alerted reporters with a news release. The agency last month posted and then removed a guideline on airborne transmission, which it later described as a draft posted in error.
Paris Diners Must Wear Masks Between Courses (2:05 p.m. NY)
Diners in Paris and Marseille must keep masks on between courses starting Tuesday, part of rules to keep restaurants open in France's maximum-virus alert areas. Clients must leave their contact details in a guest book, and seating at each table will be limited to six, according to health regulations published by the French Health Ministry late Monday.
White House Spokeswoman Tests Positive (11:40 a.m. NY)
White House Press Secretary Kayleigh McEnany says in tweet that she tested positive for coronavirus Monday morning.
Meadows Says Decision on Release Coming Monday (9:10 a.m. NY)
White House Chief of Staff Mark Meadows said that Trump's condition continued to improve overnight, and that the president is ready to return to a normal work schedule.
"We're still optimistic that, based on his unbelievable progress," he will be released, Meadows said in an interview with Fox News, adding that "that decision won't be made until later today."
WHO Says 10% of World Population Infected (8:15 a.m. NY)
The current best estimate is that some 10% of the world's population may have been infected with Covid-19, according to Mike Ryan, head of the World Health Organization's emergencies program.
That leaves 90% of the world at risk, he said, speaking in a presentation to the WHO's executive board.
Iran Reports Worst Day as Cases Hit Record (7:20 a.m. NY)
Iran saw its worst day of the outbreak so far, with the biggest daily spike in cases and fatalities. The country reported 3,902 new infections in the past 24 hours, up from 3,653 a day earlier. The death toll rose by 235 overnight, equaling the country's deadliest day of the pandemic in July.
Polish Swearing-In Postponed as Cases Surge (7:10 a.m. NY)
Poland's government postponed Monday's swearing in ceremony for new cabinet ministers following a positive test result by the incoming education minister. The east European country registered a record number of new infections this weekend, raising concern that restrictions for areas such as Warsaw may be tightened.
Berlin's Mask-Free Nightlife Fuels Spread, Minister Says (7 a.m. NY)
Berliners flouting rules on masks and crowding into parties, restaurants and bars are fueling Covid-19 hot spots, German Health Minister Jens Spahn said.
"They look at you as if you're from another planet for wearing a mask," Spahn said at a press conference on Monday, adding that instead of talking about new rules, the city must start applying the ones it already has. The virus is spreading faster in the German capital than in most other places in the country, with three central Berlin districts exceeding 50 cases per 100,000 inhabitants last week.
With assistance from Bloomberg
Get Your
Daily Newsletter
Get market moving news, top news & compelling perspectives
---