U.S. Cases Rise 0.4%; States to Get Rapid Tests: Virus Update
Track the latest developments on the global Covid-19 pandemic, here.
U.S. President Donald Trump announced plans to distribute millions of rapid-result tests to states, a move aimed at expanding access and helping to reopen schools. Warning signs are emerging that the country faces more deaths and serious illnesses in the months ahead.
New York Governor Andrew Cuomo said his state is seeing an uptick in its Covid-19 positivity rate. Canada's two largest provinces are facing new lockdowns for parts of the economy after a spike in cases.
Cases worldwide have now topped 33 million, while the global death toll is nearing one million. In Europe, Germany could face more than 19,000 new cases a day by Christmas, Chancellor Angela Merkel warned, while France marked the first decline in new cases since August. Moscow has started to reopen temporary hospital wards after daily infections in the Russian capital soared.
Subscribe to a daily update on the virus from Bloomberg's Prognosis team here. Click CVID on the terminal for global data on coronavirus cases and deaths.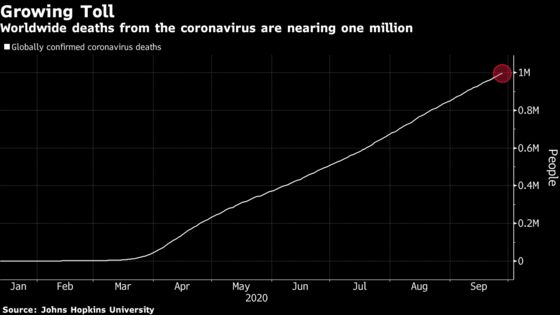 Canada at Risk of Another Lockdown (4:45 p.m. NY)
Canada's two largest provinces have warned they may have to lock down parts of the economy again after a spike in Covid-19 cases.
Quebec has about 5,000 active cases, a 71% jump from the beginning of August, and is on the verge of closing bars and restaurants again in its two biggest cities, Montreal and Quebec City. Hospitalizations went up 26% in six days.
Ontario, the largest province, reported 700 new cases Monday, the most ever in a day, though it's also testing far more people than it was in spring. A group of hospitals called on Premier Doug Ford's government to revert to stricter "stage two" measures in Toronto and Ottawa, which would mean restricting or closing indoor businesses such as gyms, movie theaters and restaurants.
U.S. to Send Rapid Tests to States (4:20 p.m. NY)
President Donald Trump announced plans to distribute millions of Abbott Laboratories's 15-minute Covid-19 tests in the coming weeks, a move aimed at expanding access and helping reopen schools.
The federal government expects to ship 150 million of the Abbott rapid tests, based on states' populations, Trump said at a press conference at the White House. The administration will encourage states -- which have ultimate discretion over how to deploy the tests -- to use about 100 million to screen teachers, check symptomatic children to see if they have contracted the virus, or conduct baseline surveillance.
U.S. Cases Rise 0.4% (4 p.m. NY)
Coronavirus cases in the U.S. increased 0.4% as compared with the same time Sunday to 7.13 million, according to data collected by Johns Hopkins University and Bloomberg News. The increase was less than the 0.6% average daily gain over the past week. There were 204,881 confirmed deaths, up from 204,618 a day ago.
France Has Fewest Daily Cases Since August (2:07 p.m. NY)
France reported 4,070 new cases, marking the first decline since mid-August. The seven-day rolling average of new infections fell to 12,083 from 12,258 on Sunday. Virus-related deaths rose by 81 to 31,808.
The decline comes as the strictest new measures to close bars early in many cities came into force. Health Minister Olivier Veran has said hospital admissions and deaths linked to Covid-19 will inevitably follow the country's increase in cases. .
WHO to Provide Access to 15-Minute Tests (12:40 p.m. NY)
The World Health Organization and non-profits including the Bill and Melinda Gates Foundation say they will help provide access to 120 million antigen tests to 133 low- and middle-income countries that can give results in 15 minutes.
Abbott Laboratories and SD BioSensor are producing the tests, reserving a fifth of their production to countries most in need. Distribution will begin in October, and the tests will cost $5 each or less. The Global Fund is also participating, though further funding is needed.
New York Sees Positivity Uptick, Cuomo Says (12:20 pm N.Y.)
New York is seeing an uptick in coronavirus cases, particularly in Brooklyn, and Orange and Rockland Counties, Governor Andrew Cuomo said on Monday. Of the 52,000 tests done on Sept. 27, 834, or 1.5%, were positive, he said on a call with reporters. The number of tests coming back positive throughout August and the first week of September were at or below 1%.
Eleven New Yorkers died as a result of the virus, and 543 people hospitalized. Some 2.6% of tests in Brooklyn were positive, and 3% were positive in the Mid-Hudson region, he said. "Brooklyn is a major contributor in the number of cases," Cuomo said.
U.K. New Case Numbers Continue to Drop (11:45 a.m. N.Y.)
The U.K. reported 4,044 new cases Monday, compared to 5,693 the previous day and a peak of 6.874 at the end of last week. Boris Johnson's spokesman James Slack warned earlier that it's too early to say if the government's decision to restrict social gatherings to groups of no more than six is having an effect. Ten deaths were reported.
New Italian Cases Drop; Naples Hit Hard (11:30 a.m. N.Y.)
Italy reported 1,494 new cases Monday, compared with 1,766 the previous day and a seven-day average of 1,674.
Unlike the first wave of the virus, when Lombardy was the epicenter, the region of Campania around Naples registered the most cases Monday, with 295 new infections in one day. Sixteen deaths were reported, in line with previous days, while hospitalized patients increased by 141 to a 3,241.
Positive Tests on Cruise Ship in Greece (10:25 a.m. N.Y.)
Twelve crew members tested positive on a Tui Cruises-operated ship, Greek authorities said Monday. The vessel is carrying more than 900 passengers and 600 crew members. Testing wasn't conducted on the passengers because they had to test negative before embarking. The vessel is scheduled to arrive in Pireaus, Greece's largest port, on Tuesday.
Inovia Puts Partial Hold on Vaccine Study (8:42 a.m. N.Y.)
Inovio Pharmaceuticals Inc. put a partial hold on a phase 2-3 study of its Covid-19 vaccine after U.S. regulators raised questions about a delivery device used in the inoculation. The shares plunged in pre-market trading.
The vaccine maker is working to answer questions from the U.S. Food and Drug Administration about the Cellectra 2000 device used in the trial, Inovio said Monday. The delay is not due to any adverse events from the vaccine, Inovio said
Merkel Warns of Possible Surge by Christmas (6:45 a.m. NY)
Germany will face more than 19,000 new Covid-19 cases a day by the end of December if the current trend in infections isn't halted, Chancellor Angela Merkel warned on Monday. The country recorded about 11,000 cases last week. The country must act quickly to avoid the same rapid rise in cases that has been seen in neighboring countries such as France, which has been reporting an average of about 12,000 cases each day, Merkel told leaders of her party.
France to Issue Record Debt to Fight Coronavirus (6:42 a.m. NY)
France will match 2020's record debt sales next year as the country combats the economic fallout from the pandemic. The euro area's second-largest economy will issue 260 billion euros ($303 billion) of medium and long-term debt in 2021, Agence France Tresor said on Monday.
U.K. Rule Rebellion Gains Ground (5:35 p.m. HK)
A Conservative Party rebellion against Boris Johnson's emergency coronavirus powers is gaining momentum after opposition parties signaled their support. The House of Commons plans a vote Wednesday on renewing legislation that allows ministers to impose new rules to combat the pandemic without first seeking parliamentary approval. But a growing band of Tory rebels want to amend the law to put a check on the government's power.
On Monday, Health Minister Helen Whately didn't deny that more restrictions may be in the offing, telling Sky News only that ministers "don't want" to bring them in.
Meanwhile, bars in the U.K. parliament will no longer be exempt from a ban on the sale of alcohol in pubs after 10 p.m. The U-turn comes after the Times reported that Westminster did not need to comply because its bars are classed as workplace canteens. The House of Commons on Monday said it would follow the 10 p.m. curfew.
Moscow Reopens Temporary Covid-19 Wards (5:20 p.m. HK)
Moscow has started to reopen temporary hospital wards after daily coronavirus infections in the Russian capital soared. The region reported 2,217 new cases of Covid-19 in the last day, with the number of daily infections up 3.5 times since the start of September.
City hall ordered eight hospitals in the capital, which is the epicenter of the virus in Russia, to reequip themselves to handle patients by early next week, the Interfax news service reported. Moscow began demobilizing its temporary wards in late May.
Hong Kong Wave Seems to Fade (5 p.m. HK)
Hong Kong's latest coronavirus wave is showing signs of subsiding after months of social-distancing measures, posting single-digit increases in daily confirmed cases for seven of the last eight days. That has pushed the rolling seven-day average daily infection rate down to about 5, the lowest since the end of June and well before the start of the current surge of infections.
With assistance from Bloomberg
Get Your
Daily Newsletter
Get market moving news, top news & compelling perspectives
---