States Tighten Public Limits; Grim Italy Milestone: Virus Update
Coronavirus cases hit 234,773 worldwide, death toll tops 9,800
New York state ordered non-essential workers to stay home, a move followed hours later by neighboring New Jersey and then by Illinois. Italy reported 627 fatalities, the most in one day anywhere, as the death toll in Europe's epicenter topped 4,000.
The U.K. and the U.S. warned that social distancing may be in place longer than expected. The European Union said the looming recession may be much worse than previously anticipated.
It took three months to reach 100,000 cases but only 12 days for the next 100,000.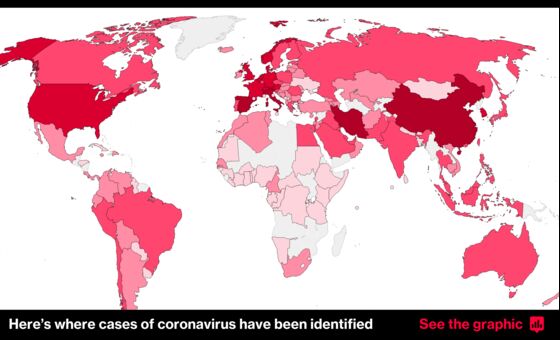 Cases top 250,000, more than 10,000 dead
Infections rise to almost 20,000 in both Spain and Iran
Biennial Farnborough Airshow postponed until 2022
Four U.S. senators sold stock after virus briefings in January
New York City reports 5,151 cases of Covid-19, 29 fatalities
Latin America isn't ready for the virus onslaught headed its way
Subscribe to a daily update on the virus from Bloomberg's Prognosis team here.
Click VRUS on the terminal for news and data on the coronavirus and here for maps and charts. For analysis of the impact from Bloomberg Economics, click here. To see the impact on oil and commodities demand, click here.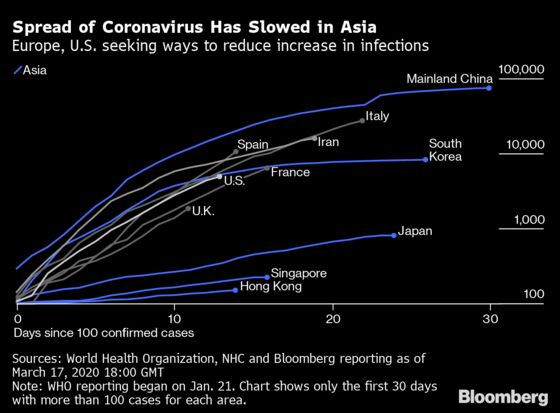 Illinois Issues Shelter-in-Place Order (4:20 p.m. NY)
Illinois Governor J.B. Pritzker ordered residents to shelter in place starting Saturday, following California, New York and New Jersey in restricting the movement of residents to combat the coronavirus.
Earlier this month, Pritzker closed schools, dine-in service at bars and restaurants and banned gatherings of more than 50. Chicago earlier ordered sick residents to remain home.
N.J. to Shut 'Nonessential' Businesses (4 p.m. NY)
New Jersey Governor Phil Murphy said he will sign an executive order requiring all "nonessential" businesses closed to help slow the spread of the virus. Murphy said he would give more details when he signs the order Saturday.
"The only way we're going to beat this darn virus is if we literally stay home and stay away from each other," Murphy said at a news conference in Paramus.
World Needs 80-100 Times More Tests, WHO Says (2:30 p.m. NY)
The number of coronavirus tests needed in coming months is probably 80 to 100 times the 1.5 million that the World Health Organization supplied so far, said Mike Ryan, the agency's head of health emergencies. Governments need to step up their commitments because there are more than 26 million health-care workers around the world who need to have protective gear, he said.
"The greatest tragedy for me among all the tragedies we're seeing is the prospect of losing a part of our workforce, those doctors and nurses and hygienists and others who put themselves in the front line," Ryan said.
Nigeria to Conduct Trials of Chloroquine (2:30 p.m. NY)
Nigeria's Lagos State government plans to conduct a clinical trial on the effectiveness of the malaria drug chloroquine in the prevention and management of coronavirus infection, according to Health Commissioner Akin Abayomi.
The trial will be carried out against "the fast spreading news that chloroquine could be effective in preventing and managing Covid-19," Abayomi said in emailed statement on Friday.
U.S. President Donald Trump touted the drug at a press briefing Thursday, urging regulators to approve its use for the coronavirus.
U.K. to Help Pay Workers Wages (1:30 p.m. NY)
The U.K. government said it will step in and help pay its citizen's wages during the coronavirus pandemic "for the first time in the nation's history."
The state will cover 80% of the salary of workers that firms can't afford to retain as a result of the crisis. That is up to a total of 2,500 pounds ($2,900) a month, Chancellor of the Exchequer Rishi Sunak told reporters on Friday.
"You will not face this alone," Sunak said.
Crowds Swarm New Jersey Test Site (1:23 p.m. NY)
New Jersey closed its first drive-through test site to people beyond the 1,000 already in line, and even they may not get swabbed today.
The line had grown too long less than four hours after its planned 8 a.m. opening at Bergen Community College in Paramus. The site was to get 2,500 new coronavirus test kits, with supplies replenished weekly.
Brazilian Lawmakers Hold First Remote Voting (12:45 p.m. NY)
Brazil's Congress held its first-ever remote voting session as part of efforts to proceed with crucial legislative work while restricting movement of people in Brasilia's often-crowded parliament.
In a video conference broadcast on their official website, senators approved a calamity decree allowing President Jair Bolsonaro to increase anti-virus spending.
Cuomo Orders All Non-Essential Workers Home (12:20 p.m. NY)
Governor Andrew Cuomo ordered New Yorkers to stay at home for the foreseeable future, except for essential services like grocery stores and mass transit.
He said the new orders would go in place on Sunday. The state's death toll has reached 35. New York has more than 7,100 coronavirus cases, the most in the U.S.
"This is the most drastic action we can take," Cuomo said.
First Virus Deaths in Peru (12:15 p.m. NY)
Three people died on Thursday after becoming infected by the coronavirus, Peru's Health Ministry says on Twitter.
Two men -- one 47 and the other 69 -- died in Lima after visiting Spain. The third victim was a 78-year-old man.
Medical experts worry that Latin America, which has so far reported relatively few cases, is unprepared for a larger outbreak.
London Pubs, Restaurants Set to Be Told to Close (11:27 a.m. NY)
London's pubs, restaurants, leisure centers, and cinemas will be told to close to stop the spread of coronavirus, under plans expected to be agreed to on Friday, a British official said.
Social Distancing Will Last Several More Weeks (11:08 a.m. NY)
Americans will have to practice social distancing for at least several more weeks to mitigate U.S. cases of Covid-19, Anthony S. Fauci of the National Institutes of Health said Friday.
"If you look at the trajectory of the curves of outbreaks in other areas, it's at least going to be several weeks. I cannot see that all of a sudden next week or two weeks from now, it's going to be over. I don't think there's a chance of that. I think it's going to be several weeks," Fauci said on The Today Show.
FAA Closes Airspace Near Indianapolis (10:26 a.m. NY)
The FAA has vacated three airspace work areas in Indianapolis after an air traffic control supervisor tested positive for COVID-19.
Flights through the airspace handled by those sectors were rerouted, according to FAA in emailed statement
IRS Moving Tax Day to July 15 (10:25 a.m. NY)
U.S. Treasury Secretary Steven Mnuchin says people and businesses will have more time to file and make payments without interest or penalties.
American Air Flies First Cargo-Only Flight in 36 Years (10:22 a.m. NY)
American Airlines Group Inc. is shifting some of its biggest idled jets to ferry just cargo -- the carrier's first flights without passengers in nearly four decades.
The Boeing Co. 777-300s will fly medical supplies, military mail, e-commerce packages and high-demand office equipment as more people work from home, the airline said in a statement. The wide-body flights begin Friday, with two round trips over four days between Frankfurt and the airline's home base at Dallas-Fort Worth airport.
Brazil Bans Visitors from Europe and Asia (10:17 a.m. NY)
Brazil will bar travelers from about three dozen European and Asian nations from entering the country. The ban doesn't apply to Brazilians or foreigners living in the country and will last for 30 days starting Monday.
Dutch Death Toll Jumps to 106 (9:15 a.m. NY)
The Netherlands reported 30 more deaths, the biggest daily increase since the first coronavirus case was confirmed at the end of February. The total number of fatalities now stands at 106, according to Dutch health authorities.
Frankfurt Airport Operator Furloughs Thousands (9:10 a.m. NY)
Fraport AG put at least 18,000 of its 22,000 employees in Frankfurt on furlough until the end of May to offset the coronavirus impact. The company said in a statement that Frankfurt airport will also shut the shortest of its four runways, but intends to maintain flight operations and continue work on its new terminal.
Amazon Prime Slows Europe Streaming (9:05 a.m. NY)
Amazon.com Inc.'s Prime Video will follow Netflix and Google's lead in reducing the speed of streams across Europe to ensure networks can handle increased use amid the coronavirus outbreak, which has sent thousands of workers home and shut schools.
Social Distancing Could Be Needed Most of Year: U.K. Advisers (8:42 a.m. NY)
U.K. government's scientific advisers say social distancing measures to suppress the coronavirus outbreak may be necessary for "at least most of a year." In documents published Friday, the U.K. scientific committee said: "It was agreed that a policy of alternating between periods of more and less strict social distancing measures could plausibly be effective at keeping the number of critical care cases within capacity."
In an NBC interview, National Institute for Allergy and Infectious Diseases Director Anthony Fauci said social distancing may be needed for at least several more weeks. "I cannot see that all of a sudden next week or two weeks from now, it's going to be over," Fauci said.
Commerzbank Sticks With Target as Impact 'Unforeseeable' (8:37 a.m. NY)
Commerzbank AG said it's too early to quantify the impact of the coronavirus pandemic on the economy and its own outlook for the year. In its annual report published Friday, the German bank kept its forecast for a profit this year, while warning of numerous risks that "could affect the 2020 profit forecast to a considerable, though not reliably quantifiable, extent should events take an unfavorable turn."
Gilead's Likely Remdesivir Approval Prompts Piper Upgrade (7:20 a.m. NY)
Piper Sandler raised Gilead to overweight from neutral and said President Donald Trump's comments on remdesivir at a Thursday press conference show the "tremendous pressure to approve the Covid-19 drug within days."
Separately, Sorrento Therapeutics says it has produced a pre-clinical batch of STI-4398 protein to immediately begin testing its neutralization and blocking activity in preventing SARS-CoV-2 virus from infecting ACE2-expressing cells.
Singapore Suspends Large Events, Steps Up Social Distancing (7:17 a.m. NY)
Singapore will prohibit events and gatherings of 250 or more people as it steps up measures to slow the spread of the coronavirus. The government said there were 40 new virus cases as of 12 p.m. on Friday, taking the total to 385. Thirty of the new infections came from abroad, the majority of them Singapore residents returning home.
Cases Rise to Almost 20,000 in Spain, Iran (6:50 a.m. NY)
Iran reported 1,237 new coronavirus cases and 149 deaths, bringing the country's total to 19,644 cases and 1,433 fatalities. The health ministry also noted that 6,745 people had recovered from the virus so far, adding that 13 provinces have had a noticeable decrease in new cases.
In Spain, cases rose by 2,833 to 19,980 and the death toll surged by 31% to 1,002.
WHO Suspects Thailand Community Transmission Rising (6:40 a.m. NY)
The WHO is concerned about the possibility that the transmission of the virus is more widespread in the community following recent increases in the daily confirmed cases. Thailand reported 50 more cases earlier on Friday, taking its total to 322 -- of the country's total new cases, 41 are related to existing cases from Thai boxing stadiums and the nightlife sector.
Disease Is Doubling at Even Faster Rate Now (6:15 a.m. NY)
While the number of cases doubled to 200,000 cases in the 12 days through Thursday, on Friday the tally already was halfway to the 300,000 mark. The number of cases in France has doubled in four days, said Christian Lindmeier, a spokesman for the World Health Organization. When countries don't have enough tests, they should triage, he said.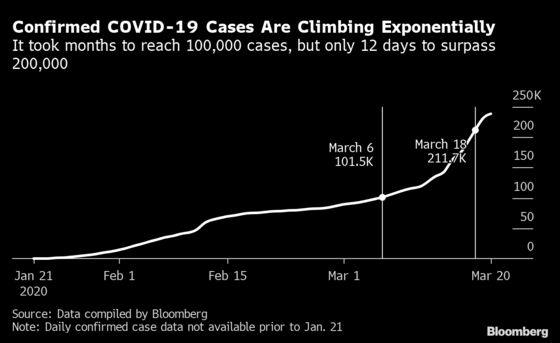 ​The WHO said it developed new guidelines to investigate the extent of infection among the population with antibody tests. Thirteen countries have begun to implement some of the investigation protocols, and another 18 said they plan to do so. More widespread testing would give better information about the disease.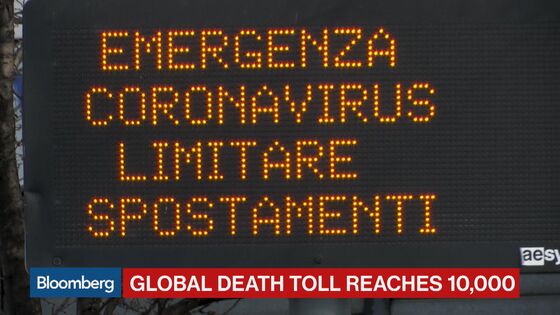 The United Nations plans to give details next week about a humanitarian response as 100 million people in war zones face extreme risks related to the outbreak, said Jens Laerke, a spokesman for the UN humanitarian office.
Altria CEO Tests Positive (6:11 a.m. NY)
Altria said CEO Howard A. Willard III contracted the Covid-19 virus and is taking a temporary medical leave of absence. Chief Financial Officer William F. Gifford Jr. will take over Willard's responsibilities until he returns.
With assistance from Bloomberg