The Best Cities for Low Carbon Emissions Aren't the Tallest
(Bloomberg) -- As the world continues to urbanize, cities are reaching new heights every year. The southern Chinese city of Shenzhen, for example, built 14 new skyscrapers in 2018 alone. The pursuit of such lofty living spaces follows the conventional thinking that it's more sustainable for growing cities to build up than build out. 
Compact, high-rise cities are the antithesis to urban sprawl, and in theory, they limit the carbon footprint of the built environment in part because they can house more people in fewer structures. That's significant considering that buildings currently account for more than half of a city's emissions on average. Living in a dense city is also notably less energy-intensive, on a per-person basis, than spread-out suburban or rural life. 
But a new study suggests that while density is indeed necessary to limit the greenhouse gas emissions of a growing population, height is not. In fact, a densely packed city of low-rises — think central Paris, where buildings typically stay below 10 stories — may be the best kind of urban environment for curbing carbon, even if they use more land than a high-rise-filled one that accommodates the same number of people, according to the researchers. 
"The architectural futurism in which the way buildings have been depicted over the last five years has really focused on skyscrapers that have trees hanging off of them, and that appear to be very green," says Jay Arehart, an architectural engineer at University of Colorado Boulder and a coauthor of the report, published last week in the journal npj Urban Sustainability. "But in reality they're not." 
He says the calculation begins to change when you consider the emissions generated over the entire lifecycle of a city's built environment, including the manufacturing of construction materials and the deconstruction of old buildings — not just what's produced to keep the lights on. "As soon as you start building taller, you need more materials," he says, pointing to the need for bigger foundations and larger steel columns, for example, which in turn involve more embodied, or hidden, carbon.   
There are also limitations to how densely developers can realistically pack high-rises, and how many people those buildings can house — which affect both land use and efficiency. Skyscrapers require large footprints and gaps between like-sized buildings, and as they grow taller, the usable space on each floor diminishes. "When you look at New York, for instance, the spaces between buildings are actually quite significant in comparison to more low-rise environments, like in any late 19th century European city," Arehart says. 
To compare the full lifecycle emissions of various urban environments, Arehart and his colleagues at Edinburgh Napier University started by simulating 5,000 built environments of varying population sizes and land area availability. They then classified each into one of four different urban typologies: high-density and low-density environments with either high-rise or low-rise buildings. To simulate how those environments might realistically form, the models were based on real-world data from different cities across the U.K. and Europe, including London, Berlin, Oslo and Vienna.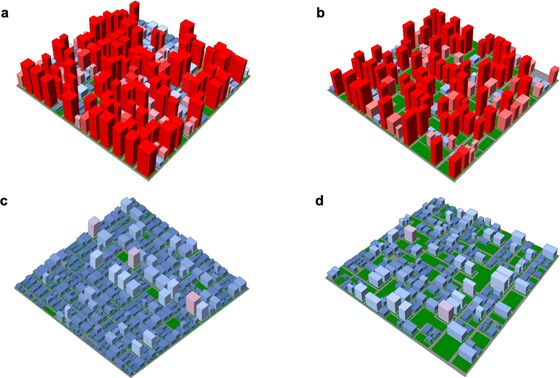 Comparing these simulated cities, researchers found that for all population sizes (which range from 20,000 to 50,000), the lifetime carbon emissions increase along with building height, independent of the amount of land needed. High-density, high-rise cities also resulted in the largest carbon emissions compared to the other three models — and that includes low-density, low-rise scenarios that resemble suburban-styled cities. The lowest carbon emitters were high-density, low-rise configurations.
For a city supporting 20,000 people, moving from low rises to high rises without changing the density results in 140% more carbon emissions. For a city of 50,000 people, the increase is slightly lower, at 132%.
In scenarios in which researchers observed the number of people each typology can house in a given amount of land, they found that high-density, low-rise cities on average can support more than twice as many people as high-density, high-rise cities without increasing carbon emissions.
Arehart is careful to say that the study focuses solely on building emissions, and doesn't account for other factors like transportation, design or the type of land cities build on, which affect their carbon output. More study is also needed to confirm if their conclusions still hold true for increasingly larger populations. 
"The takeaway here shouldn't be that skyscrapers are bad," he says. But reconsider them as the solution to our current climate crisis.
The debate itself isn't new. While experts generally agree unchecked urban sprawl is detrimental to the environment, the negative impacts of supertall buildings — which rack up massive amounts of embodied energy and typically demand yet more power to heat, cool, and run elevators, compared to shorter structures — are a focus of growing attention. The recent report from the United Nations Intergovernmental Panel on Climate Change points to cities' urban geometry as one of three main factors contributing to the urban heat island effect: Tall buildings placed in close proximity tend to trap heat and reduce natural ventilation.
"We're showing you an example of how you can use greenhouse gas emission to evaluate urban density," says Arehard. "That's just one piece of the puzzle." Ultimately, how tall a city should build depends on multiple environmental and socioeconomic factors, including affordable housing needs and greening efforts.