One Way to Tackle Extreme Poverty: Replace Dirt Floors
(Bloomberg) -- When Gayatri Datar and some of her classmates from Stanford University traveled to Rwanda for a course on entrepreneurial design for extreme affordability, they encountered a country where around 75% of the population lived on dirt floors. Coughing was common from dust clouds formed during sweeping. Rain filled houses with mud and insects. And fecal matter, from humans and animals, was often on the ground.  
"It was not only a challenge for health, but also for comfort and dignity," said Datar, who used that 2013 class as a springboard to start a business that builds floors for rural Rwandans and Ugandans.

The organization, EarthEnable, added almost 3,600 new floors in the 12 months through July, bringing its total number of floors built to just shy of 11,000. It plans to expand the number of districts where it operates in the two countries in 2022, as well as add to the 181 people it employs in its hybrid structure of being nonprofit in the U.S. and running the local businesses with a for-profit model.
For Datar and other activists focused on extreme poverty, floor replacement is a fast and cost-effective way of improving living conditions and public health, especially for children. Nevertheless, there are still only a handful of these efforts throughout the globe. That's despite there being more than a billion people living in "informal settlements" with dirt floors, according to a 2015 analysis from Oxford University's Poverty & Human Development Initiative.
While earlier public health programs focused on replacing dirt floors with concrete, EarthEnable sought out an alternative that wouldn't create as many greenhouse gas emissions as producing concrete. Datar teamed up with her former classmate, Rick Zuzow, who studied biochemistry and was her co-founder in starting the organization. Zuzow created a flaxseed oil that, when poured over an earthen floor, dries to form a plastic-like, waterproof and sustainable resin that glues the surface together. The flaxseed is currently imported from India, but EarthEnable is planning to harvest it in Kenya to keep the entire project more local.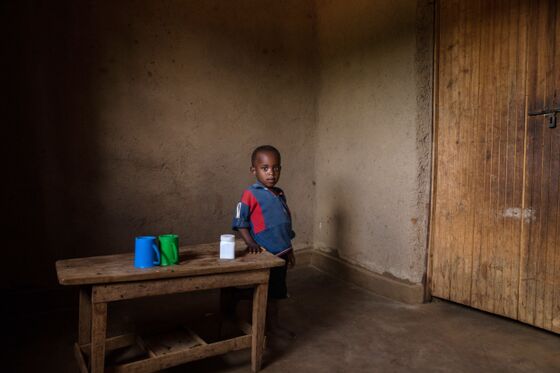 The goal was also to cut costs. The flaxseed oil sealant ranges from $2- to $5- per square meter or about $50 per house, which is paid by the households — all at once or in installments spread over six months. That's cheaper than the $162 price tag for the concrete floors used in one of the earliest floor-replacement programs:  Piso Firme in Mexico.
Piso Firme, which means firm floor, was started in 2000 by the government of the Mexican state of Coahuila and then adopted by the federal government. Mexico spent $1.27 billion from 2007 to 2013, paying for the cost of almost 3 million cement floors, according to the Center for Global Development. The floors were installed by the homeowners.
"On a hard floor it's much easier to see fecal matter," says Paul Gertler, economics professor at the University of California at Berkeley, who points to a range of health issues that can be helped when kids aren't ingesting parasites that live in human waste. One of the biggest problems is that they can cause diarrhea, which kills 525,000 children annually.
In Torreon, a city in the desert of northern Mexico, families living with improved floors reported that incidents of diarrhea in children under six fell 13% and cases of anemia fell by a fifth, according to a 2009 study Gertler led. Scores on language and communication skills were 30% higher than areas with only dirt floors.
EarthEnable also reports health benefits, with around 95% of the households who installed its floors citing improvements for the children living there. That included fewer cases of diarrhea in children and less stress and anxiety in mothers.
Floors aren't the only part of a shelter that can boost health outcomes. The nonprofit TECHO, which was started in Chile and means roof, has built one-room houses with hard floors, insulated pinewood walls and tin roofs for almost 130,000 families in Latin America since 1997. Gertler found an even bigger drop in childhood incidence of diarrhea in these homes, down 27% or double the improvement Gertler measured for Mexican children whose dirt floors were replaced with concrete.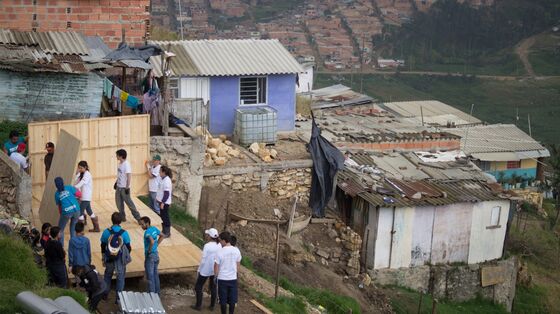 TECHO houses cost $1,000, with owners responsible for a tenth the price and local residents doing the construction on a volunteer basis. TECHO now operates in 19 countries in Latin America and the Caribbean, and says its projects have had more than 1.2 million volunteer builders. 
Even with the positive health outcomes and so many volunteers willing to help, Gertler says floor replacement programs can't be successful in all areas of extreme poverty because residents also need clean water and access to toilets to maintain floors clean enough to stop the spread of germs that cause illness.

For some nonprofits, that means expanding services beyond home structures. When Covid ravaged South America, TECHO started studying Covid-related health outcomes in slums in nine Latin American countries. And it built the only health center in Granizal, a Medellin slum. The clinic this month opened its doors to patients and will serve as the only medical and emergency care center for the approximately 30,000 people who live in the area.