Taiwan Set to Hold Rates With Hike on Horizon: Decision Guide
(Bloomberg) -- Taiwan could be moving a step closer to its first interest rate hike in more than a decade on the back of strong economic growth, rising inflation and housing prices, and a successful effort to keep Covid-19 at bay.
For now though, policy makers in Taipei are set to keep borrowing costs unchanged at a record-low 1.125% for a seventh-straight quarter Thursday, according to a Bloomberg survey of economists. A strong currency is likely to outweigh all other concerns for the time being, but economists are bringing forward their predictions of when the central bank will finally raise rates for the first time since June 2011. 
The monetary authority will likely increase borrowing costs by 12.5 basis points to 1.25% in the third quarter of next year, according to the median estimate in a Bloomberg survey of 20 economists, three months sooner than predicted in the previous survey in September. The benchmark rate will then likely be raised again to 1.375% in the fourth quarter. Only two respondents see the central bank holding firm with no changes at all in 2022.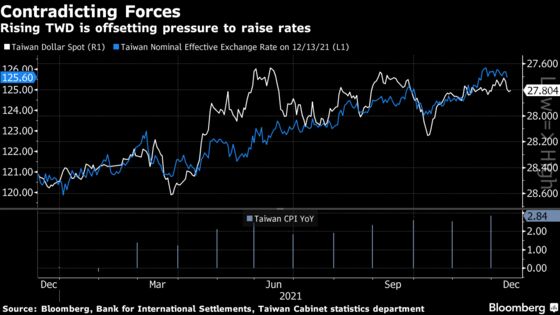 "Based on its economic fundamentals and the inflation picture, Taiwan can afford to raise rates next year," Anita Hsu, an economist with Masterlink Securities Investment Advisory in Taipei, said in a telephone interview Tuesday. "A rate hike would help keep property prices under control but the Taiwan dollar and the rate gap to other major economies will still be the biggest consideration."
Hsu views it as a 50-50 chance whether the central bank will raise rates by 12.5 basis points in June or September next year once policy makers in the U.S., Europe and Japan gradually withdraw monetary stimulus next year. 
The currency is one of the main considerations affecting the timing of any rate hike. The nominal effective exchange rate has risen consistently to multiple record highs this year and the exchange rate to the U.S. dollar has consistently hovered close to a 24-year high. 
The strength of the currency has prompted central bank governor Yang Chin-long to say repeatedly that if Taiwan were to raise rates before the major economies, it would trigger an influx of capital into Taiwan, exacerbating the upward pressure on the currency.