Sunac Bonds Resume Slide With Stock After $580 Million Sale
(Bloomberg) -- Sunac China Holdings Ltd. bonds resumed their slide and shares fell after the embattled real estate giant raised $580 million in a top-up stock sale to fend off a liquidity crisis.
The nation's third-largest property developer by sales sold 452 million shares at HK$10 apiece, a 15% discount to Wednesday's close in Hong Kong, a stock exchange filing showed. The funds will be used in part to repay some loans. 
Sunac later said it has enough cash to deal with short-term debt and has no plans to issue more shares for now, according to a statement to Bloomberg. "The industry's policy environment is improving now, and we are fully confident in the stable and healthy future development of the market," it said.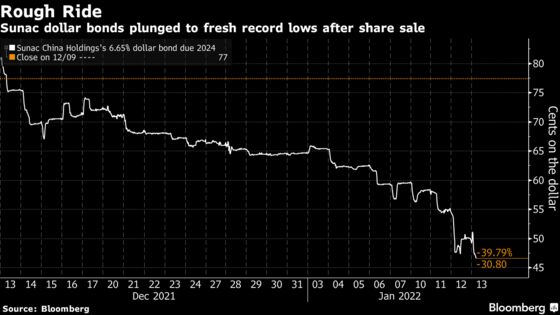 That did little to restore investor confidence in the firm's longer-term financial health. Sunac's dollar bond due 2024 fell 2.7 cents on the dollar to a record low of 46.3 cents, erasing a late bounce from intraday lows on Wednesday, Bloomberg-compiled prices show. The firm's 7.95% note due 2022 and 6.5% bonds due 2023 are also set for fresh lows. The shares slid as much as 20%, a record intraday decline. 
Sunac is among the largest Chinese developers racing to avert a cash crunch after a government crackdown all but closed off the industry's access to the dollar-bond market, triggering a record surge in defaults and heightening concerns about a slowdown in Asia's largest economy. Sunac is considered a higher-quality borrower among junk-rated developers by international credit risk assessors, with the equivalent of a BB rating.
The placement comes just two months after Sunac raised about $953 million through the sale of new shares as well as a stake in its property management unit. It doesn't have near-term plans to sell more of its stake in Sunac Services Holdings Ltd., the developer said in its statement Thursday. 
Worries about the company's financial health escalated this week after one of its units was hit by a court-ordered asset freeze. The developer told Bloomberg News on Wednesday that the issue with a business partner has been resolved and they are now working to withdraw the court orders. 
Sunac has $141.4 million of bond principal and interest due this quarter and $1.65 billion to repay in the second quarter, according to data compiled by Bloomberg.
Sunac raised $2 billion late last year by selling office and hotel projects in Shanghai and Hangzhou, placing shares, borrowing from its controlling shareholder and selling the stake in its property management unit, according to Bloomberg Intelligence. The developer is exploring a sale of its culture and tourism business, people familiar with the matter said in November. It acquired the assets, which include hotels, resorts and amusement parks, over the past four years for about 65 billion yuan ($10 billion). 
While China's government has signaled a reluctance to abandon its clampdown on excessive borrowing by developers, regulators have been dialing back the intensity of restrictions in recent months as they try to prevent a liquidity crunch at weaker builders from destabilizing the financial system and economy. In window guidance issued last month, authorities told banks to step up lending to developers after at least two quarters of consecutive declines, according to people familiar with the matter.