China Faces a Bleaker End to 2018 as Central Bank Cuts Reserve Ratio Again
China's Central Bank cuts Reserve Ratio for some banks
(Bloomberg) -- China's central bank cut the amount of cash lenders must hold as reserves for the fourth time this year, as policy makers seek to shore up the faltering domestic economy amid a worsening trade war.
The People's Bank of China lowered the required reserve ratio for some lenders by 1 percentage point, effective from Oct. 15, according to a statement on its website Sunday. The cut will release a total of 1.2 trillion yuan ($175 billion), of which 450 billion yuan is to be used to repay existing medium-term funding facilities which are maturing, the central bank said.
The central bank has shifted to looser monetary policies this year as the combined effects of Beijing's financial clean up and the trade conflict with the U.S. threatened the economic expansion. As there's now every sign that the Trump administration intends to continue pressing Beijing on trade and other fronts, China is faced with a more urgent need to support the domestic economy, even if that may increase downward pressure on the currency.
"The move is part of policymakers' defensive easing package, in view of headwinds on broad credit growth and more visible activity moderation in September," economists including Robin Xing, chief China economist at Morgan Stanley in Hong Kong wrote in a note. "To keep the economy on the path of soft landing amid persistent trade tensions, we think more easing measures are needed to foster a modest rebound in credit growth."
Though further reserve-ratio cuts had been forecast by economists, Sunday's move may offer some reprieve for equity and fixed income investors. After a week-long holiday, Chinese stocks opened down, with the CSI300 Index dropping 3 percent and the main benchmark Shanghai Composite falling 2.4 percent. The currency also dropped against the dollar, trading 0.4 percent lower after the central bank set the fixing at the weakest since May 2017.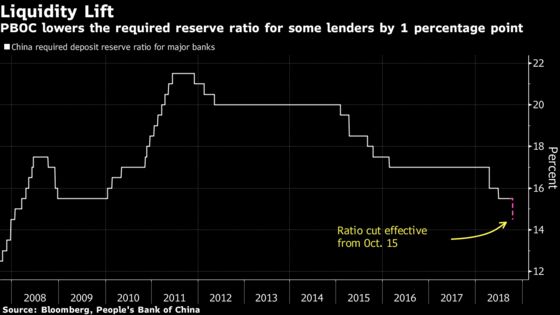 Surging U.S. Treasury yields had signaled pressure on Chinese debt, and Hong Kong stocks took a beating last week while their onshore counterparts were closed for trading.
The PBOC will continue to adopt a prudent, neutral monetary policy and this reserve ratio cut won't lead to yuan depreciation pressures, the central bank said in the statement. The cut will apply to large commercial banks, joint-stock commercial banks, city commercial banks, non-county rural commercial banks and foreign banks, according to the statement.
The increased liquidity will help support bank lending and credit in general, and unlike that from the PBOC's medium-term funding tools, it is permanent, which can help banks' liquidity expectations, according to Wang Tao at UBS Group AG. The cut gives the market a stronger easing signal and can support sentiment, which has been negative on China and emerging markets in the past few days, she said.
Two gauges of activity in China's manufacturing sector worsened in September, with the official reading for new export orders falling to the lowest reading since 2016. Growth in the world's second-largest economy is forecast to slow this year to 6.6 percent, broadly in line with the official target of 6.5 percent.
The lack of progress in negotiations between Washington and Beijing over their trade rivalry means that there's a good chance the current roster of tariffs on $250 billion of Chinese goods exported to the U.S. will grow, as President Trump has threatened. With little room for optimism on external demand, the outlook for China's economy hinges increasingly on the effectiveness of targeted stimulus measures being rolled out this year.
What Our Economists Say...
The policy focus will be on unclogging the lending channels –- improving transmission of more supportive policy. Fiscal support is also expected to be stepped up, particularly in the area of infrastructure spending.

-- Chang Shu, Chief Asia Economist at Bloomberg Economics
However, the central bank argued in a separate statement that the move won't affect the overall amount of liquidity in the economy, as it substitutes for existing instruments, and the remaining money will offset tax-payment pressures in mid-to-late October.
"The decision self-admittedly is aimed at reducing financing costs for SMEs and private firms, yet the bank is adamant that they are not changing stance or increasing downward pressure on the RMB," said Freya Beamish, Chief Asia Economist at Pantheon Macroeconomics Ltd. "We find this hard to swallow, especially in the context of the ongoing Fed tightening cycle."
The PBOC didn't follow September's Federal Reserve rate hike with a step up in money-market borrowing costs, as it has done in the past to avoid widening the gap between the two jurisdictions. With capital controls in place, China has some buffer to keep policy easier even amid Fed tightening.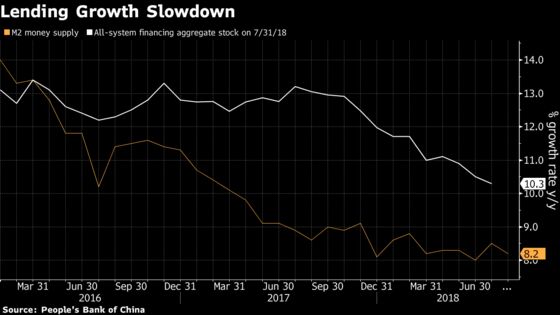 China's foreign-currency holdings fell by a modest amount in September, separate data released Sunday showed. Reserves declined by $22.69 billion to $3.087 trillion in September, the People's Bank of China said Sunday. That compares with $3.110 trillion the previous month and the median estimate of $3.105 trillion in a Bloomberg survey of economists.
The small drop in reserves was due to changes in the value of foreign currencies and asset prices, the State Administration of Foreign Exchange (SAFE) said in a statement, adding that the holdings will generally remain stable despite some fluctuations.
--With assistance from Miao Han, Kevin Hamlin, Stanley James, Chris Bourke, Matt Turner and Jing Yang.
To contact Bloomberg News staff for this story: Yinan Zhao in Beijing at yzhao300@bloomberg.net
To contact the editors responsible for this story: Jeffrey Black at jblack25@bloomberg.net, James Mayger
With assistance from Editorial Board