Macau Junket Giant Suncity Halts Operations After CEO Arrest
Macau Junket Operator Suncity to Suspend Operations From Dec. 1
(Bloomberg) -- Five days after its chief executive officer was arrested, Suncity Group is closing all its VIP gaming rooms in Macau casinos and no longer paying some staff, said people familiar with the matter. 
The biggest junket operator in the gambling hub will close the betting rooms from Dec. 1 and stop paying some employees from the same date, said the people, who asked not to be identified as they're not authorized to speak publicly. Some employees were also told that their salaries for November may not be paid on time, according to the people, adding that it wasn't clear if the closures are temporary or permanent.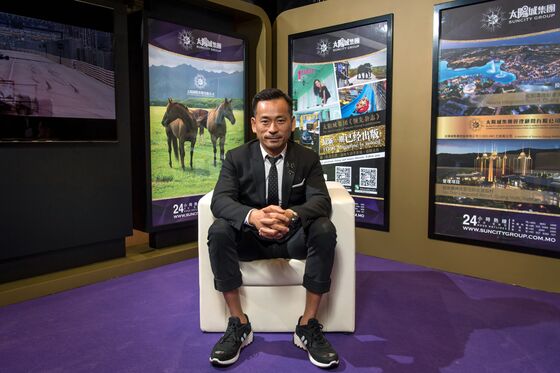 The salary suspensions impact at least one third of Suncity's workers in Macau, one of the people estimated.
Suncity staff cannot currently access company systems such as email and chatrooms due to the police investigation, two of the people said. The group's website has also gone offline. 
Suncity confirmed to Teledifusão de Macau that it would close all VIP rooms in the city, the news outlet reported Tuesday. The group said it hadn't rolled out a salary suspension policy, but will implement "structural adjustment" later due to VIP room closure, according to the report.
Macau's Labour Affairs Bureau said it had been following up with the group on staff arrangement and had set up a hotline for affected employees, TDM reported Wednesday, adding that the bureau hadn't received any complaints so far. 
Suncity didn't respond to requests for comment on Tuesday. The company said earlier in the day that its business and operations would be adversely affected if it loses financial support from CEO Alvin Chau. 
Since Chau was detained over the weekend, shares of the company's Hong Kong-listed arm Suncity Group Holdings Ltd. -- which doesn't include its junket operation -- have plunged nearly 50%, while a Bloomberg gauge of Macau casino operators has dropped 10.4%. 
The swift downfall of an organization that once saw HK$180 billion ($23 billion) bet by high rollers in its VIP rooms in a single month underscores China's intensifying crackdown in the world's biggest gaming hub. Beijing wants Macau to shift its economy away from gambling, and it's driving out the shadowy junket network that channels some three-quarters of Macau's roughly $3 billion in annual VIP gaming revenue. 
While gambling is barred in China, junkets have long operated on the mainland by wooing Chinese punters to Macau with private jets, hotel suites and, crucially, credit lines to gamble in Hong Kong dollars that can be repaid in Chinese yuan or with assets.
Suncity accounted for more than 40% of Macau's junket market, or about 15% of the city's gaming revenue in 2019, according to JPMorgan Chase & Co. analysts including DS Kim. They predict that Macau's junket-driven VIP revenue pile could contract by half in the coming weeks. By 2023, the VIP sector may only drive about 4% of casino operators' earnings, they estimated, compared to 15% in 2019.
News of Suncity's VIP room closures and staff furlough was first reported by local media outlets Hong Kong Economic Times and HK01 on Tuesday. 
With assistance from Bloomberg