Kyle Bass's Doomsday Call on Hong Kong Isn't Convincing Markets
(Bloomberg) -- Kyle Bass is convinced Hong Kong is headed for a financial crisis, and he's warning investors every chance he gets. Few seem to be listening.
The Dallas-based hedge fund manager, who made a fortune betting against subprime mortgages more than a decade ago, issued his latest dire Hong Kong forecast on Wednesday, saying in a Bloomberg TV interview that the city would suffer a "full-fledged banking crisis" in 2020. Citing a "collapse" in the local economy and high levels of financial leverage, he compared Hong Kong to Iceland and Ireland before those nations' banking systems imploded during the global financial crisis.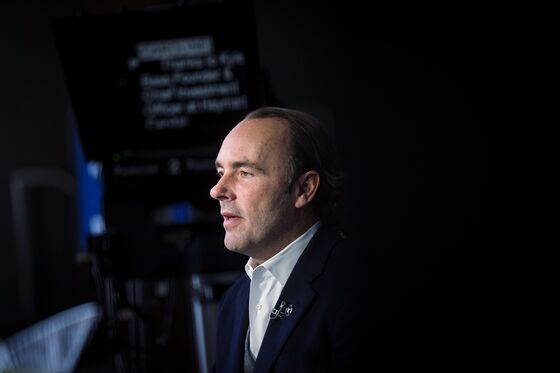 While few doubt that Hong Kong's economy is suffering after seven months of anti-government protests, the city's markets have shown little sign of an impending banking calamity.
A gauge of the city's financial stocks is trading near an all-time high after outpacing gains in the broader market this year and posting an advance of nearly 1% on Thursday. While interbank borrowing rates have increased over the past 12 months, they remain far below levels that preceded previous crises. The Hong Kong dollar, which Bass is betting against, has recently appreciated toward the strong end of its trading band against the U.S. currency.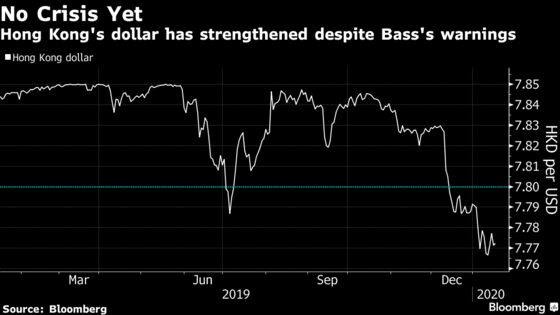 Howard Lee, a deputy chief executive at the Hong Kong Monetary Authority, wrote in a blog late last month that the city's financial markets are stable, supported by a "well-tested" currency peg and "robust" banking sector. The de facto central bank has not seen any significant fund outflows since the protests began, he said. Hong Kong dollar deposits were little changed at HK$6.9 trillion ($888 billion) in November from a month earlier, according to official data.
"Yes we are in a recession, but living in Hong Kong you can see that property prices, the stock market, they're still doing relatively well," said Kenny Wen, a strategist at Everbright Sun Hung Kai Co. in Hong Kong. "I really don't think we'll see a banking crisis in the near future."
Of course, Bass's predictions about subprime mortgages in 2007 ultimately proved prescient, even as many investors shrugged them off at the time. If Hong Kong's economy continues to weaken and the city's sky-high real estate prices tumble, banks could face a surge in soured loans. Another flareup in protest violence could easily snuff out recent gains in the local stock market.
For now though, many observers say Hong Kong's banking industry can weather the storm. Asset quality issues at small- and medium-sized Hong Kong businesses, among the most impacted by the city's economic downturn, are unlikely to develop into a crisis, Citigroup Inc. analysts said in a report this month.
This week's phase one trade deal between the U.S. and China may help bolster investor sentiment toward Hong Kong -- a key gateway for trade and financial flows into Asia's largest economy. The MSCI Hong Kong Index rose 0.5% at 10:29 a.m. local time, set for its highest close since July.
"Unless we have a global financial crisis, I don't think we're in a very dangerous situation," Wen said.
--With assistance from Alfred Liu, Ben Bartenstein, Sydney Maki and Vonnie Quinn.
To contact Bloomberg News staff for this story: Livia Yap in Shanghai at lyap14@bloomberg.net
To contact the editors responsible for this story: Sofia Horta e Costa at shortaecosta@bloomberg.net, Michael Patterson, Jonas Bergman
With assistance from Bloomberg