Iron Ore's 50% Surge Is Latest Spike to Fuel Inflation Fears
Iron ore has suddenly gone from commodity laggard to a top performer.
(Bloomberg) -- Iron ore has suddenly gone from commodity laggard to a top performer, with resurgent prices further fanning inflation fears that are rippling across the world. 
Futures have climbed 50% in just three weeks, joining gains in aluminum to energy as rising demand, stalled supply lines and climate policy send an index of raw materials to the highest ever. Surging iron ore prices are likely to crimp margins at steel mills, which may be unable to pass on the higher costs to downstream sectors like property and construction that are cooling.
The widespread commodities rally, as well as an increasingly severe and costly power shortage, is already rattling carmakers to supermarket shoppers. It also complicates the outlook for global policy makers, who are seeking to balance the withdrawal of emergency stimulus measures with concerns that growth may be slowing and stubbornly high prices.
Front and center for investors now is an energy crisis stretching from Asia to Europe, that's shutting factories, boosting power bills and threatening to detail the global recovery from the pandemic. China said it will allow power prices to rise by double the current limit and costs for the most-energy intensive industries -- which includes metals producers -- won't be subject to a cap. 
The country's power shortage is likely to persist into winter and lead China into a short period of stagflation, with elevated producer-price inflation and growth pressures, Citigroup Inc. analysts, including Tracy Liao, wrote in a report. "China may also export inflation as the disruptions ripple through global supply chains."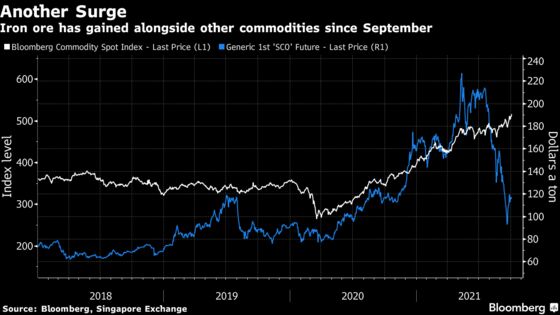 Iron ore has climbed 16% this month on expectations some Chinese steelmakers will resume operations after achieving deeper-than-expected production cuts. The market has been whipsawed this year as China's pledge to cap annual steel volumes played out: prices spiked to a record in May as mills front-loaded output, then tumbled through September as authorities stepped up measures to curtail supply and fears about the property market weighed on demand.
"Steel output is reportedly set to increase in October in some parts of China, like Tangshan, Jiangsu, Zhejiang and Anhui, after these regions exceeded steel production cuts in September," Vivek Dhar, commodities analyst at Commonwealth Bank of Australia, wrote in a note. "The impacted mills may see November output either match or exceed October levels."
Iron ore in Singapore gained 10% to $137.60 a ton, while futures in Dalian closed 4.6% higher. In other markets, Chinese thermal and coking coal futures rose to a record on Monday as heavy rain and flooding expand mine shutdowns in the country. 
The higher power prices come as the global shipping industry already faces supply line turmoil and, along with rallying commodity prices, is expected to push China's factory inflation 10.5% higher in September, the steepest monthly increase since 1995, according to a Bloomberg survey of economists ahead of official data on Thursday.  
Citigroup said there's further upside for fuel prices as colder weather approaches, while metal and steel prices may stop rising given a looming demand shock from China's power rationing in sectors such as construction and manufacturing.