What Biden Said About China in His First Speech to Congress
(Bloomberg) -- President Joe Biden spent most of his speech to Congress Wednesday focused on America's domestic priorities, from taxes to health care. But sprinkled throughout were references to China, underscoring just how much he's focused on the world's second-biggest economy.
"We're in competition with China and other countries to win the 21st Century," Biden said. President Xi Jinping, Biden added, is "deadly earnest" about China "becoming the most significant, consequential nation in the world."
Biden reiterated previous comments that he believes the U.S. and China can find areas of cooperation -- he cited countering climate change as an example -- and that conflict isn't inevitable. But he vowed that the U.S. will stand its ground when it thinks U.S. or global interests are at stake.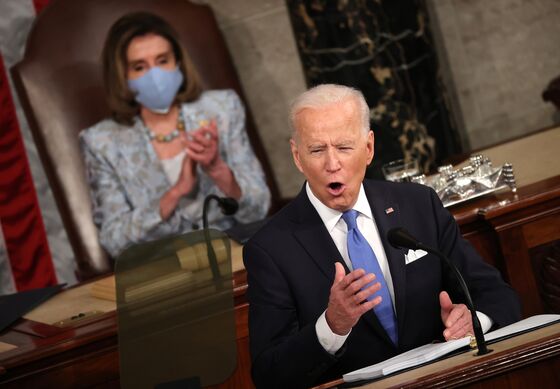 "I also told President Xi that we will maintain a strong military presence in the Indo—Pacific just as we do with NATO in Europe – not to start a conflict but to prevent one," Biden said. "America won't back away from our commitment to human rights and fundamental freedoms and to our alliances."
But the comments on China focused largely on economic competition. Biden said China and other nations "are closing in fast" on the U.S. now that America spends only 1% of gross domestic product on research and development. And he insisted that China must "play by the same rules" as other major economies, a reference he indicated extends to everything from trade to currency, industrial policy and the investment needed to combat climate change.
"There's no reason the blades for wind turbines can't be built in Pittsburgh instead of Beijing," Biden said.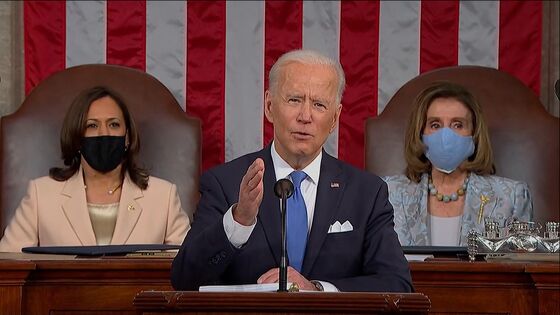 Chinese Foreign Ministry spokesman Wang Wenbin pushed back at some of Biden's comments in a regular press briefing Thursday in Beijing.
"Forcing other countries to accept one's own democratic system and holding the banner of democracy to give orders to the whole world is blasphemy and manipulation of democratic values, which will only create division, hurt relations and undermine stability," he said.

Criticizing Beijing is an area in which Biden is likely to win bipartisan support. In his first 100 days in office, Biden has repeatedly said a rising China is the preeminent challenge the U.S. faces overseas. As a result, he's sought to reorient the U.S. focus away from the Middle East and Afghanistan, where he on Wednesday repeated his vow to withdraw the remaining U.S. troops by Sept. 11.