How China's Economy Grew in 2021 Despite a Property Slump
China's economy grew at a strong pace of 8.1% in 2021, a number seemingly at odds with headlines about a crashing property market and a crackdown on big technology companies. 
Here are five charts, based on the latest official data this week, which give a deeper insight into how the world's second-largest economy changed over the past year.
Output in the real-estate sector shrank in both the third and fourth quarters last year, the longest period of decline since 2008. Construction also fell, as Beijing's efforts to squeeze financing to property companies dragged down the floor area of new buildings started by more than 14% in 2021 from the previous year -- the biggest slump in six years. 
That was a significant drag on growth. China's property construction, once the production of building materials is added, is estimated to account for between 15-25% of GDP.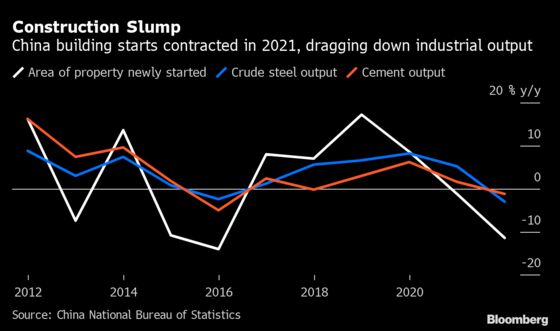 The upside of the housing downturn was that the economy likely became less carbon intensive, as the sector is a major driver of greenhouse gas emissions. Steel production, which climbed to more than 1 billion tons for the first time in 2020, declined slightly last year. China's carbon dioxide emissions in the first 11 months of 2021 rose 6.2% year-on-year, below the pace of GDP growth, according to estimates from researchers at Carbon Monitor. 
Coronavirus and Consumption
In 2020, Beijing relied on construction to revive the economy, while virus controls caused consumer spending to decline. Those growth drivers flipped around last year, with the property slowdown hitting investment and overall control of the virus allowing for a rebound in consumer spending. 
More government spending on services, which are classified as consumption, also meant the latter became the biggest driver of growth last year. 
Net exports was another unusually strong factor in driving the economy, with the record trade surplus last year accounting for about a fifth of the country's economic expansion.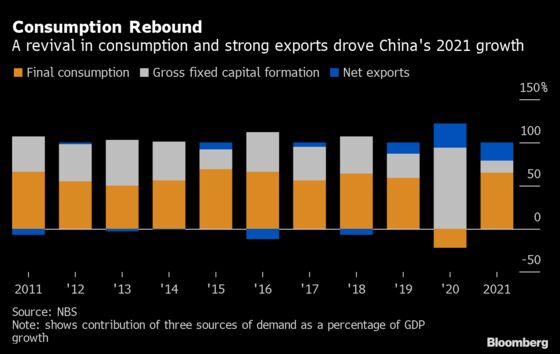 That raises questions about what will be the growth driver in 2021: the spread of the omicron variant threatens to stall consumer spending, while export growth is also expected to fade. Beijing has said it wants infrastructure investment to fill much of that gap, although it hasn't increased the amount of bonds government will sell to help pay for that.
With the threat of trade embargoes of high-tech goods by the U.S. and allies, Beijing has been putting more emphasis on manufacturing. In the new five-year economic plan released last year it vowed to keep that sector's share of the economy constant and avoid the de-industrialization seen in some other countries. 
Official data show that effort is bearing fruit, with manufacturing's share of output rising for a second consecutive year, following about a decade of decline.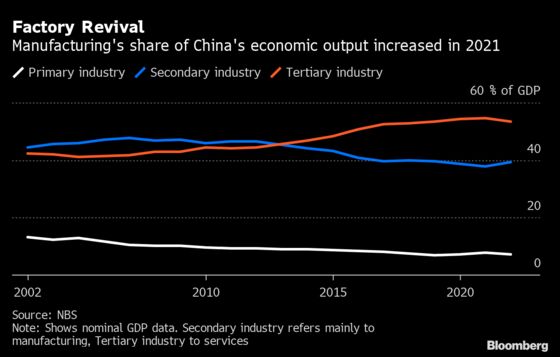 The trend was supported by the relocation of low-end manufacturing from other parts of Asia as those countries struggled with the pandemic. But more technology intensive sectors also grew rapidly: the production of new energy vehicles grew more than 145%, while the production of microchips rose 33%, according to official data.
Billions of dollars in market value was lost from some of China's largest privately-owned companies last year as Beijing took heavy-handed measures to rein in tech giants and private tutoring companies.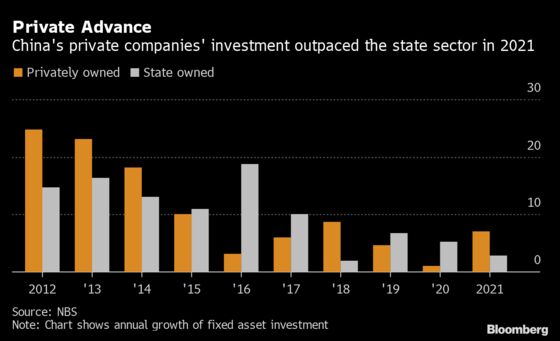 But looking at industrial manufacturing, private companies had a good year: their output grew 10.2%, faster than the average for the sector. The pace of investment by private companies was more than twice their state peers' in 2021, suggesting optimism about business prospects. Most economists see that as a positive trend for the economy.
President Xi Jinping's highest-profile policy initiative in 2021 was the new emphasis on "common prosperity" to try and curb inequality. China didn't make much headway on that last year, according to official data. 
A widely used metric of inequality, the gap between the top 20% and bottom 20% of earners expanded slightly, remaining at about twice the level seen in the European Union. The gap between rural and urban incomes narrowed only slightly.