Hong Kong Retail Slumps in March as Chinese Consumers Vanish
Hong Kong Retail Faces Record Weakness as China Consumers Vanish
(Bloomberg) -- Hong Kong's retailers will need to get creative to survive the deepening recession that's enveloped the city as tourists from the mainland who fueled past rebounds are unlikely to come to the rescue this time.
The city's retail sales by value in March sank 42% from a year earlier to HK$23 billion ($2.97 billion), according to a government release. That was a slight uptick from February's record decline. By volume, sales dropped 43.8% from a year earlier.
Two straight months of retail sales declines greater than 40% is unprecedented. The city's wider economy contracted 8.9% in the first quarter from year-ago levels, suffering its worst quarter on record and extending the first recession in a decade. Private consumption sank 10.2% in the period while exports of services plummeted 37.8%, according to a the government release Monday.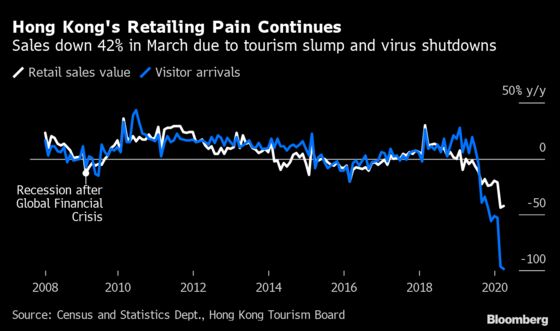 "People aren't buying because they are worried about their future," Alicia Garcia Herrero, chief Asia-Pacific economist at Natixis SA said before the data was released. "Why would you spend in such circumstances?"
For the first quarter, sales by volume fell 36.9% from year-ago levels, the biggest drop for a single quarter on record, the government said in an online statement.
Restaurants, bars, shopping malls and luxury shops took the biggest hits, with the value of sales of food, alcohol and tobacco falling more than 21%. Department stores sales dropped almost 43%, and jewelry, watches, clocks and valuable gifts plummeted 75% in the month.
"The business environment for retail trade will remain very difficult in the near term amid the deep economic recession and sharp deterioration in the labor market," according to the government release. "The Covid-19 pandemic and resulting anti-epidemic measures brought inbound tourism to a standstill and seriously disrupted consumption-related activities."
While economies around the world are struggling with lockdowns from the coronavirus pandemic, the outlook for Hong Kong's consumption industries is particularly bleak with the acute downturn due to the virus coming on the heels of a recession from months of anti-government protests. That tension -- which kept mainland tourists away -- means that even as restrictions to contain the virus are lifted, it's unlikely to spur a return to previous levels of cross-border traffic and spending.
"China tourists will probably be half of what they used to be," Michael Tien, a member of the Hong Kong Legislative Council and founder of fashion retailer G2000 Apparel Ltd., told Bloomberg Television. "The Chinese tourist will probably never come back because they obviously feel that with all the protests going on, there's going to be a deep divide with Hong Kong and they may not be completely welcome in the future."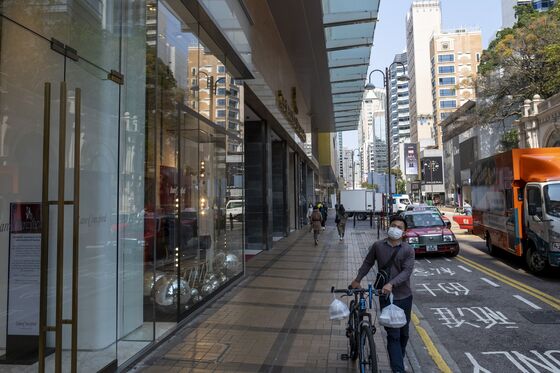 With Hong Kong also stepping up border control measures due to the virus, visitor arrivals from China plummeted about 99% from a year ago in March to just over 30,000 people, according to figures from the Hong Kong Tourism Board. That's down from a peak of more than 5.5 million visitors from the mainland in January 2019, the data show.
"We are in a very difficult time," Hong Kong Chief Executive Carrie Lam said at a regular briefing Tuesday. Lam also announced the city will soon relax some social distancing measures. "When compared with the financial crisis, the SARS crisis, the financial tsunami, it's worse than those occasions."
The city will raise the number of people allowed to gather in groups to eight from four, and said gyms and movie theaters would be allowed to reopen, with the changes going into effect Friday, Lam said. Schools will also start resuming later this month in phases.
Yet easing the virus-related restrictions is a double-edged sword for retailers as there are signs anti-government protests may resume in the city.
"I don't think we can survive it for very long," said Douglas Young, co-founder and chief executive of lifestyle and fashion retail chain Goods of Desire, in an interview with Bloomberg TV. "I don't see how the retail sector or the tourism sector could survive another six months of this kind of unrest and downturn."
The dire situation is prompting some retailers in the city to accelerate shifts in their business.
Kidsland International Holdings Ltd., which sells toys for children, has begun ramping up online ordering and home delivery services in Hong Kong, said Sherman Hung, an executive director with the firm. The company's strategy had previously been adopted in China, but not in Hong Kong until the virus forced the company's hand.
"Covid-19 is an accelerator in promoting us to adopt and evolve quickly," Hung said on Bloomberg TV. "In the past, of course, a significant portion of our businesses is represented by cross-border travelers coming to Hong Kong to consume. But there's also a very significant portion being represented by local demand."
Assuming the virus crisis improves, Hong Kong will come out of recession gradually toward the end of the year, Financial Secretary Paul Chan said at a press conference Monday. The city potentially faces its worst full-year performance on record with a contraction of as much as 7%, after the economy shrank 1.2% last year.
"Our economic situation is very challenging, we are deep into recession," Chan said. "Going forward, the second quarter, we believe that even if there is improvement, the improvement will be gradual and small."