Ex-UBS Banker Starts $100 Million Fund for Share-Backed Loans
(Bloomberg) -- Former Citigroup Inc. and UBS Group AG private banker Ching Ching Lam has raised more than $100 million for a new Asia fund offering share-backed loans as China's crackdown on risky lending forces firms to seek new sources of financing.
Having initially used her own money to lend to small companies in Asia, Lam's Charismatic Capital has this year seen shareholders of larger firms, occasionally some with a market value of $5 billion to $15 billion -- including Chinese developers -- knock on her door as funding avenues on the mainland dry up.
Beijing has been limiting access to share-pledged loans, a practice whereby major shareholders, typically a company's founder, borrow against their stock to reinvest in the business. Now, even firms that are listed in Hong Kong and that used to get advances from the offshore units of smaller Chinese banks and securities firms are feeling the pinch. The tap's been turned off as those lenders are encouraged by authorities to instead direct funds toward more favored industries, like technology and online shopping.
"Listed companies in traditional business in real estate, shipping, tourism, etcetera, have lost favor," Lam said in an interview.
Share-backed loans have been popular with Chinese companies, particularly those with limited access to other financing or those perceived to have poor credit quality.
Some 22 percent of China-listed companies had more than 30 percent of their stock pledged against loans in the first half, Moody's Investors Service said in an August report. About 1 trillion yuan ($146 billion) of pledged shares are scheduled for release by lenders in the second half, an indication of the amount of debt falling due, the report said, citing data from Chinese provider Wind.
The tighter rules, part of China's broader deleveraging campaign, have seen the value of outstanding share-backed loans fall after two years of rapid growth, according to Moody's.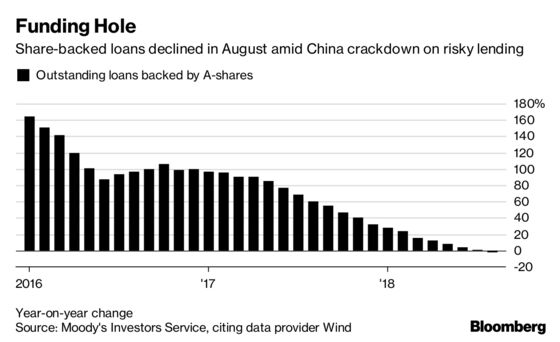 "All the financing channels in China have been clamped down or tightened," said Ivan Chung, Moody's head of greater China credit and analysis. "Companies have funding needs, and they have no other choice.''
That's where Lam steps in.
About 80 percent of her lending has been to shareholders of companies that are traded in Hong Kong, the most popular exchange for Chinese firms outside of the mainland. While Charismatic Capital's investments will be more diversified, about 60 percent of lending will be directed toward Hong Kong publicly traded outfits.
The value of margin loans, or borrowing against shares, in the former British colony rose to HK$206 billion ($26.4 billion) in 2017, a ninefold increase since 2006, according to the city's Securities and Futures Commission. The quality of loans has deteriorated, and borrowing against heavily pledged stocks and illiquid shares both doubled, the SFC said in a report last month.
It's a high-risk approach that can offer outsized returns.
Borrowers have been willing to pay interest rates of between 10 percent to 15 percent a year, plus upfront fees of 3 percent to 5 percent to get money from Charismatic, Lam said.
The risk is that an inability to repay loans or replenish collateral as stocks decline could prompt lenders to sell the pledged shares to recoup their money, exacerbating a market slump.
Lam isn't deterred, and says the market will continue to grow. With up to 90 percent of Asian listed companies smaller firms, demand for share-backed loans is "insatiable," she said.
To contact Bloomberg News staff for this story: Bei Hu in Hong Kong at bhu5@bloomberg.net;Emma Dong in Shanghai at edong10@bloomberg.net;Denise Wee in Hong Kong at dwee10@bloomberg.net
To contact the editors responsible for this story: Katrina Nicholas at knicholas2@bloomberg.net, Peter Vercoe
With assistance from Editorial Board