Property Stocks Rally, Shimao Pares Losses: Evergrande Update
Shimao Unit Plays Down Missed Loan Payment: Evergrande Update
(Bloomberg) -- A unit of Shimao Group Holdings Ltd. at the center of a missed loan payment said the incident won't trigger investor demands for accelerated repayment of its debt in public markets. Property stocks rallied on a report that policymakers will ease some financing restrictions.
The business said in a stock exchange filing that it faces liquidity pressure and will take steps to quicken asset sales. The company said it hasn't suffered any public-market debt default. 
Shimao's shares pared steep declines, finishing the day down 5.4% to close at its lowest since March 2009. The developer's 3.76% yuan bond due July closed 18% lower, after a 25% intraday plunge that triggered a brief trading halt.
In a sign of limited contagion risk from Shimao's debt woes, Chinese property stocks rallied after two days of losses, buoyed by reports that regulators have urged banks to step up lending to developers. The policymakers also eased financing restrictions for major firms. A Bloomberg Intelligence China property gauge erased an earlier loss of 1.3% to gain as much as 3.6%.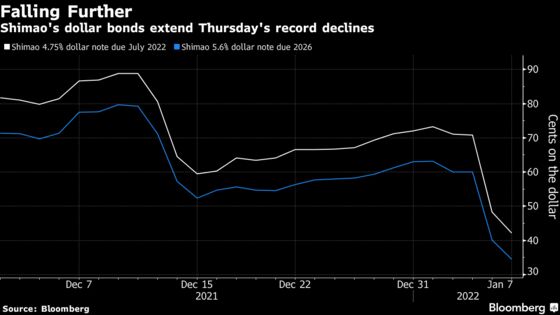 Kaisa Group Agrees to Make Plan to Repay Some Investors: Reuters
China Property Stocks Rebound on Report on M&A Loans Metrics
Shimao Seeks Extension on Three ABS Worth 1.4b Yuan: REDD
Shimao Unit Says Trust Matter Won't Spur Early Bond Repayment
Yango Group Shares Held by Parent Frozen by Court (7:26 p.m. HK)
Over 17 million Yango Group Co. shares held by parent Fujian Yango Group Co. were frozen from Jan. 5, according to an exchange filing. The parent company has become a victim of China's crackdown on the nation's indebted property sector, defaulting on a dollar bond late last year after missing an interest payment. 
Kaisa Group Agrees to Plan to Repay Some Investors (7:09 p.m. HK)
Kaisa Group Holdings Ltd. is working to come up with a plan to repay wealth management product investors, Reuters reported, citing two people familiar with the matter that it didn't identify.
Chairman Kwok Ying Shing agreed to a request from Shenzhen's government to provide a proposal to repay investors in its wealth management products by the end of January, one of the people told Reuters. If Kaisa fails to come up with a plan, the Shenzhen government could seize some of its assets and slowly take over the company.
Shanghai Shimao Says Repayment on Yuan Bond Set For Jan. 17 (4:51 p.m. HK)
Shanghai Shimao Co. says in an exchange filing that its scheduled to make a principal payment of 1.9 billion yuan on January 17. The bond's issuance was 2 billion yuan, but buybacks last year trimmed the outstanding principal to 1.9 billion yuan.
Zhenro Pays Dollar Bond Coupon (3:28 p.m. HK)
Zhenro Properties Group Ltd. has made a dollar-bond interest payment due Friday, according to a company spokesperson. The firm had a $13 million coupon due on a 2026 note, according to data compiled by Bloomberg. 
It has $1.39 billion of other bond maturities and coupon payments due this year. 
China Urges Banks to Boost Property Loans (2:18 p.m. HK)
China called on banks to boost real estate lending in the first quarter and eased a key debt restriction for developers, a sign that authorities are becoming increasingly concerned about the industry's liquidity crisis.
In previously unreported window guidance issued last month, regulators told banks to step up lending to developers after at least two quarters of consecutive declines, people familiar with the matter said. Borrowing by major property firms used to fund mergers and acquisitions will no longer be counted toward the "three red lines" metrics that limit debt, said the people.
Property Stocks Rebound on Reported Metrics Easing (1:08 p.m. HK)
Chinese property stocks rebounded from two days of losses, after authorities have reportedly eased financing curbs for major developers. The rally was led by state-owned, large-size real estate firms. 
Shimao Said to Seek ABS Maturity Extension (11:28 a.m. HK)
Shimao Group is seeking maturity extension on three asset-backed securities totaling 1.4 billion yuan ($220 million) due this month, according to a report by REDD.
The developer is proposing to repay 10% of the principal in the first month, 5% of the principal monthly from February to November and the remaining 40% principal in December.
Shimao Unit Plays Down Impact of Loan Miss (9:46 a.m. HK) 
A unit of Shimao Group said it hasn't suffered any default in public markets, while its missed loan payment won't trigger demands for accelerated repayment, according to an exchange filing. 
The company said it is faced with liquidity pressure and will take measures to speed up asset sales. 
DaFa Properties Begins Swap Bond Offer (8:59 a.m. HK)
DaFa Properties Group Ltd. has begun an exchange offer for at least $166 million, or 90%, of the outstanding principal amount of its 9.95% 2022 notes, the company said in an exchange filing. The developer said it is also soliciting consents to proposed waivers and amendments from bondholders. 
New notes to be issued for the bond swap will mature on June 30 and will bear a coupon of 12.5%. The offer will expire at 4 p.m. London time on Jan. 12.
Aoyuan in Talks to Sell Offshore Projects (8:45 a.m. HK)
China Aoyuan Group Ltd. is in talks to sell four to five offshore projects with an estimated value of about 3 billion yuan, local media The Paper reported, citing an unidentified person close to the deal. 
Shimao Default Notice Hammers Bonds (7:30 a.m. HK)
Shimao Group Holdings Ltd., a bellwether for financial contagion in China's embattled property industry, suffered its biggest-ever bond rout on Thursday after a creditor said one of the developer's units defaulted on a local loan.
The Shimao unit failed to pay 645 million yuan of a total 792 million yuan due by Dec. 25, according to a notice sent to investors by China Credit Trust Co. The trust firm had demanded early repayment by Dec. 25 after the developer failed to meet installment requirements, according to the notice.
Shimao Pledges Unit's Shares for Loans (7:25 a.m. HK)
Shanghai Shimao Investment Management pledged 265 million shares, or a 7.06% stake in Shanghai Shimao Co. with Ningbo Commerce Bank Co. Wednesday to fund its operations, according to an exchange filing.
Shimao Investment and two other companies controlled by founder Hui Wing Mau have pledged a combined 560 million shares of Shanghai Shimao, representing a 14.93% stake in the company, as of Thursday.