Clock Ticks for Evergrande as $7.4 Billion of Bonds Due 2022
Clock Ticks for Evergrande as $7.4 Billion of Bonds Due in 2022
(Bloomberg) -- The clock is ticking for China Evergrande Group to raise cash and pay back $7.4 billion of bonds coming due next year. 
Pressure on Evergrande's liquidity may intensify if it can't smoothly sell assets and extend borrowings, China's biggest credit rating firm said when downgrading onshore bonds Sept. 2. Some non-bank creditors have demanded immediate loan repayments, Bloomberg reported, potentially further squeezing available cash to bondholders.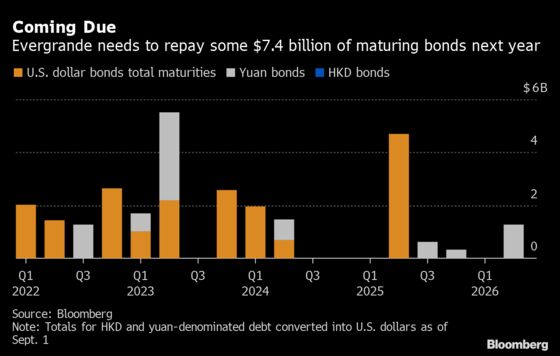 Evergrande's yuan bonds are no longer accepted as collateral in the country's key funding market. Its notes were absent from a list of securities accepted in return for cash in so-called repurchase agreements on Shenzhen's exchange. They also couldn't be pledged for cash on Shanghai's exchange, according to a notice posted by the clearing house late Friday.
While Chinese regulators have urged the company to resolve its debt woes, the government has so far stayed silent on whether it will provide financial support. 
Evergrande has been offering steep discounts on its properties to entice buyers and raise cash. Even so, contracted sales fell 26% in August from a year earlier, according to a filing late Friday. 
The following is a list of offshore and domestic bonds issued by Evergrande and its units that are coming due in 2022, according to data compiled by Bloomberg. A second list shows onshore notes which give holders the right to demand early repayment next year. 
China Evergrande's borrowings maturing next year
Issuer
Maturity
Amount Outstanding
China Evergrande Group
3/23/2022
$2.03 billion 
China Evergrande Group
4/11/2022
$1.45 billion
Hengda Real Estate
7/8/2022
8.2 billion yuan
Scenery Journey
10/24/2022
$2 billion
Scenery Journey
11/6/2022
$645 million
China Evergrande's bonds which are puttable in 2022
Issuer
Maturity
Put Date
Amount Outstanding
Hengda Real Estate
1/8/2023
1/8/2022
4.5 billion yuan
Hengda Real Estate
5/6/2024
5/6/2022
5 billion yuan
Hengda Real Estate
5/26/2023
5/26/2022
4 billion yuan
Hengda Real Estate
6/5/2023
6/5/2022
2.5 billion yuan
With assistance from Bloomberg