China's Trade Olive Branch Can't Dispel Fears of Clash With U.S.
China had been "bullied and oppressed by imperialist powers", says China's Vice President Qishan.
(Bloomberg) -- A top Chinese official's offer of trade talks with the U.S. on Tuesday did little to assuage concerns that the world's two largest economies were headed for a confrontation that could disrupt the global order.
Chinese Vice President Wang Qishan -- a long-time ally of President Xi Jinping -- told Bloomberg's New Economy Forum in Singapore that Beijing remained ready to discuss solutions to its trade war with the U.S. But Wang also warned that China wouldn't again be "bullied and oppressed by imperialist powers," underscoring fears by business and political leaders on hand that rising nationalism in both countries would be harder to manage.
"We're going to see these two sides continue to dig in their heels -- both sides still think they have the upper hand," Scott Kennedy, deputy director of China studies at the Center for Strategic and International Studies in Washington, said on the sidelines of the event. "They'll continue to do this dance, and all of us will continue to watch."
Former Australian Prime Minister Kevin Rudd said the Communist Party leadership was coming to terms with a "fundamental shift" toward a more assertive China policy in Washington. Henry Kissinger -- who helped broker the U.S.'s 1970s rapprochement with China -- said he was "fairly optimistic" a wider clash could be avoided, but warned that failure would "destroy hope for world order."
Such remarks showed the apprehension among the world's financial and political elite if President Donald Trump attempts to follow through on U.S. calls to check China's rise as a global superpower. Trump's move to put tariffs on $250 billion of Chinese goods in a bid to rebalance global trade has led to retaliation from Beijing and exacerbated a raft of disputes, from human rights to U.S. military support for the democratically run island of Taiwan.
Read more from the New Economy Forum:
Southeast Asia to Reap Trade War Benefits, Ayala CEO Says 
The tensions were apparent in Wang's keynote address to the more than 400 attendees gathered at the Capella Hotel, including former Trump chief economic adviser Gary Cohn and ex-Federal Reserve Chair Janet Yellen. On one hand, the Chinese vice president pledged that China would "stay calm and sober-minded" and reaffirmed his country's desire to "work for a solution on trade acceptable to both sides."
On the other, he reminded the crowd that China must "blaze its own trail" and warned of the dangers of rising "unilateralism," echoing Xi's veiled swipes at Trump's policies at a trade expo Monday in Shanghai.
"Such rapid changes have split some countries and societies," Wang said. "The polarization of right-leaning populism has manifested itself in political demands, which has led to unilateral policies against globalization and seriously affected the international political ecosystem."
Wang was introduced Tuesday by former New York City Mayor Michael Bloomberg, the founder and majority owner of Bloomberg LP. The company owns both Bloomberg News and Bloomberg Media Group, which organized the New Economy Forum.
While Trump has asked cabinet officials to outline the terms of a possible deal, Bloomberg News reported Friday, Chinese officials have given no indication they're ready to meet key U.S. demands, such as halting forced technology transfers or rolling back support for state-owned enterprises. Such requests would undermine China's "socialist market economy," in which the Communist Party has used its control over key industries to close its technological gap with the West.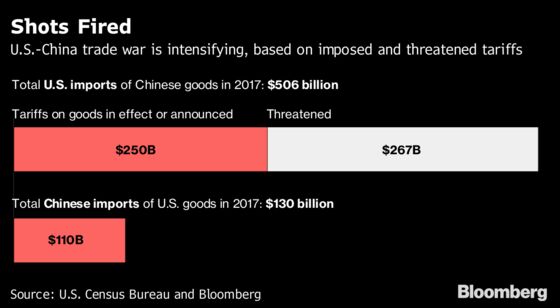 Trump has vacillated between optimistic and cautious assessments in the final days of an midterm election campaign in which the trade war has clouded an otherwise clear economic outlook. Trump told a campaign rally Monday in Fort Wayne, Indiana, that he believed he would reach a deal with Xi, "but a fair deal -- fair deal. There's a difference. No bad deals."
"For President Trump, even though he's signaling that it's possible they want a deal, there's actually no monster benefit to him economically or politically," said Kennedy of CSIS.
Secretary of State Michael Pompeo and Secretary of Defense James Mattis announced Monday that they would host their Chinese counterparts Friday in Washington for a regular diplomatic and security dialogue. Still, many in China are already preparing for a protracted fight.
"There is a deep realization in Beijing that there is a fundamental shift in the American take on China," Rudd, who's now president of the Asia Society Policy Institute, told an NEF panel discussion. "They see China no longer as a status quo power, but as changing the international realities."
--With assistance from Karen Leigh, Sharon Chen, Tian Chen, Chris Bourke, Alyza Sebenius and Dandan Li.
To contact the reporters on this story: David Tweed in Hong Kong at dtweed@bloomberg.net;Enda Curran in Hong Kong at ecurran8@bloomberg.net;Alfred Cang in Singapore at acang@bloomberg.net
To contact the editors responsible for this story: Brendan Scott at bscott66@bloomberg.net, Daniel Ten Kate