China Partially Rolls Over MLF Loans After Reserve Ratio Cut
China Traders Looking to PBOC Loan Operation for Hints on Easing
(Bloomberg) -- China rolled over part of the policy loans coming due this month as the central bank seeks to sustain its support for the economy after cutting the reserve-requirement ratio last week.
The People's Bank of China injected 500 billion yuan ($78.5 billion) of one-year cash into the financial system, partially offsetting the 950 billion yuan coming due on Wednesday. It kept the interest rate on the loans unchanged at 2.95% for a 20th month. Attention now switches to the PBOC's review of its loan prime rates next week, the de facto benchmark for new loans.
"It feels like the same measured response from the PBOC," said Eugene Leow a rates strategist at DBS Bank Ltd. in Singapore. "Market participants are now watching when a move in the rate on the medium-term lending facility or the loan prime rate will take place." 
While the PBOC's decision to roll over part of the policy loans met market forecasts, there's growing expectations that policy makers will need to ease with the latest data showing an economy hit by a property market slump. The loan prime rate, a key lending rate set by banks, could be cut in the near future, the official Securities Times reported last week.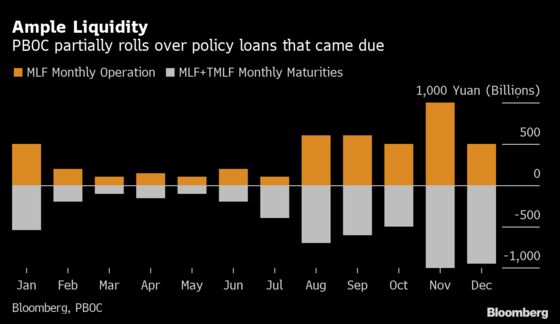 Economists predict Beijing is set to become more pro-growth next year, with top decision makers recently vowing to ensure stability and "front load" policies. Residential property sales and the area of new housing started by developers both dropped about 20% from a year earlier, data showed Wednesday, while retail sales growth fell short of economists' forecasts.
"The MLF rollover is another sign of the PBOC's increasingly dovish stance," said Wei Yao chief China economist at Societe Generale SA. There's likely to be 10 basis-point cut to policy rates early next year, followed by a reduction in the loan prime rate, she said. 
China's 10-year bond yield was little changed at 2.88% as of 4 p.m. in Shanghai. Banks will decide on the loan prime rate next Monday.
China's bonds have rallied this year and foreign funds have poured into the stock market in record amounts as traders sense a pivot away from a lengthy de-leveraging campaign. Twelve-month yuan interest-rate swaps fell to the lowest level since July 2020 this week, a sign traders are betting on easier monetary policy.
The PBOC last week unexpectedly cut the reserve-requirement ratio for banks -- releasing 1.2 trillion yuan of liquidity into the system effective Wednesday -- with some analysts pointing to the risk of contagion from China Evergrande Group's debt crisis as a likely reason. 
| Institutions | MLF Forecast | MLF Rate Cut | LPR Rate Cut (Dec. 20) |
| --- | --- | --- | --- |
| Citic Securities Co. | Partial (500b) | No | Maybe |
| Everbright Securities Co. | Partial (400-500b) | No | No |
| Northeast Securities Co. | Partial (500b) | No | Maybe |
| Australia & New Zealand Banking Group Ltd. | Partial (100b)  | No | No |
| Scotiabank | Partial (500b) | 50% chance 20bps cut | 50% chance 20bps cut  |
| Standard Chartered Plc.  | Partial (100-300b) | No | No |
| Mizuho Bank Ltd.  | Partial (500b) | No | No |
| DBS Bank Ltd.  | Partial (475b)  | No | No |
| Oversea-Chinese Banking Corp.  | Partial (300b) | No  | No |
| Commerzbank AG | Partial (500b) | 25% chance of 5bps cut | 50% chance 5bps cut |
| Bloomberg Intelligence | Partial (300b) | No | No |
With assistance from Bloomberg