China Set to Lead ESG Disclosure to Lure Foreign Investments
China Set to Lead ESG Disclosure to Lure Foreign Investments
(Bloomberg) -- Industry experts see China leading the growth in disclosures related to environmental, social, and governance (ESG) standards in bid to attract more foreign investments.
China's average Bloomberg ESG disclosure score is currently 21.6, less than half of France, which holds the top rank of 46.9.
Policy makers' push to mandate all listed companies and bond issuers to disclose ESG risks is also seen boosting China's ranking.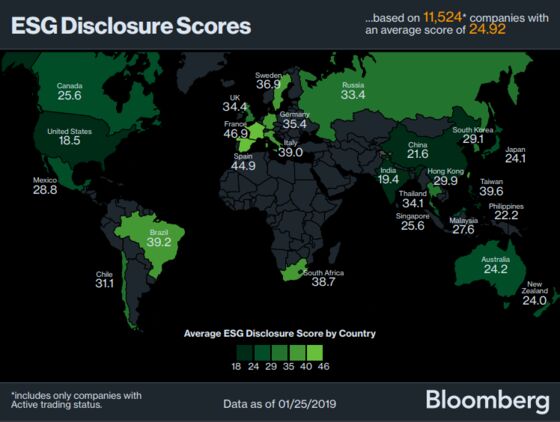 Here's what industry experts say:
Andrew Steel, London-based global group head of sustainable finance with Fitch Ratings:
In the next five years, we will see some very big changes in consistency and transparency of information disclosure across the markets and that will soon be led by China
China is likely to move faster than anybody else on this given their centrally controlled model. They've already introduced some legislation on compulsory ESG disclosure requirements which kick in next year for listed entities and public bond issuers
We will eventually move to a tipping point in the capital markets where there will be more assets that report on ESG than don't, and that's the point where an issuer discovers that liquidity and pricing is worse if you're not reporting
Pierre-Francois Thaler, Paris-based co-founder and co-CEO of EcoVadis:
Companies in China are surprisingly more open than other countries in disclosing ESG performance because they are very reactive and business-minded
They understand the need and importance of external recognition of their sustainability performance to their foreign trading, business partners or clients. That is also one of the reasons why China is our fastest growing base of scorecards
China is the top manufacturing site for the global 500 companies – which makes sustainability performance critical
While other, more developed countries have slowed down on their investments in sustainability, China is still growing and growing fast
Corinne Bendersky, London-based associate director with S&P Global Ratings sustainable finance team:
Attracting foreign investors will require improvements in transparency in the Chinese financial market, although the government has pushed reform and transparency
China's desire to attract foreign investment, particularly through the global sustainable finance markets, will require a greater focus on ESG issues, an investment ethos that has been embraced by foreign investors, particularly in Europe
Environmental performance information, in particular, remains insufficient and will require greater environmental risk information statistics and data disclosures to meet the demands of green bond investors
Attracting international investors will require Chinese firms to improve their treatment and disclosure of the broader set of ESG risks and opportunities and to remain accountable to the environmental and social commitments made
Sustainable Finance Grows in the World's Worst-Polluting Country
Good ESG Disclosure Spells Returns for Hong Kong's China Stocks
--With assistance from Annie Lee.
To contact the reporters on this story: Jacqueline Poh in London at jpoh39@bloomberg.net;Mariko Ishikawa in Sydney at mishikawa9@bloomberg.net
To contact the editors responsible for this story: Hannah Benjamin at hbenjamin1@bloomberg.net, Neha D'silva
Get Your
Daily Newsletter
Get market moving news, top news & compelling perspectives
---