China Seen Keeping Special Bond Quota Unchanged from Last Year
(Bloomberg) -- China plans to keep its 2022 quota for new infrastructure debt unchanged from 2021, according to people familiar with the matter, as the government looks to balance debt sustainability with the need to support economic growth. 
Local governments were allowed to sell 3.65 trillion yuan ($573 billion) of new special bonds in 2021. The people with knowledge of the matter asked not to be named as they weren't allowed to comment publicly. The quota still needs to be officially approved at the annual meeting of China's parliament in March.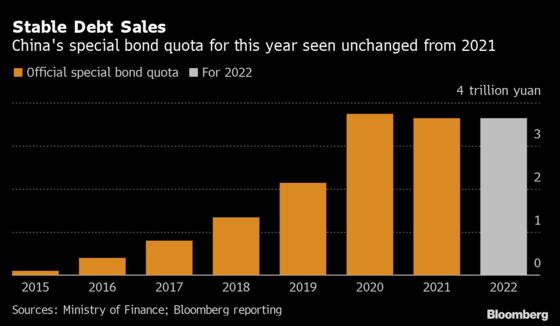 Local governments have already started selling the bonds even before the full quota was approved, with the Ministry of Finance allowing sales of 1.46 trillion yuan of debt from December in an attempt to boost government spending as quickly as possible in 2022. This also happened in other years, when Beijing was keen to get the provinces to borrow and spend as quickly as possible. 
Click here to read this story in Chinese language.
For a guide to reading Bloomberg Chinese news, click here.
Read more: China Sees Investment Boost in Early 2022 on More Bond Sales 
There had been some expectation that the quota would be set lower than last year, with analysts at JPMorgan Chase & Co., Standard Chartered Plc., Tianfeng Securities Co., Hongta Securities Co. and Soochow Securities Co. all forecasting sales below the level in 2021. The Finance Ministry did not respond to a faxed request for comment.
With assistance from Bloomberg