China's Politburo Ignites Market Rally With Vows on Growth
China's Politburo Pledges Efforts to Meet Economic Targets
(Bloomberg) -- China's top leaders promised to boost stimulus and contain the country's worst Covid outbreak since 2020, issuing a sweeping set of pledges that was light on details but enough to spark steep gains in stocks and the yuan.
Vows by the Communist Party's Politburo to meet growth targets and support the "healthy" development of tech platform companies fueled a more than 5% gain in the Hang Seng China Enterprises Index. At the same time, a renewed commitment to Covid Zero raised doubts about the government's ability to achieve its growth objectives and disappointed some investors who say the strict virus containment policy is hobbling the world's second-largest economy.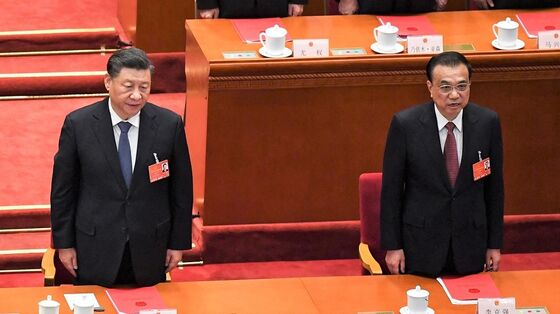 "Covid must be contained and the economy must be stabilized," the Politburo, led by President Xi Jinping, said Friday, according to a readout of its meeting on state broadcaster China Central Television. "We should waste no time in planning more policy tools and enhance the strength of adjustment in due course." 
The timing of the statement during market hours was unusual, helping equities, corporate bonds and the currency rally into a long holiday weekend after steep losses earlier this month. 
Xi's Covid Zero strategy has forced major cities like Shanghai to shut down, disrupted business operations of companies like Tesla Inc. and iPhone maker Foxconn Technology Group, and roiled global supply chains. The Politburo's commitment to meeting its growth target of about 5.5% for the year despite the Covid upheaval suggests stronger stimulus measures may be on the cards, including a ramp up in infrastructure spending -- an approach Xi himself highlighted at a meeting earlier this week and that was reaffirmed by the leadership meeting today.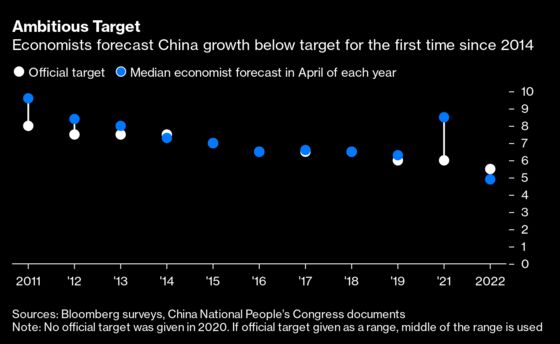 Authorities should "strive to achieve full year economic and social development goals," the Politburo said. Leaders also vowed to guarantee "supply chains in key sectors" and smooth transport logistics, as they pledged to "positively respond" to demands from foreign-invested companies for a smoother business operating environment.
The Politburo's meetings usually set the tone for official policy and highlight any major adjustments, which are then followed up with specific steps outlined by various government agencies.
Politburo readouts are typically made public late in the afternoon or during the CCTV's flagship evening news program. The lunchtime announcement helped to push the benchmark CSI 300 Index to a session high after trading resumed in the afternoon, before ending the day 2.4% higher. The offshore yuan reversed its earlier weakness to strengthen as much as 0.8%, the most since October 19. 
The credit market also rallied, with Chinese high-yield dollar bonds extending morning gains to rise 5-7 cents on the dollar, according to credit traders.
UBS Group AG economist Tao Wang said while the statement didn't hold any "big surprise on the upside," it wasn't disappointing either. 
"It made clear on where policy support is needed," she said. "Property, infrastructure and the platform economy are of high concern to the market, and they are also sectors that can have a multiplier effect to drive economic growth." 
The Politburo pledged to "strengthen infrastructure construction in an all-around way" and to support the housing market. While officials repeated the phrase that "houses are for living in not for speculation," the government said it would also work to meet the demand for better quality housing and "optimize" the supervision on developers' income from project pre-sales.
There was also a shift in language on internet platform businesses, a sign of possible easing of a regulatory crackdown on the industry. China's top economic official Liu He in March called on regulators to "steadily advance and complete as soon as possible the rectification of large platform companies." The Politburo dropped the words "steadily advance" and "as soon as possible" from its guidance, and added that "specific measures to support the regulated and healthy development" of the firms will be introduced.
The comments helped to drive the Hang Seng Tech Index up 10% on Friday, its best day in six weeks.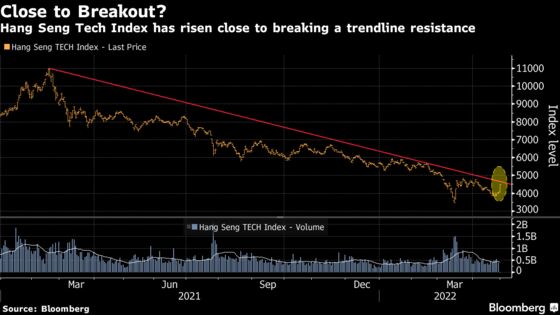 Several promises by officials in recent weeks to support the economy provided only a temporary boost to market sentiment as investors looked for more detail on specific measures and stimulus steps. The CSI 300 Index remains 13% lower from the start of March, while the offshore yuan is still on pace to log its worst month on record. 
"These are good words, the question is how they will deliver," said Chen Long, an economist at Beijing-based consultancy Plenum. "I think we need to see action in the next few weeks."
Beijing has put difficult economic reforms -- such as slowing debt growth and curbing income inequality -- largely on hold this year as it focuses on growth ahead of a Communist Party Congress this fall, where Xi is expected to seek a historic third term as party chief. 
However, the growth objective is increasingly at odds with the government's steadfast commitment to Covid Zero. Economists have slashed their forecasts for gross domestic product this year, with Morgan Stanley predicting 4.2% for this year and Bloomberg Economics estimating just 3.6%.
"The biggest disappointment is there was no sign of any adjustment to the Covid policy," said Jacqueline Rong, deputy chief China economist for China at BNP Paribas SA. "It was debated a lot and people were looking at the Politburo meeting for clues. The meeting, however, affirmed the policy once again and that means there's no hope for any change in the near term."
The signal of easing measures for the real estate and technology sectors is "a boon for the capital market" but won't be sufficient to help the economy achieve the government's growth target, she said. The statement "doesn't strike us with any sense of upside risks to our prediction" of 4.5% in annual economic growth, she added.
Top leaders also nodded to the recent rout in financial markets. The Politburo said the government would steadily facilitate the reform of registration-based initial public offerings, actively introduce long-term investors and maintain the stable operation of capital markets.
"Although the Politburo again planned to roll out a raft of easing measures, we remain deeply concerned about growth, as we believe the omicron variant and the Zero Covid strategy represent the dominant challenges to growth stability," Nomura Holdings Inc. economists led by Lu Ting wrote in a note.
With assistance from Bloomberg
Get Your
Daily Newsletter
Get market moving news, top news & compelling perspectives
---