China's Industrial Sector Is Dogged by Defaults as Growth Slows
China's Industrial Sector Is Dogged by Defaults as Growth Slows
(Bloomberg) -- China's industrial sector is flashing warning signs of more credit stress ahead as a slowing economy makes it tougher for companies to refinance billions of dollars of debt.
A rising tide of defaults at high-yield industrial firms this year such as Kangde Xin Composite Material Group Co. and Xiwang Group Co. is fueling concerns of more debt pain as a wave of offshore repayments looms in 2020. Bank of America Merrill Lynch estimates $12 billion of industrial bonds are set to mature and is recommending investors to stay defensive given the risks of them missing on payments.
"Weaker economic growth and the absence of credit stimulus so far should hamper profitability and cash flows as the majority of the default cases this year are from this sector," said Joyce Liang, head of Asia Pacific credit research at the U.S. bank.
China's industrial firms are bearing the brunt of defaults as they struggle with slumping profits amid the country's worst economic slowdown in almost three decades. Moody's Investors Service estimates that liquidity of China high-yield industrial companies it rates is the worst on record, with 63.2% of such firms it rates facing tight cash conditions.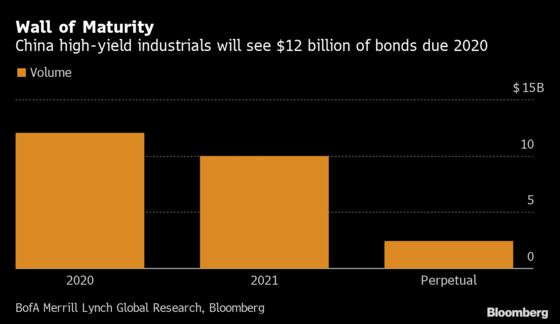 The outlook for industrials is challenging for particular segments, said Omotunde Lawal, London-based head of emerging market corporate debt at Barings UK Ltd. The automotive sector had been suffering a slowdown over last few months while larger state-owned enterprises may fare better within metals and mining.
"If you're a private enterprise in that sector, you're likely prone to bouts of volatility and issues coming through," Lawal said.
"During the credit craze in 2017, several marginal credits that are highly leveraged and or operating in opaque industries managed to tap the USD bond market, capitalizing on investors' hunger for yield," according to a recent JPMorgan Chase & Co. report. "Next year would likely be the day of reckoning for loosened credit standards."
--With assistance from Molly Dai, Cheng Wan and Adrian Yim.
To contact Bloomberg News staff for this story: Annie Lee in Hong Kong at olee42@bloomberg.net;Rebecca Choong Wilkins in Hong Kong at rchoongwilki@bloomberg.net;Xize Kang in Beijing at xkang7@bloomberg.net
To contact the editors responsible for this story: Neha D'silva at ndsilva1@bloomberg.net, Chan Tien Hin
With assistance from Bloomberg