China's Industrial Profits Surge as Output and Prices Climb
China's Industrial Profits Surge as Economy Booms, Prices Rise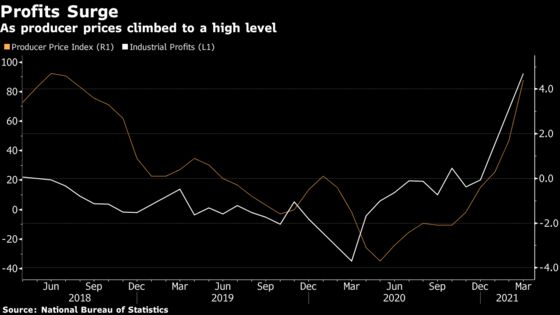 The statistics bureau said the steady recovery was partly due to faster production and sales, but warned of a number of risks clouding the outlook.
"There are still greater uncertainties in the global epidemic developments and the international environment, and the recovery between industries is still uneven," Zhu Hong, an economist with the bureau, said in a statement. Rising commodity prices are also pushing up costs for businesses, she said.
What Bloomberg Economics Says...

Industrial profit growth will likely slow in coming months "as the base becomes more challenging and output starts to peak."

"Even with a slowdown, profit growth should still remain strong in the coming months -- likely in the double digits. This should continue to sustain the industrial sector's capacity to retain workers and invest -- helping to support the broader recovery."

Eric Zhu, China economist

For the full report, click here.
The economy posted record growth in the first quarter, with signs of a more balanced recovery underway. Growth in industrial production remained solid in March, while producer prices climbed by the most since July 2018, boding well for profits as companies charge higher prices for their goods.
Raymond Yeung, chief economist for Greater China at Australia and New Zealand Banking Group Ltd. said the strong figures should be interpreted with caution given last year's low base because of the virus lockdown and seasonally high numbers in March. Producers are also facing "several supply shortages and high commodity prices," he said.
In the first quarter, industrial profits grew 137% from a year ago. State-owned firms outperformed private companies, with profit growth of 199% and 91.9% respectively. Auto manufacturers were big winners, with profits rising 843%, as well as ferrous metal processors, whose profits grew 780%.
With assistance from Bloomberg