China's Digital Silk Road Is Looking More Like an Iron Curtain
China is exporting to at least 18 countries sophisticated surveillance systems capable of identifying threats to public order. 
(Bloomberg Businessweek) -- The first billboard that greets passengers arriving at the airport in Lusaka, before Pepsi's "Welcome to Zambia," is an advertisement for Bank of China. Nearby, a Chinese company is building a sleek terminal. On the road into the capital city, near the office of Chinese telecom company ZTE Corp., another billboard features surveillance cameras made by Hangzhou Hikvision Digital Technology Co. At the national data center built by Huawei Technologies Co., a Chinese man in a bright orange vest walks toward a building that houses government servers.
This southern African nation, a former British colony rich in copper and cobalt, is spending $1 billion on Chinese-made telecommunications, broadcasting, and surveillance technology. It's all part of China's "Digital Silk Road," a subset of its "Belt and Road" initiative that contributes an estimated $79 billion in projects around the world, according to RWR Advisory Group, a Washington consulting firm that tracks Chinese investment. That funding has boosted development in Zambia and many other countries, but it comes at a price.
Most of the digital infrastructure projects in Zambia, like the more visible airport terminals and highways, are being built and financed by China, putting the country at what the International Monetary Fund calls a high risk of debt distress. It's also given rise to fears that what has long been a thriving and stable multiparty democracy is veering toward a Chinese model of repression.
"We have sold ourselves to the Chinese," says Gregory Chifire, the director of an anticorruption organization who fled the country after being sentenced in November to six years in prison on what Amnesty International calls trumped-up charges. "People's freedom to express themselves—their freedom of thought, their freedom of speech—is shrinking by the day."
Zambian government officials defend their reliance on Chinese technology and deny it's being used for political purposes. "The government has the responsibility to invest in infrastructure," says Dora Siliya, the information minister. "Zambia's model for development is neither the West's nor China's but an attempt to take the best from both. We have a Zambia model." The Chinese Embassy in Lusaka didn't respond to requests for an interview.
What's playing out in Zambia is part of a larger contest between the U.S. and China for dominance over the future of technology and global influence. Companies from both countries sell tech products around the world, but Chinese businesses are offering a wide range of gear and relatively cheap financing in countries from Zimbabwe to Vietnam. They have an advantage in developing nations such as Zambia, which are looking to modernize their technology infrastructure.
The rivalry risks dividing the world with a digital iron curtain. The potential for bifurcation is already noticeable, as U.S. allies including Australia and New Zealand have banned Huawei and ZTE from providing equipment for 5G wireless technology on national security grounds and Canada arrested Huawei Chief Financial Officer Meng Wanzhou in December on allegations she defrauded banks to violate Iranian sanctions. Huawei and ZTE are both private companies and have pushed back against allegations that they're pawns of the Chinese government.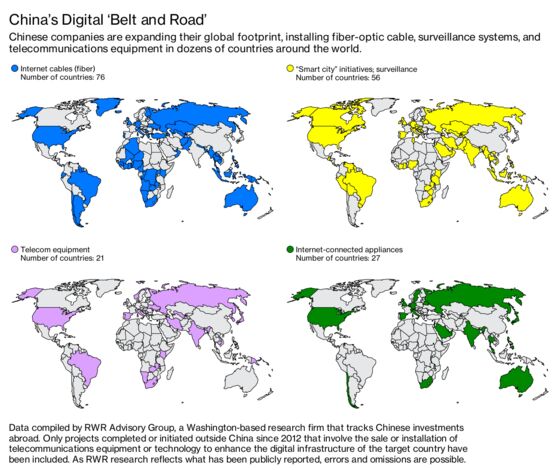 China is exporting to at least 18 countries sophisticated surveillance systems capable of identifying threats to public order and has made it easier to repress free speech in 36 others, according to an October report published by Washington watchdog Freedom House. "They are passing on their norms for how technology should govern society," says Adrian Shahbaz, the author of the report, which found that Zambia had slipped in the group's ranking of national internet and media freedoms for the past two years. Nadège Rolland, a senior fellow at the National Bureau of Asian Research, a Washington think tank, says, "There's a 1984 component to it that's kind of scary."
Discussions with government officials in Lusaka often begin with a history lesson. First comes the what-did-the-West-ever-do-besides-exploit-us part, followed by a version of the China-has-always-been-our-friend speech. It's a convenient way to defend the growing reliance on Chinese projects that's raised Zambia's debt to that country to $3.1 billion, about one-third of its total foreign debt, according to government estimates.
That's the way it plays during a December interview with Brian Mushimba, Zambia's minister in charge of transport and communications. He's from Zambia's Copperbelt, one of 16 children. He studied engineering at the University of Arizona, worked at Pratt & Whitney in Hartford, and has an American wife. But he's a firm defender of China's development agenda, saying it's lifted millions of people out of poverty and offers the same to Zambia. "China has not only done this but is willing to share and give cheap financing for us to also do it," he says, sitting in his office in a one-story colonial-era building with peeling pale-peach paint. "Their model is very interesting, very different from how the Western world interacted with Africa. China serves as a model worth replicating."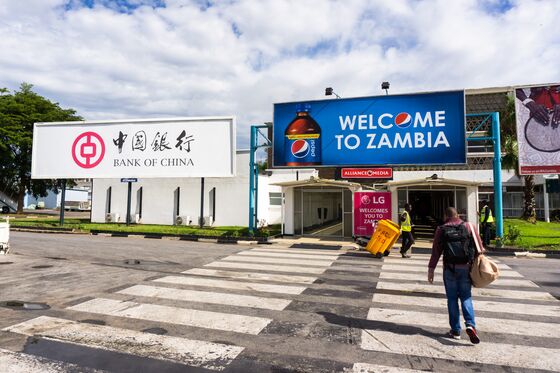 The 44-year-old minister has invoked the "China way" of dealing with the internet when threatening to ban Google and Facebook, which has provided a platform for disinformation campaigns in Myanmar and other countries. He's called "fake news" a threat to national security and urged self-censorship, saying the government has the ability to monitor all digital devices in the country. A draft cyberlaw scheduled for debate in the National Assembly this year would create an agency with the power to determine whether information published online threatens national security, punishable by jail time, something free-press advocates say could be applied to news organizations that expose corruption. Criticizing President Edgar Lungu in social media posts has already landed several people in prison on charges of defamation.
While Mushimba acknowledges that the idea of governance "with less dissenting views" is in conflict with Zambia's democracy and free press, he denies the government is trying to stifle expression and says it's just enforcing the law. "The internet is a powerful tool that can't be left to run wild," he says. "The government has good intentions—the good intention to keep peace, order, and security in the country."
Talk of restrictions doesn't sit well with Richard Mulonga, the 39-year-old founder of Bloggers of Zambia, a group that's been urging the government to follow European standards of cyberlaw. Mulonga, a photojournalist fired from his job at a state-run newspaper after he posted pictures on his blog that the paper wouldn't publish, says free-speech advocates are fearful. "Citizens have the right to hold power to account," Mulonga says, sipping coffee in a Lusaka hotel lobby, a Facebook pen clipped to the collar of his black T-shirt. "Only through free expression can we participate in democracy."
In 2013 and 2014 the government blocked at least four websites by using a technique typically associated with censorship in China, according to the Open Observatory of Network Interference, a global network that collects data on internet tampering. It couldn't prove Chinese equipment was involved, but its report cited information that Zambia had installed internet monitoring and blocking equipment from ZTE and Huawei. State-run Zambia Telecommunications Co. and its regulator declined to answer questions. A Huawei spokesman in Lusaka says he's unaware of the company's technology being used for such purposes.
Zambian Watchdog, which focuses on corruption, was one of the websites blocked. Today, its posts are regularly called "fake news" by government officials. Representatives of the group didn't respond to requests for comment. But editors of the Mast, a newspaper often critical of the government, were willing to talk about the climate of fear engendered by new technologies.
"Being a newspaper, if you're going to call a source, it means they know who you're calling," says editor Larry Moonze, sitting at a conference table in one bedroom of the two-bedroom house where the newspaper is produced. "Media institutions are working under fear of the government, with the help of the Chinese," adds Chief Executive Officer Likezo Kayongo, whose brother founded a predecessor publication that was raided and shut down in 2016.
ZTE is also installing cameras in public spaces in Lusaka as part of a $210 million "Safe City" project. The contract was canceled in 2013, over irregularities in how it was awarded, then reinstated in 2015, government officials confirm. The project is designed to increase policing power in a city that's already one of the safest in southern Africa.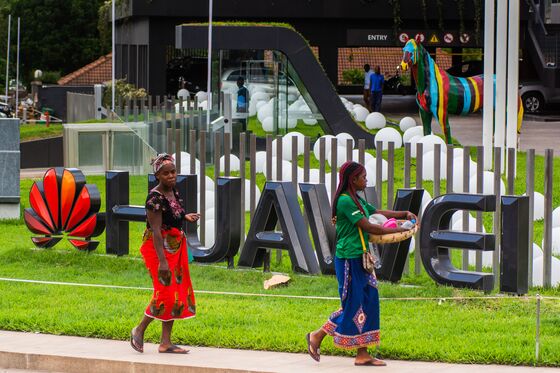 In China, authorities use surveillance systems with facial recognition software to compare citizens against government databases, allowing them to track those with dissenting views as well as criminals. In Zambia, "there will be no political uses," says Chileshe Mulenga, permanent secretary at the Ministry of Home Affairs, which is in charge of the project. "We are not passive. We are defending our interests."
Representatives of ZTE in Zambia and China declined to talk about the company's projects. Huawei spokesman Hansen He was more talkative. He says his company's "Smart Zambia" initiative, which includes plans to bring mobile and broadband connectivity to rural villages without coverage and to put government functions online, is supplying technology for what Zambia wants to do and the support to make sure it works. "We just provide the solutions," he says. "They are the operators to run it."
Huawei also built Zambia's national data center, which handles all government data and storage. Zeko Mbumwae, the center's general manager, says officials have no concerns that the gear could be used for Chinese intelligence or data-gathering purposes. "Once someone's built you a home, you change the locks," he says. "That's what we did."
Another Chinese-funded project is the migration from analog to digital TV, which is being handled by TopStar Communications Co., a 60-40 venture between Beijing-based StarTimes Group and Zambia's state-owned broadcaster, ZNBC. Chifire, the anticorruption activist, has called it "one of the biggest financial scandals in modern-day Zambia."
The country of about 17 million people is spending $282 million on the switch, or about $16.60 a person. That's 46 percent more on a per-person basis than South Africa is spending. Zambia borrowed almost all of the funding from the Export-Import Bank of China. Independent stations complained that they were being turned into content providers for the government's network and protested the $72,000 in monthly fees for TopStar to carry their channels. They said the fees would put them out of business, leaving only a Chinese company and its state-run partner as the nation's primary TV outlet. "We're not refusing to pay," says Costa Mwansa, CEO of Diamond TV. "What we are refusing is figures that will kick us out of business."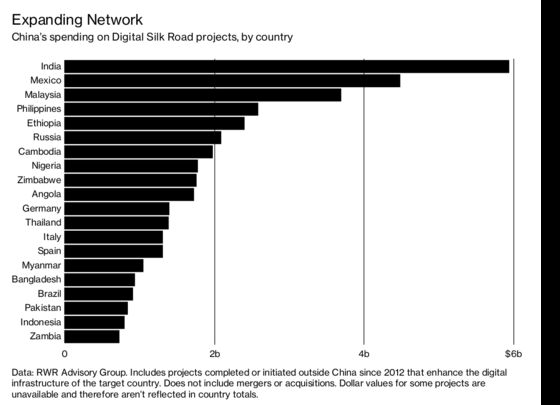 The government says Zambia's digital migration is expensive because the project includes eight new studios, broadcasting vans, and trips to China to train hundreds of ZNBC journalists. Anyone who criticizes the cost is comparing apples to oranges, says Siliya, the information minister. "The corruption assumption being perpetuated is wrong."
Similar debates are going on across Africa and other continents as Chinese digital infrastructure spreads its roots. In neighboring Zimbabwe, where Hikvision surveillance cameras are being installed in the capital, Guangzhou-based CloudWalk Technology Co. won a contract last year for Africa's first artificial intelligence project. It stalled when the government asked for a discount after learning that facial data would be transmitted to China to help the company perfect its technology, says Shingi Magada, a China-based Zimbabwean consultant who helped broker the deal. "We were just giving away our data," he says. Hikvision has come in with a competing offer, and the Zimbabwean government is keen to go ahead at the right price, he adds. Neither Hikvision nor CloudWalk responded to requests for comment.
In Mauritius, off Africa's east coast, Huawei is installing 4,000 cameras. Opposition politicians fear an increase in monitoring and surveillance. "It's really Big Brother," says Xavier-Luc Duval, a former deputy prime minister who now leads the opposition at the National Assembly. "They'll be able to spy on all political opponents and control all the political activity. The potential for misuse is enormous."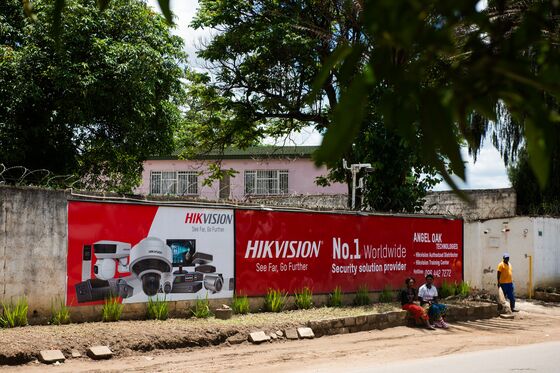 Concerns that Chinese technology could be used for spying flared last year when Le Monde reported that data had been transmitted from the African Union's headquarters in Addis Ababa, Ethiopia, to China nightly for years. The $200 million building was built by a Chinese company with Chinese funding. China dismissed the allegations. The organization, after accusing China of spying, backtracked.
In Vietnam, hackers took over screens and audio communications in the country's two major airports in 2016 to broadcast propaganda supporting China's claims in the South China Sea. The incident caused an alarmed Vietnamese government to warn its agencies and companies to reduce their reliance on Chinese equipment, which was believed to have played a role.
Potential threats to national security like these have prompted the U.S., Australia, and Japan to take countermeasures against the spread of Chinese technology. The three have opposed plans by Huawei to lay submarine cable connecting Australia to Papua New Guinea and the Solomon Islands in the South Pacific. But a Huawei cable project within Papua New Guinea is going forward despite efforts by Western governments to supplant it.
The U.S. is having better success blocking the rollout of Huawei's 5G telecommunications systems, with Australia, New Zealand, and Japan among countries going along with a ban. "All this is leading to a pretty contested environment and a growing sense of heading toward an us-vs.-them mentality," says Jonathan Pryke, director of the Pacific Islands program at the Lowy Institute in Sydney. "It's risky to go back to the Cold War mentality."
The U.S. recently moved to inject $60 billion into the Overseas Private Investment Corp. to increase funding for projects in the developing world to counter China's spending. And on Dec. 13, U.S. national security adviser John Bolton announced a new strategy for Africa to fund infrastructure projects, saying that Chinese influence has put the continent at risk. The U.S. is the largest donor to Africa, but most of its money goes toward health, agriculture, and clean-water projects. Bolton said the U.S. will try to ramp up funding for other projects. He cited Zambia as being particularly at risk.
To activists like Chifire who have suffered or fled the country, the China model appears ascendant. "What is remaining about democracy in Zambia," he says on a phone call from a location he wouldn't disclose, "is the name." —With Taonga Clifford Mitimingi, Kamlesh Bhuckory, Matthew Hill, and Yuan Gao
To contact the editor responsible for this story: Robert Friedman at rfriedman5@bloomberg.net, Jeff Muskus