China's Bank Lending Surges After PBOC Steps Up Support
China's industry largely resumed production in March, though restarts in the services sector have been slower.
(Bloomberg) -- China's bank lending and credit provision hit records in March, indicating that government and central bank efforts to boost support for the economy are having an effect.
Aggregate financing increased by 5.15 trillion yuan ($732 billion) last month, compared to a median estimate of 3.14 trillion yuan. That was a record for any month in comparable data back to 2017.
Financial institutions offered 2.85 trillion yuan ($405 billion) of new yuan loans in the month, versus a projected 1.8 trillion yuan. That was the highest figure for March since data began in 1992.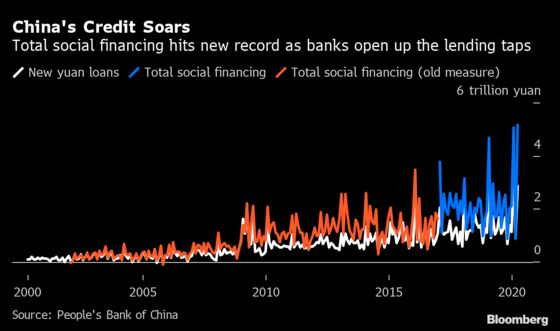 China's industry largely resumed production in March, though restarts in the services sector have been slower. The gradual recovery in the economy, combined with additional cheap funding and interest rate cuts by the PBOC, likely contributed to the expansion in credit.
New loans from banks were the biggest driver of the credit expansion, jumping to about 3 trillion yuan in March from 720 billion yuan in February. Almost a trillion yuan of corporate bonds and 636 billion in government bonds were issued in the month, well up on February.
"The 5 trillion yuan rise in total social financing was a real surprise, supported by the bullish credit bond issuance," according to Xing Zhaopeng, an economist at Australia and New Zealand Banking Group in Shanghai. "Looking forward, the PBOC will continue to stay in an easing mode at the cost of higher debt-to-GDP ratio."
What Bloomberg's Economists Say...

The strong credit expansion shows the impact of forceful policy support as the economy began a recovery from the coronavirus hit.

"Still, the V-shaped recovery in the credit path does not mean that the economy will immediately recoup what's likely to be an unprecedented contraction in 1Q as it rebounds. Beyond China's own domestic challenges, the global recession poses additional threat to the economy."

-- Chang Shu and David Qu, Bloomberg Economics

See here for full note
The shadow banking sector also rebounded, pushed up by an almost 300 billion yuan jump in undiscounted banker's acceptances.
"Macro leverage ratio should be allowed to rise to some extent in the current circumstances," said Ruan Jianhong, director of PBOC's statistics and analysis department, said at a press conference after the data was released. "Now we should view macro leverage ratio differently."
Broad M2 money supply grew 10.1% from a year earlier, the fastest rise in three years.
The PBOC's interest rate cut on 7-day repurchase agreements in late March is "an important shift from targeted, mild relief in Q1 to more broad-based demand stimulus in Q2," Jian Chang, chief China economist at Barclays Plc. wrote in a report before the data was released.
"China's monetary policy transmission has been more effective than other countries," Sun Guofeng, the PBOC's monetary policy department director, said at the same Friday press conference. The PBOC's liquidity injections have generated about 3.5 times their size in loans, according to their calculation, compared with about 0.3 times in the U.S.
With assistance from Bloomberg
Get Your
Daily Newsletter
Get market moving news, top news & compelling perspectives
---