China Credit Improves on Government Bond Sales, Short-Term Loans
China's Credit Stabilizes as PBOC Calls For More Home Loans
(Bloomberg) -- China's credit expansion stabilized in December, driven by an unseasonal spike in government bond sales and a jump in short-term corporate borrowing that made up for a drop in lending to households.
Aggregate financing was 2.37 trillion yuan ($372 billion) last month, the People's Bank of China said Wednesday, down from November but higher than in December 2020.
Financial institutions offered 1.13 trillion of new loans in the month, also down from a month earlier.
The stock of outstanding credit grew 10.3% to 314 trillion yuan, faster than the 10.1% expansion in November. Broad M2 money supply grew 9% in December, up from 8.5% in November.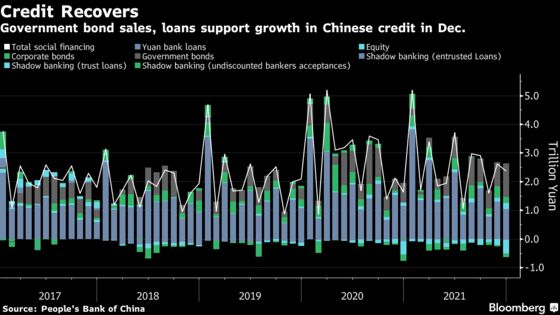 With China's economic growth slowing due to weak private demand and a property crisis that has hit home sales and loan demand, there are growing expectations that the central bank will loosen credit policy to try and stimulate demand early in 2022. The government has also vowed to accelerate investment, pushing faster sales of infrastructure bonds from late in 2021 to pay for spending. 
"Local governments rushed to sell debt in November and December because issuance was slow in the earlier months of 2021. That's why total social financing looked higher," said Ming Ming, head of fixed-income research at Citic Securities Co. "New loans fell as credit is typically smaller in December. More importantly banks lent less as they prepared for lending in January."
Household mid and long-term loans, which are a proxy for mortgages, increased 356 billion yuan in December. That was the lowest since February 2020, when the nation was basically shutdown to control the initial Covid-19 outbreak.
What Bloomberg' Economists Say...

Total social financing was stronger than seasonal patterns, but "much of it was funding by the government. Financing for corporates -- where the money is really needed -- was weak, even with a boost from the cut in banks' required reserve ratio.

This underlines the need for the authorities to take further steps to improve credit conditions. The urgency is increasing, with economic growth slowing and the corporate bond market under considerable strain, especially for distressed real estate developers." 

-- David Qu, economist

See here for full report
Corporate bill financing, which is a type of short-term credit, was the highest since January 2019 in December, while medium and long-term loans to non-financial companies dropped from November. Shadow banking -- comprising entrusted loans, trust loans and undiscounted banker's acceptances -- fell 641 billion yuan, down for an 11th straight month.
Chinese banks were likely lending to each other in December as they rushed to meet government credit quotas. However, since the start of this year they look to have scaled back loans to each other in a sign that they are lending more to companies and households as they tend to do at the start of each year.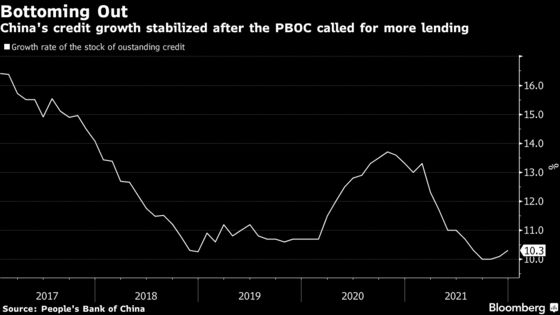 The PBOC vowed to make overall credit expansion more stable in a meeting with major policy and commercial banks last month, and financial regulators called on banks to increase lending to the real-estate sector in the first quarter to ease the industry's liquidity crisis, after property development loans declined for two straight quarters through September. The PBOC also guided banks to lower the one-year benchmark lending rate by 5 basis points and cut banks' required reserves. 
Main financing indicators (in billions of yuan)
 
 
12/31/2021
11/30/2021
12/31/2020
Total social financing
2,370
2,614
1,648
New yuan loans
1,035
1,302
1,146
Equity
212
129
113
Corporate bonds
223
410
-28
Government bonds
1,172
816
697
Shadow banking
-641
-254
-740
Annual new yuan loans reached 19.95 trillion yuan in 2021, higher than the 19.6 trillion yuan in 2020. The PBOC focused on containing surging debt in the economy last year and kept tight restrictions on property developers' financing, after stimulus during the pandemic pushed debt levels to a record in early 2021. 
With assistance from Bloomberg