China Refuses to Condemn Russian Attack, Deflects Blame to U.S.
(Bloomberg) -- China refused to condemn Russia's attack on Ukraine, instead urging restraint by "all parties" and repeating criticism that the U.S. was to blame for "hyping" the prospect of war in Eastern Europe in recent days. 
Foreign Ministry spokeswoman Hua Chunying repeatedly sidestepped questions during a tense news briefing Thursday about whether Beijing considered Moscow's military incursion into Ukrainian territory an invasion. Hua said that China "didn't wish to see what happened in Ukraine," adding that the sovereignty and territorial integrity of all countries must be protected. 
"The parties directly concerned should exercise restraint and prevent the situation from getting out of control," Hua said.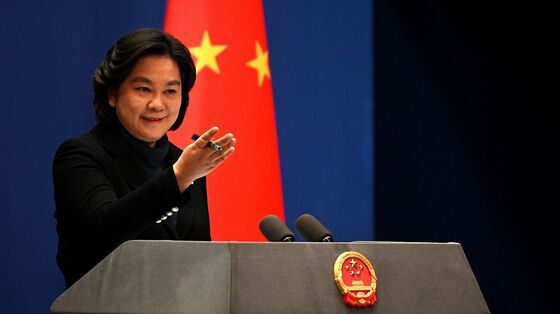 At the same time, she reiterated the need to address President Vladimir Putin's "legitimate security concerns," citing American arms sales to Kyiv. Hua highlighted Moscow's assurances that cities wouldn't be targeted, while saying that Russia was independent and could set strategy based on its own interests.
"We have stated many times that the U.S. recently has been escalating tension and hyping up war," Hua said.
During a phone call with Russia's Sergei Lavrov on Thursday, Chinese Foreign Minister Wang Yi said that China "understands Russia's reasonable concerns on security issues," according to a government statement. Wang also called for a "balanced, effective, and sustainable European security mechanism" to be formed through dialogue and negotiation.
Putin's attack has left Chinese President Xi Jinping with a difficult balancing act: Maintaining a united front with Moscow against the U.S. while avoiding a direct association with Putin's destabilizing actions. Earlier this month, the Chinese leader backed Russia's demand for binding security guarantees from the U.S. and NATO in the standoff -- providing vital support for Putin.
A resolution being drafted in the United Nations condemning Russia may force China to again take a formal position in coming days. The country's UN ambassador, Zhang Jun, was the only speaker at an emergency Security Council meeting late Wednesday who didn't criticize Russia's actions.
"The door to a peaceful solution to the Ukraine issue is not fully shut," Zhang said, even as Russian forces began their assault. 
China and Russia have an increasingly strong economic and trade relationship, supported by China's growing demand for energy, food and other goods. Energy accounted for two-thirds of Chinese imports from Russia last year and that was set to keep growing after the signing of gas and oil supply deals when Xi and Putin met in Beijing.
U.S. sanctions also put China's state-owned financial institutions in a tough spot as they have established close ties with Russian counterparts over the past decade. The China Development Bank and Export-Import Bank of China have provided tens of billions of dollars of credit to Russia as part of the Belt and Road Initiative to fund everything from infrastructure to oil and gas development.
Reports on Ukraine dominated the top trending items on China's Twitter-like Weibo social network on Thursday. Still, articles by official Chinese media including the Xinhua News Agency and state broadcaster China Central Television avoided using the term "invasion," calling the moves by Russia "special military operations." They cited Russian claims that Ukraine army's military infrastructure had been struck but no civilians targeted.
The Paper, a news site run by the Shanghai municipal government, carried an interview with the foreign minister for the self-proclaimed Donetsk People's Republic, in a sign that the Putin-backed government was seeking recognition from China. 
The Chinese Embassy in Kyiv urged its some 6,000 citizens in Ukraine to stay home due the deteriorating security situation. The mission advised those who must drive long distances to display China's flag on their cars. 
Hua's remarks were largely in line with her statements the previous day, in which she described the U.S. as the "culprit" behind the Ukraine tensions and criticized Western sanctions against Russia as "irresponsible and immoral." On Wednesday, she asked whether the U.S. had "ever thought about the consequences of cornering a major power." 
At one point Thursday, Hua admonished a reporter for "aggressive" questions about China's position, asking whether the country was a concerned party in the issue. She also berated other countries playing a role in the situation.
"Those parties who were busy condemning others, what have they done?" Hua said. "Rather than hyping up or fanning the flames, have they done enough to prevent the development of the Ukraine situation that we are seeing today?"
With assistance from Bloomberg