China Ready to Pick Up Slack With Global Oil Demand Wavering
(Bloomberg) -- As a rampant coronavirus ravages Europe and the U.S. and raises the risk of more lockdown measures, a range of indicators suggest China can cushion oil markets from the worst of the potential demand destruction.
Stockpiles of crude and particularly fuels such as diesel and gasoline in the world's biggest oil importer have shrunk over the past couple of months as economic activity exceeded expectations. Against this backdrop, one of China's biggest state-owned refiners said it will keep crude throughput at its plants steady for the rest of the year.
The nation's independents -- accounting for around a quarter of refining capacity -- also look set for a revival. While buying by the so-called teapots has dropped since July, it's expected to pick up again after import quotas for next year were raised. Weak margins remain a concern, however, although authorities have reactivated a minimum fuel-price mechanism that should help safeguard the processors and encourage more buying.
While news of a potential virus vaccine breakthrough spurred a surge in oil prices on Monday, the demand outlook over the northern hemisphere winter still looks pretty shaky. These five charts show why developments in China mean oil traders and investors can breathe a little bit easier.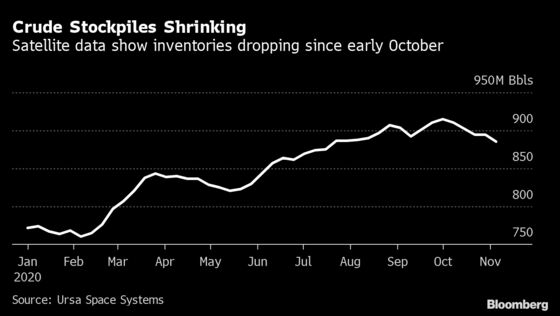 China's crude stockpiles started growing in early February as the pandemic crippled the economy, and got a further boost a few months later from a flurry of buying to take advantage of the crash in global prices. The inventories are coming down now, however, which means refiners will have some leeway to import more without worrying about storage constraints.
Stockpiles peaked at 914 million barrels, or 73% of capacity, in the week to Oct. 2, according to Ursa Space Systems, a company that uses synthetic aperture radar to track 39 oil storage sites in China. They've since fallen to 885 million barrels, or 71% of capacity, in the week through Nov. 5.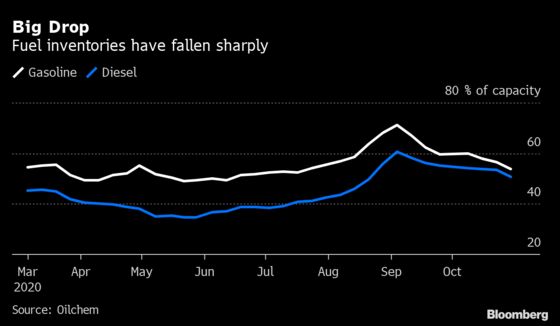 The magnitude of the drop in fuel inventories looks even more encouraging. Gasoline and diesel stockpiles peaked at 71.14% and 60.67% of capacity, respectively, in the week through Sept. 4, according to Oilchem, a Chinese energy and petrochemical information provider that's part of Mysteel Group. They've since shrunk to 53.91% and 50.72% at the end of October.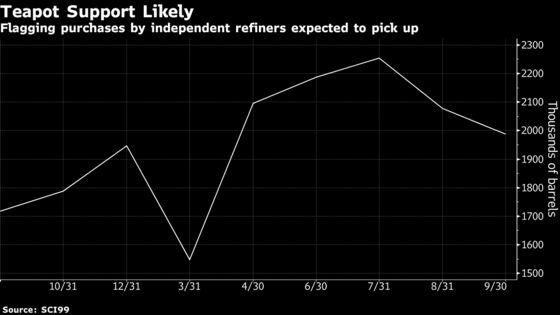 The flurry of buying by teapots helped global oil prices recover rapidly after their plunge in April. Purchases have been slowing since around the middle of the year, though, with congestion at ports holding up deliveries and the independent refineries running low on import quota.
The Ministry of Commerce's announcement last week that it would raise the quota for next year by more than 20% came as welcome news to the market. Oil traders had already been buying up cargoes since early October and sending them toward China, in anticipation of an uptick in purchases for 2021.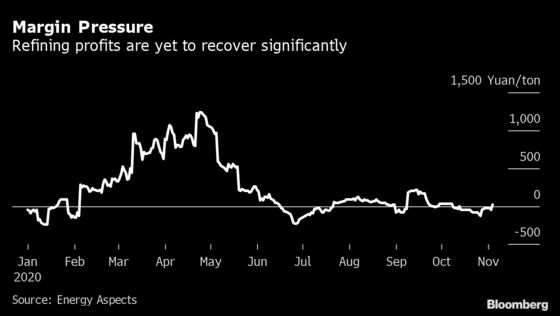 Weak refining margins are a source of vulnerability in the Chinese oil demand picture, however. After rising as high as 1,170 yuan ($176.82) a ton in late April, teapot profits then dropped rapidly and have been hovering around zero since the middle of the year, according to data from consultant Energy Aspects.
Chinese authorities said last week that they would reintroduce a floor-price mechanism that will hold fuel prices at a level that's the equivalent of $40 a barrel crude. The measure aided margins and helped drive buying earlier in the year when oil prices crashed.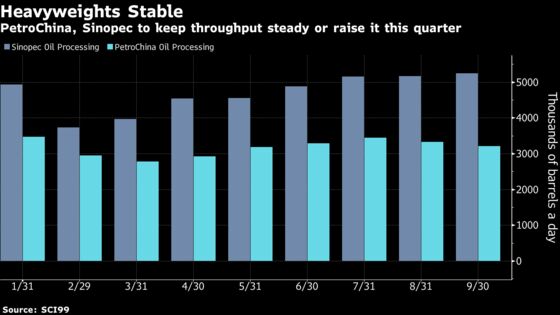 The nation's refining heavyweights -- China Petroleum & Chemical Corp. and PetroChina Co. -- also look set to do their bit to aid global demand. China is on track to import 550 million tons of crude this year, around 10% more than 2019, China Petroleum & Chemical, also known as Sinopec, said on Sunday.
PetroChina said in mid-October that it wouldn't cut overall throughput at its refiners in the fourth quarter. Sinopec is on track to reach its 2020 full-year refining target of 241 million tons, said an official at the company's press office. That would mean fourth-quarter throughput would be around 5% higher than in the previous three months, according to Bloomberg calculations based on Sinopec public filings for the first nine months of the year.
With assistance from Bloomberg