China Fortune Land Becomes First Victim of 'Three Red Lines'
(Bloomberg) -- China Fortune Land Development Co. has defaulted on a $530 million dollar bond, becoming the nation's first real estate firm to suffer a repayment failure since Beijing tightened controls of the debt-laden sector last year.
Fitch Ratings has downgraded the industrial park operator and developer to Restricted Default from CC following the Chinese company's announcement that it has not repaid its dollar note due Feb. 28, according to a report by the ratings firm dated Monday. Fitch also said it has withdrawn the ratings as the borrower has chosen to stop participating in the rating process.
China Fortune Land said Friday it hadn't repaid its $530 million dollar bond as of then. It hasn't issued a follow-up public statement on the matter but some holders of the note told Bloomberg earlier Tuesday that they haven't received any payment from the borrower. The company didn't immediately respond to a request seeking comment.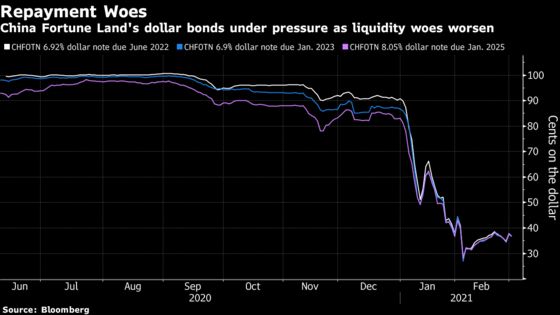 The default is one of the most notable for a Chinese developer since Kaisa Group Holdings Ltd. failed to repay a dollar bond in 2015 and makes China Fortune Land the first victim under a new policy known as the "three red lines" that Chinese regulators adopted last year to rein in excessive debt expansion in a sector that poses one of the country's biggest financial risks.
It also came as China's top banking regulator expressed fresh concerns about the health of the nation's property market, saying bubbles there remain relatively big and that it's "very dangerous" for many people to buy homes for investment or speculative purposes.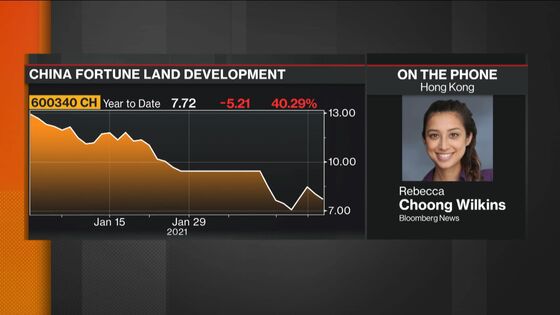 "The Fortune Land case is the first casualty after the 'three red lines' financing rules were introduced," said Wu Qiong, executive director at BOC International Holdings Ltd. "The fast descent of Fortune Land highlights the risks attached to Chinese property developers, especially those with stretched balance sheets, which are likely to face a liquidity squeeze."
Regulators first chose a group of 12 developers to participate in the "three red lines" pilot program that included China Evergrande Group, Sunac China Holdings Ltd. and China Vanke Co. China's central bank later mulled adding about eight more firms to the watchlist.
It remains unclear whether China Fortune Land is on the list but by adopting the new financing rules, regulators have sent a clear message that they are increasing scrutiny of all developers, using the key debt metrics as broader monitoring tools.
Doubts that China Fortune Land would be able to fully repay its debts emerged at the start of the year as brokers and credit rating firms cut their ratings, triggering a plunge in its shares and bonds. Apart from uncertainties over the level of support from local authorities and a key shareholder, an abrupt coronavirus outbreak earlier this year in Hebei province, where the developer draws most of its revenues, also deepened its woes.
The company's debt blowup also is the latest sign of Beijing's resolve to shift its policy focus back on cutting debt-induced financial risk as the world's second-largest economy keeps recovering.
Long wary of a bubbly housing market, regulators stepped up their efforts in curbing increases in developers' debt in the second half of last year, including the 'three red lines' pilot program that requires firms to meet key debt metrics before they are allowed to borrow more. Beijing also took unprecedented measures to impose caps on banks' lending to the real estate sector for the first time.
"The negative impact of China Fortune Land on the broader China high-yield developer sector is largely over as its default on the dollar bond has been confirmed," said Daniel Fan, a credit analyst at Bloomberg Intelligence. "However, bond prices of the sector could still be vulnerable as investors watch closely the progress on how the firm will resolve its debt issue."
China's onshore credit market as a whole appears to have absorbed the developer's bond upset relatively well, with a key measure of risk premiums that investors demand for holding corporate bonds hovering around its lowest level in more than four months.
China Fortune Land has $4.6 billion in dollar bonds outstanding, including the note due last Sunday, as well as 36 billion yuan of onshore bonds, according to data compiled by Bloomberg. Three local bonds totaling 7.8 billion yuan will mature in March.
The firm has been in discussion with onshore bondholders over a debt repayment plan. Bloomberg reported that some investors holding its 7% onshore bond due March 3 were briefed by the main underwriter on a repayment plan that involves extending principal for a year. The company also proposed to pay 15% of interest due on the maturity date, with the rest extended by six months.
With assistance from Bloomberg