China's Economy Slows Amid Darker Outlook at Home and Abroad
Gross domestic product increased 6.5 percent in the third quarter from a year earlier.
(Bloomberg) -- China's economic growth slowed more than expected in the third quarter, as weak industrial output data and what the government called the "severe international situation" challenged efforts to stabilize the economy and reach its growth targets.
Gross domestic product increased 6.5 percent in the three months through September from a year earlier, compared to 6.6 percent in a Bloomberg survey and down from the 6.7 percent pace in the previous quarter. That's the slowest since the aftermath of the global financial crisis in 2009.
The economy has faced increasing headwinds this year, with worsening trade tensions and a slumping stock market hurting confidence in the outlook. Those problems have prompted officials to step up stimulus and pledges of further support, but the impact of those measures has yet to kick in and more may be needed.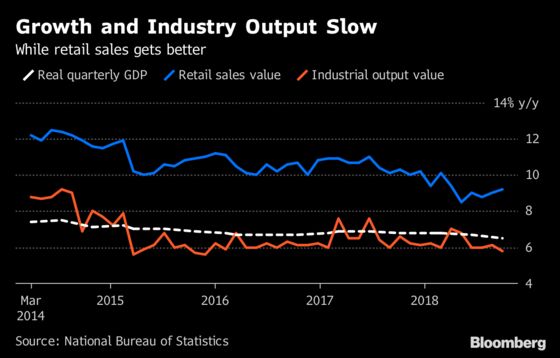 National Bureau of Statistics spokesman Mao Shengyong said at a briefing Friday that while the international situation was bringing "downward pressure" on China's economy, growth is still stable and the nation is on track to achieve the full-year growth target of about 6.5 percent.
Details of the release
Industrial output rose 5.8 percent last month from a year earlier, versus the forecast of 6 percent, the statistics office said
Retail sales increased 9.2 percent in September, compared with the forecast 9 percent
Fixed-asset investment climbed 5.4 percent in the first nine months, versus a forecast of 5.3 percent
The urban monthly surveyed unemployment rate stood at 4.9 percent at end-September
"China's economy is losing steam," said Frederic Neumann, co-head of Asian economics research at HSBC Holdings Plc in Hong Kong. "While it's easy to blame the trade tussle with the U.S. for this, the deceleration so far is mostly domestic driven, with infrastructure spending contracting and car sales coming off the boil."
Shortly before the data release, China's top financial officials moved to shore up investor confidence in the country's tumbling stock market, a rare coordinated show of verbal support that failed to immediately put a floor under the deepest equity sell-off since 2015.
Vice Premier Liu He, a key economic adviser to President Xi Jinping, and the heads of the central bank, banking and insurance regulator and securities regulator all issued statements on Friday voicing their support for the market and promising measures to help ease financial pressures on companies, especially those with a high proportion of pledged shares. The officials stopped short of promising direct intervention.
"All sorts of risks and problems accumulated in the past are now emerging, which is an inevitable process and should be viewed rationally," Liu said in an interview with Xinhua News Agency. While China's economy faces difficulties at the moment, it still has "very bright outlook" over the longer term, he said.
Liu said the trade war has impacted China more psychologically, the government is in touch with the U.S. and "pays high attention" to the healthy and steady development of the stock market.
Liu also denied the speculation that the private economy is being sidelined while state firms advance. He said there's "no such thing," adding that the two sectors are interdependent and should cooperate, and it's "completely wrong" for some banks to think it's safer to lend to state companies than private ones.
The nation's benchmark stock index the Shanghai Composite Index extended gain to 2.4 percent as of 2:07 pm in Shanghai.
What our economists say
"The slowdown was driven by weakness in the manufacturing sector," where growth slowed to 5.3 percent from 6 percent in the second quarter. 

"We see more weakness heading into year-end, as the trade war impact becomes more visible and supportive policies take time to kick in."

-- Chang Shu and Justin Jimenez, Bloomberg Economics
While growth in total retail sales accelerated in September on a year-over-year basis, that of sales at large retailers slowed to 5.7 percent, from 6 percent in August. Auto sales, which make up the largest component of total sales of large retailers, dropped 7.1 percent from a year earlier in September, the worst decline in data from 2002.
The figure for larger companies is based on a complete survey while data on sales at smaller outlets is based on a sample, according to the National Bureau of Statistics.
NBS publishes an official year-over-year growth rate for retail sales as well as a yuan amount. A growth rate calculated based on the yuan amount shows sales were up just 3.7 percent on a year-over-year basis. The divergence, which NBS says is due to revisions based on the latest census, has led analysts to question the veracity of the data.
Slowing Infrastructure Investment
Manufacturing investment growth in the nine months through September accelerated to 8.7 percent over the same period last year, the fastest pace since August 2015. Growth of infrastructure investment fell to 3.3 percent. It's decelerated in every month since November 2017. Growth of property development investment ticked down to 9.9 percent.
"The readings are not looking strong: The full year GDP could be 6.5 percent to 6.6 percent, based on the trend," said Zhou Hao, senior emerging markets economist at Commerzbank AG in Singapore, adding that that would still meet official targets. At the same time, "the leadership is worried about the unstable financial market and the low market confidence. Policies could turn more accommodative and even stimulative in future," he said.
--With assistance from Fion Li, Natalie Lung and Kevin Hamlin.
To contact Bloomberg News staff for this story: Miao Han in Beijing at mhan22@bloomberg.net;Yinan Zhao in Beijing at yzhao300@bloomberg.net;Matthew Boesler in Beijing at mboesler1@bloomberg.net
To contact the editors responsible for this story: Jeffrey Black at jblack25@bloomberg.net, James Mayger
With assistance from Editorial Board