China Convertible Bonds Plunge as Valuation Hits Sentiment
(Bloomberg) -- China's once-hot convertible bond market is cooling sharply as a double whammy of falling equities and bond prices caused a key gauge to fall the most in two years. 
The CSI Convertible Bond Index slumped as much as 5.2% this week in its biggest two-day loss since February 2020, after some popular notes tumbled. The bonds issued by travel services provider UTour Group Co. and glass maker Zhuzhou Kibing Group Co. slid as their underlying shares saw one-day losses of around 10% this week.   
The Chinese convertible bond gauge jumped 18% last year even as the stock benchmark dropped, as investors looked for shelter amid a slowing economy and regulatory headwinds. Convertible bonds' valuations are at an "excessively high level", Zuo Dayong, an analyst at Industrial Securities Co., wrote in a research note on Tuesday. 
Convertible bonds allow investors to enjoy coupon income and principle repayment as a bondholder, while giving them the option to convert into stocks if share prices go up.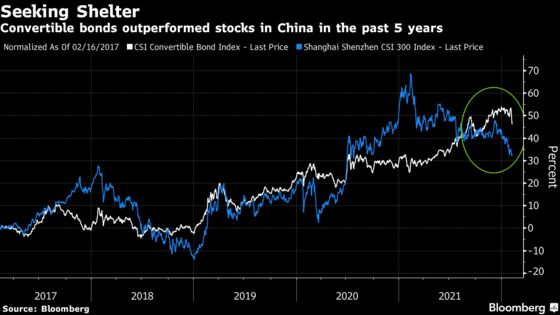 The latest decline in the notes was also triggered by a jump in China's credit data in January, which led some investors to worry the central bank may feel less of an urgency to ramp up easing. This has caused government bond prices to fall in the past few days. Meanwhile, China's benchmark CSI 300 plunged into a bear market at the end of January.
The conversion premium, which measures the excessive price that investors are willing to pay for the option to own the related stocks, has fallen by an average of 4 percentage points on Monday to the lowest this year, according to Zuo. 
CGBs Fall as Record Loans Dent Bullish Easing Bets: Inside China
However, to some investors, the sharp pull-back may offer a good entry point. 
"There is limited downside for bond markets in China given the lack of suitable investment targets in the market," Zuo said. "In the mean time, some growth stocks may see their prices bottom in the near term."
With assistance from Bloomberg