Billionaire Who Helped Evergrande Hit by Bond, Stock Selloff
(Bloomberg) -- Billionaire Zhang Jindong's 30-year old empire is facing a critical test as concern mounts over Suning Appliance Group Co.'s financial health and its links to China Evergrande Group.
Evidence of liquidity issues at companies linked to Zhang is increasing. Suning Appliance's creditors agreed to extend by two years a 2.89 billion yuan ($451 million) bond due to mature Wednesday, a sign the company may have otherwise struggled to repay it. Earlier this week, a Beijing court froze 3 billion yuan worth of shares Zhang holds in the group's retail arm Suning.com Co. for three years. With most of Zhang's shares pledged as collateral for loans, that could complicate his ability to raise cash and potentially derail a state-backed rescue.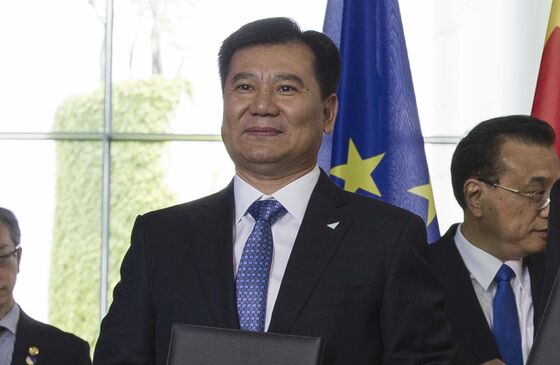 Concerns over Suning's cash flow initially surged to the fore in September, when Zhang waived his right to a 20 billion yuan payment from Evergrande. The decision, which helped his friend and Evergrande chairman Hui Ka Yan save his own company, made little financial sense to investors at the time -- especially given the group was significantly weakened by slowdown in spending during the pandemic. In order to strengthen the retail unit, Suning Appliance agreed this year to sell shares in the listed company to state-owned entities. The deal has yet to be completed.
The turmoil intensified so much this week that Suning.com's shares plunged to an almost eight-year low and a Suning Appliance dollar bond due September tumbled to a record low of 78 cents on the dollar.
Zhang's "Evergrande investment was a mistake and is the major cause of Suning's current debt crisis," said Maggie Hu, assistant professor of real estate and finance at Chinese University of Hong Kong. "For Suning to successfully navigate through the crisis, it needs the more help from its big stakeholders."
Suning.com halted trading in its shares on Wednesday pending an announcement regarding a major transaction. The stock sank by the 10% daily limit on Tuesday.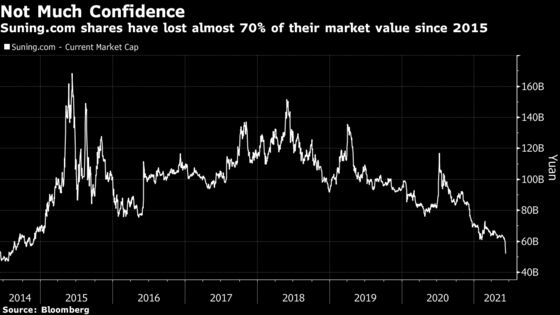 Indebted Chinese companies are increasingly in the spotlight as the Communist Party pushes ahead with a deleveraging campaign. Zhang transformed an air conditioning company he founded in 1990 into an empire encompassing finance, real estate and Italian soccer club Inter Milan. Evergrande -- the world's most indebted developer -- is also under pressure after its affiliates missed payments and a report said regulators are probing its ties to an obscure bank in northern China.
Suning Appliance and its subsidiaries have $4.6 billion of bonds outstanding both onshore and offshore, including a $600 million note due in September, Bloomberg-compiled data show.
More than 70% of Zhang's shares in Suning.com are pledged as collateral, according to an exchange filing dated June 9. That's after Zhang pledged 1 billion shares in the listed retailer -- equivalent to almost 11% of Suning.com's outstanding stock -- as part of a complex stake transfer involving a state-backed investment fund. The chairman has lost $2 billion this year, or about half of his fortune, according to the Bloomberg Billionaires Index.
Zhang is the biggest holder in Suning.com with a 20.96% stake, while Suning Appliance has 13.98%, according to data compiled by Bloomberg. Alibaba Group Holding Ltd. has a 19.99% share, after the two companies formed a strategic alliance announced in 2015. Suning Appliance agreed to sell a 23% stake worth 14.8 billion yuan earlier this year including to parties including Shenzhen International Holdings Ltd.
Investors are worried the court order to freeze Zhang's shares may derail the acquisition, according to William Ping, fund manager at Peaceful Investment Co.
The court has accepted an objection from Zhang about the order, according to the company statement.
"The freezing of shares is being as read as showing the hopelessness of Suning's financials -- not just what's on books but off-balance sheet as well," Ping said. "Perhaps this is the greater fear, that things have become so bad the takeover deal will be forsaken all together."
With assistance from Bloomberg