Emerging-Market Wobbles to Test Whether Asia Really Is Safer
Emerging-Market Wobbles to Test Whether Asia Really Is Safer
(Bloomberg) -- While Asia proved to be relatively stable through the Turkey-led emerging market sell-off this month, the region has its own vulnerabilities with the junk-bond market shaping up as a key area to watch.
The amount of such debt coming due in dollars from Asian issuers, excluding financial firms, will rise over the next three years to a record $24.2 billion in 2021. With global investors eyeing higher U.S. interest rates as the Federal Reserve raises borrowing costs, Asia's riskier companies will face pressure to offer juicier yields to lock in fresh funding.
Read Bloomberg Intelligence on the maturity wall in emerging markets globally
Risks across the region vary from heavy debt piles in China, Korea, Taiwan, Hong Kong and Singapore to current account deficits in Indonesia, India and the Philippines.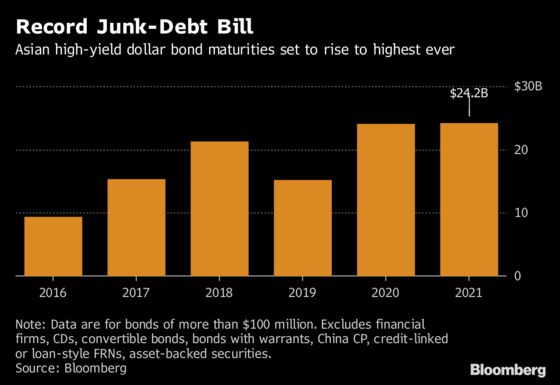 Junk bonds are just one of a number of vulnerabilities investors will need to watch out for as the prospect of further interest-rate increases in the U.S. and the end of quantitative easing in Europe draw curtains on an era of easy money. Here are some others:
Jitters have spread beyond junk securities to high-grade Asian corporate notes. The average price for investment-grade dollar notes in the region has stayed below 100 cents on the dollar since early April, an ICE BofAML index shows -- that's a longer period below par than stretches that preceded debt-market pain during financial crises in 1997 and 2008 and the 2013 Taper Tantrum.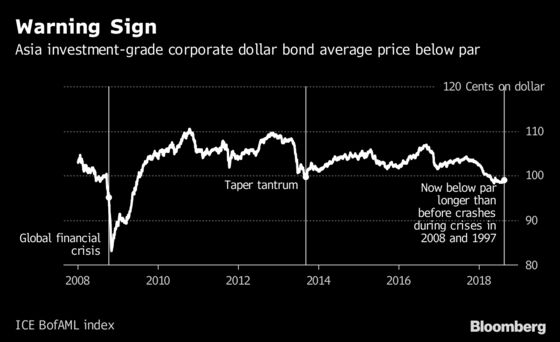 Another worry stems from the sheer volume of debt in Asia's developing economies.
"We believe the bigger vulnerability for Asia in coming months stems from domestic credit stress and evaporating market liquidity -- not balance of payments or currency pressures -- and the economies most exposed are China, Korea, Taiwan, Hong Kong, Singapore and Malaysia," Robert Subbaraman, Singapore-based head of emerging markets economics at Nomura Holdings Inc., said in a note earlier this month.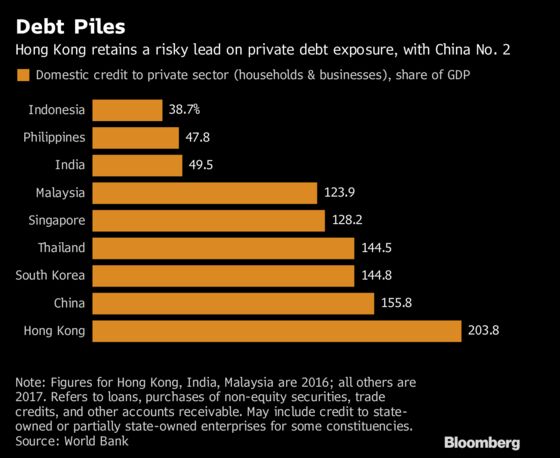 Consumers are also racking up the bills, with South Korea most at risk of seeing budget-busting households fall underwater.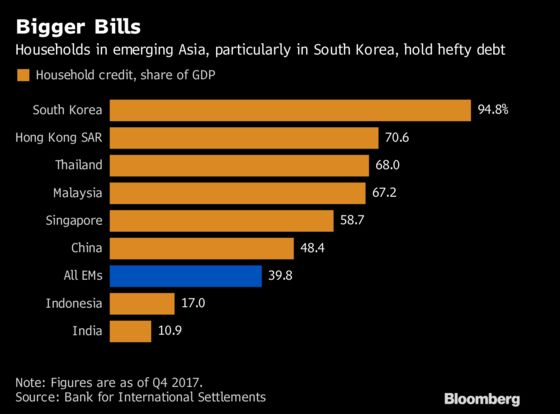 Governments have run up their tabs, too. Much of developing Asia is attempting to tackle ambitious infrastructure plans -- billions of dollars' worth of road and rail to connect rural areas with thriving urban centers. While credit ratings firms have generally been supportive, balance sheet strains are starting to show.
In Southeast Asia, the Philippines remains in the cross hairs with President Rodrigo Duterte's "Build, Build, Build" program applying pressure on the peso, which is down more than 6 percent this year against the dollar. Indonesia has just pledged a record spending year for 2019 while claiming that higher revenue will shrink the swollen budget deficit.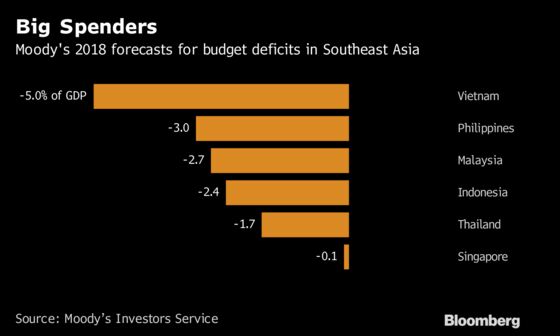 Bigger bills aren't the only concern. Simmering trade tensions between the U.S. and China are also a threat for smaller export-oriented economies including South Korea, Taiwan, Thailand and Malaysia, along with financial hubs Singapore and Hong Kong.
A protracted trade war between the U.S. and China would reverberate. Fluctuations in China's economy or financial markets now have up to three times the impact around Asia than they did before the global financial crisis, according to Goldman Sachs. Singapore and Hong Kong also play key trade hub roles that leave them exposed to the trade-war jitters.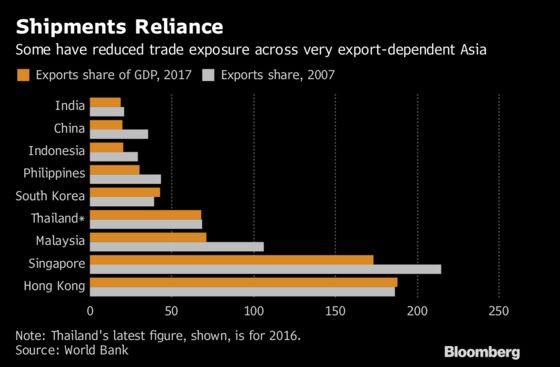 Asia's current-account positions are broadly in strong shape, but there are weak links. India, Indonesia and the Philippines are the three deficit nations feeling the most strain from the emerging-market sell-off. While their domestic conditions vary and their deficits remain relatively narrow, they face more Fed interest-rate hikes, a brewing trade war and enduring emerging-market anxieties.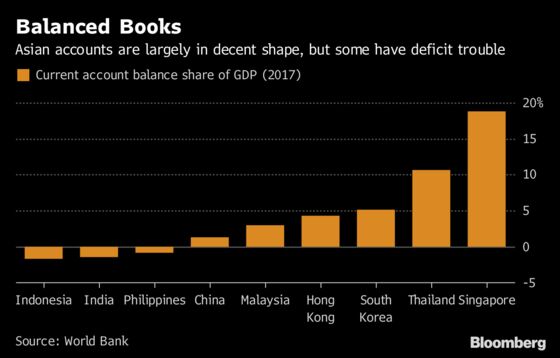 Indonesia has a particular need to calm investors, given that the proportion of its stocks and bonds held by foreign investors is higher than peers in the region. As a rule of thumb, the more foreign ownership, the more vulnerability to a reversal in market sentiment.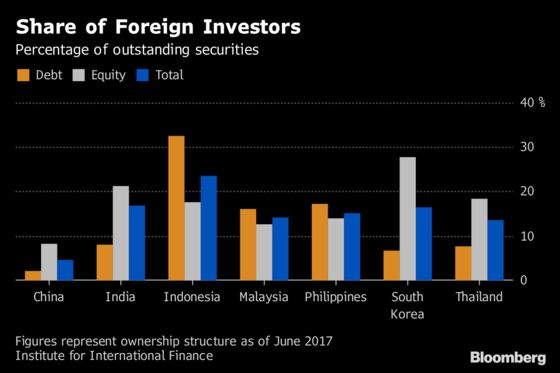 Even if Asia does indeed boast better growth prospects and beefier buffers, its hefty weighting in many emerging-market benchmarks leaves it exposed to a broader sell-off.
"Since Asia takes up 75 percent of the MSCI emerging market index, if people sell EM, they are going to naturally sell some Asia along with that -- whether or not they actually feel negative about Asia per se," Timothy Moe, chief Asia-Pacific equity strategist at Goldman Sachs in Hong Kong, told Bloomberg Television recently.
--With assistance from Lianting Tu, Ravil Shirodkar and David Yong.
To contact the reporters on this story: Enda Curran in Hong Kong at ecurran8@bloomberg.net;Michelle Jamrisko in Singapore at mjamrisko@bloomberg.net;Andrew Monahan in Hong Kong at amonahan@bloomberg.net
To contact the editors responsible for this story: Malcolm Scott at mscott23@bloomberg.net, Andrew Monahan