Breathing Easy in Beijing May Get Pricey on U.S. Gas Targets
Breathing Easy in Beijing May Get Pricier as U.S. Gas Targeted
(Bloomberg) -- Chinese President Xi Jinping's trade policies are threatening to make his environmental goals more costly to meet.
The world's biggest gas importer included U.S. liquefied natural gas on a list of goods Friday that could be hit with a 25 percent duty. While no date has been set to implement the tariff, the announcement comes just a few months ahead of winter, when Chinese demand for the U.S. heating fuel is likely to peak.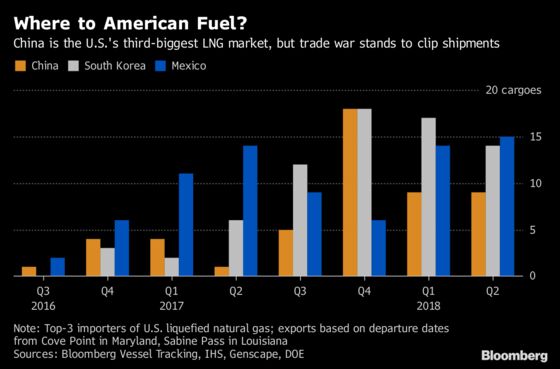 That Chinese policy makers would now take aim at U.S. LNG, which had been missing from previously targeted goods, signals that Xi may be willing to suffer some pain in order not to back down from President Donald Trump's escalating trade dispute. His government's clean-air push has made China the world's largest buyer of natural gas, and erecting barriers to U.S. supplies could force the country to pay a premium this winter.
"China imposing tariffs on LNG imports from the U.S. marks a shift in strategy, but this action is more likely to hurt Chinese buyers than U.S. exporters," Katie Bays, an analyst with Height Securities LLC in Washington D.C., said in an emailed note. "Chinese buyers will pay a higher price for their imports."
A fuel clash between the U.S. and China is a sharp turnaround from last year, when Trump's visit to Beijing included pledges by state-run companies to support U.S. export projects. China National Petroleum Corp., the country's largest gas supplier, in February signed a 25-year deal to buy U.S. LNG, with some of that supply expected to start this year.
The LNG synergies between the two countries seem perfect. Xi's push to cut smog led to policies forcing homes and factories to scrap coal boilers and burn cleaner natural gas. Meanwhile, excess supply in the U.S. has some analysts predicting the country is on track to become the world's largest LNG exporter.
The U.S. plays a relatively small role in China's overall gas balance as the country gets most of its imports via pipeline from Central Asia or from LNG heavyweights like Qatar and Australia. But gas demand in China peaks in the winter, when home heating use spikes, and the nation relies on LNG imports for quick injections of supply.
That's where the U.S. fit last year. Unlike most sellers, U.S. companies including Cheniere Energy Inc. don't restrict where their cargoes can be delivered. That means traders like Royal Dutch Shell Plc can buy U.S. LNG and redirect it to where demand, and price, is strongest. China imported more than 900,000 tons of U.S. LNG in the last three months of 2017, more than in the first nine months combined.
"U.S. LNG volumes make up about a quarter of spot traded volumes today, meaning that they are a key mechanism for meeting seasonal demand," Bays said.
Tariffs would make U.S. supplies uneconomical to China, so traders would shift cargoes around to send U.S. fuel to other buyers like Japan and South Korea while redirecting non-U.S. fuel to China, Trevor Sikorski, an analyst with Energy Aspects Ltd. in London, said by email. China would probably end up paying about 10 percent more for spot cargoes after the swaps, he said.
"Chinese buyers could face a situation where non-U.S. suppliers, including portfolio players, could capture a larger margin if the Chinese buyer's alternative includes the tariff," Giles Farrer, research director for global gas and LNG supply at Wood Mackenzie Ltd., said in an emailed note. "This would have knock-on impacts to the rest of the market."
If LNG is included in the trade war, it would threaten to slow the growth of the entire industry. Higher LNG import prices in China might make Xi reconsider the country's pivot from coal to gas, Neil Beveridge, an analyst with Sanford C. Bernstein & Co. in Hong Kong, said in an Aug. 6 research note.
On the other hand, the rhetoric could be setting up a larger trade deal between the two countries centered around natural gas. It would make sense for CNPC's listed unit PetroChina Co. to buy into U.S. gas assets to hedge against its large gas import position, Beveridge said.
"The latest rhetoric smacks of a negotiation being played out in a very public way," he said. "LNG is one of the most obvious ways to lower a trade deficit between the U.S. and China and if there is a trade deal to be done, LNG will be involved."
To contact the reporters on this story: Dan Murtaugh in Singapore at dmurtaugh@bloomberg.net;Stephen Stapczynski in Tokyo at sstapczynsk1@bloomberg.net
To contact the editors responsible for this story: Ramsey Al-Rikabi at ralrikabi@bloomberg.net, Jasmine Ng