China Has Ammunition Beyond PBOC to Bolster a Slowing Economy
(Bloomberg) -- China's options to support an economy threatened by the escalating trade war with the U.S. go beyond simple monetary easing.
With data released Monday showing that output in the second quarter slowed, and factory activity cooled more than expected, attention is now focused on how the government can mitigate the effects of the escalating trade war. But given that a high-profile campaign to cut debt is also well underway, an old-fashioned credit-fueled spending splurge is no longer a preferred option.
"The resilience of domestic demand will be critical to economic stability and market confidence," said Julia Wang, an economist at HSBC Holdings Plc in Hong Kong. "The government has ammunition to strengthen it further."
From using this year's remaining fiscal resources to targeted cuts to the reserve-requirement ratios, here are some of China's current policy options to support the economy.
China accelerated government spending in June, with spending on environmental protection and science and technology leading the splurge. That resulted in a fiscal deficit of 726.1 billion yuan ($109 billion) by the end of June, about 30 percent of the total budgeted deficit of 2.38 trillion yuan this year, according to Bloomberg calculations using data from the Ministry of Finance.
Even as spending has been recently ramped up, this means that policy makers will have more ammunition in the second half than in the same period last year to counter any slowdown without breaking the budget constraints that they've set themselves.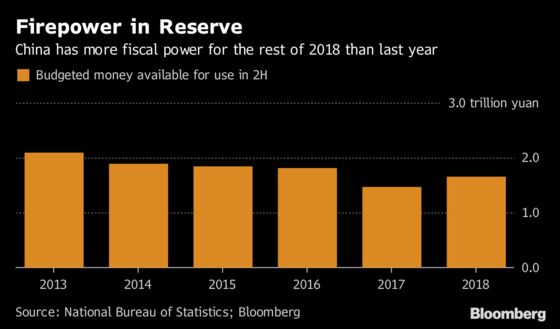 In addition, the 1.35 trillion yuan special bond quota -- part of a separately managed budget outside the annual deficit ratio -- has barely been tapped by local governments this year, leading to "ample room for meaningful tax cuts tailored to accelerated technology-centric business investment and support affected exporting industries," according to HSBC's Wang.
The government has been using tax and tariff cuts recently to encourage consumption and investment, rather than initiating big-ticket stimulus projects. China has recently tightened financing rules for shanty town redevelopments, and looked into further restricting developers' sales of offshore debt.
The People's Bank of China has cut reserve ratios for banks three times this year, seeking to pump liquidity into targeted sectors such as small and rural firms. Officials stress however that they're maintaining their "prudent and neutral" monetary policy for now, meaning that broad-based easing isn't immediately on the cards.
Instead, policy makers are tweaking credit policy via collateral changes and the RRR, with the intention of keeping funding flowing to the backbone of the economy without funneling credit to corporations and state-owned enterprises that are already highly indebted.
The moves have seen interbank borrowing costs fall significantly and the money multiplier rise to a record high, but new credit supply has expanded only modestly, trailing economist estimates in four out of the first six months of 2018. Economists expect the central bank will cut reserve ratios by a further 50 basis points by the end of this year, according to the median forecast in a Bloomberg survey.
PBOC adviser Ma Jun warned earlier this month that China should focus more on structural deleveraging in the future and avoid overusing sweeping policies as it tries to cope with swelling debt.
"Credit growth may recover to some extent as domestic tight policy loosens in credit and the quasi-fiscal sector," said Wang Tao, head of China economic research at UBS AG in Hong Kong, adding that the pace of efforts to cut the overall leverage ratio will be adjusted.
On Tuesday, Wang lowered her forecast for gross domestic product growth in 2018 to 6.5 percent from 6.6 percent, and also cut her forecast for 2019 to 6.2 percent from 6.4 percent previously.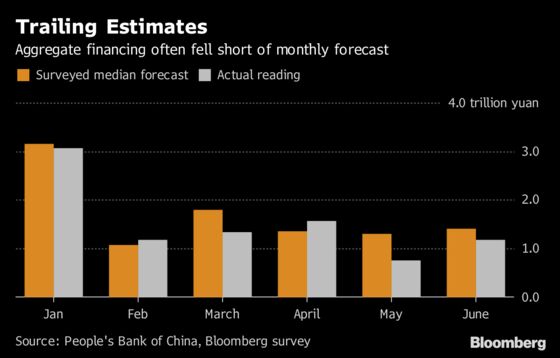 The government seems to be fine-tuning its multi-year campaign to clean up the environment, fearing that a "one-size-fits-all" approach may jeopardize growth, according to Lu Ting, chief China economist at Nomura International Ltd in Hong Kong.
Softening curbs on the output of some industries will more likely benefit "small, often privately owned, enterprises in the heavy industry sector," Lu wrote in a recent note.
China has conducted six rounds of environmental inspections from 2016 onward. Factories which failed to meet environmental standards were closed and industrial output growth has slowed.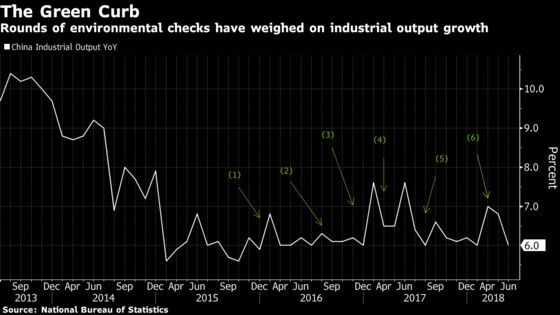 The balancing act for China this year will be to support growth at the margins while not abandoning the anti-leverage campaign wholesale. The harder the trade war hits, the more difficult that will become.
"Trade tensions may cloud China's growth outlook in the second half, but the real risk is that Chinese policymakers' determination to continue with reforms may be challenged," Australia and New Zealand Banking Group Ltd economists Betty Wang and Raymond Yeung wrote in a note. The government "may also be more proactive and launch some growth boosting measures that will provide more support to local governments' fiscal conditions."
--With assistance from Xiaoqing Pi.
To contact Bloomberg News staff for this story: Yinan Zhao in Beijing at yzhao300@bloomberg.net
To contact the editors responsible for this story: Jeffrey Black at jblack25@bloomberg.net, James Mayger
With assistance from Editorial Board