Zillow's Algorithm-Fueled Buying Spree Doomed Its Home-Flipping Experiment
(Bloomberg Businessweek) -- In the beginning there were Zestimates, Zillow Group Inc.'s best guess at what the house next door was worth. Then there were Zprices, as company insiders nicknamed its attempt to use home valuation software to get into the home-flipping game. Finally there was the gasoline that Zillow poured on as it burned cash paying too much for houses, leading to a $569 million dumpster fire. On Nov. 2 the online property giant shuttered its technology-powered home-flipping business, Zillow Offers; said it was firing 2,000 workers; and began grappling with the damage it had done to one of the most valuable brands in real estate.
The episode is a cautionary tale for what happens when an overconfident company uses algorithms to supersize an old-fashioned business. But although it's easy to assume Zillow's number-crunching software misjudged the housing market, it wasn't bad data or faulty code that did the venture in, according to the company's current and former employees, competitors, and counterparties. As in so many misadventures in modern technology, Zillow's downfall wasn't caused by the tools so much as how it used them.
Automated home valuations were a core part of Zillow's business since Rich Barton and his partners founded the company in 2006. Unlike its peers in the online real estate listing business, the company published its computer-generated Zestimates, which let people track the value of their own homes—and everyone else's. This predated the advent of cheap cloud computing, so the magic happened on a bunch of computers strung together on a pingpong table in the company's break room.
In the early days, the median Zestimate was as much as 14% off the amount a home eventually sold for. Today the company has a much improved median error rate of just 2% on homes that have been listed for sale, but that goes up to 6.9% on off-market properties. These results don't look great as the basis for a real estate investment operation, but Zillow's main business was charging real estate agents for leads, and Zestimates were great at drawing visitors to the website.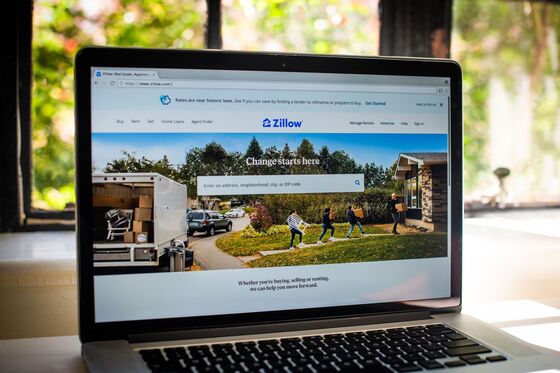 The company had built a massive audience for its websites and apps, attracting almost as many unique visitors in a typical month as there are adults in the U.S. Executives saw a chance to squeeze far larger profits from its web traffic by getting into actual real estate transactions, in which consumers pay tens of thousands of dollars to agents, lenders, and insurers. So in 2018 it embarked on a major strategic shift, following such competitors as Opendoor Technologies Inc. and Offerpad Solutions Inc. into iBuying, the industry term for using software to determine how much to offer people for their home. 
The key to the iBuyer business is paying the right price, then making light repairs and selling it quickly at a markup. In the early days of Zillow's iBuying venture, the company hired local real estate agents to come up with a price, then compared that with the number the algorithms spit out. Another team of property experts at company headquarters in Seattle vetted the offers.
Under Barton, who was chairman of the company when the iBuying business started, and who took over as chief executive officer nine months later, Zillow minimized those functions to help get offers out faster. Automating the offer-making process helped Zillow cut expenses and increase acquisitions, feeding the growth that top executives felt was necessary to make iBuying profitable. 
By the Spring, Zillow became fixated on another issue. The forecasting models it used to generate offers had underestimated breakneck home price appreciation in the early months of the year, meaning its pricing algorithms spit out relatively weak offers, preventing it from buying as many homes as it would've liked.
Zillow turned up the dials in the second quarter, according to a person familiar with the decision, who asked not to be named because the matter is private. The move put Zillow out of step with competitors that had begun to take a more cautious stance, including Redfin Corp., which started making more conservative offers in March. But it also translated into rapid gains in the number of offers that Zillow's customers accepted. Zillow bought almost 10,000 homes in the third quarter, more than double the number from the previous quarter.
Zillow's humans couldn't keep up. The company hired 2,500 people in the first nine months of 2021, a 45% increase in head count, but neither the expanded workforce nor the armies of renovation contractors Zillow employed were big enough to flip the homes as quickly as it needed.
By the middle of October, Zillow began telling customers and business partners that it would stop making new offers until the end of the year, though it would continue closing on homes that were already under contract. This was clearly bad news—the stock lost more than 9% on the day after Bloomberg News reported the pause in buying—but Zillow blamed the pause on labor and supply shortages. Its shares recovered.
Within days it became clear that Zillow had a further problem. Even before it paused purchases, it had begun listing homes for less than it had paid for them. Two-thirds of the Zillow listings analyzed by analysts at KeyBanc Capital Markets were underwater, with an average discount of 4.5%.
The discounts were a reflection of Zillow's urgency to move properties faster. The longer a company owns a home, the more it pays in mortgage interest, taxes, and insurance. Zillow's loan covenants also limit the number of homes it can own for more than six months, according to documents viewed by Bloomberg. And the length of time it took Zillow to flip a home was growing. The median hold time for houses it sold in March was about 50 days, according to a Bloomberg analysis of records compiled by Attom Data Solutions. By October that number had increased to 84 days.
Things came to a head on Nov. 2, when Zillow said it was writing down its inventory of homes owned and under contract by as much as $569 million, or about $30,000 a home. It announced the end of its iBuying business and the deep job cuts. "To succeed, Zillow Offers needs to be 10X, or more, the scale we have today," Barton wrote in a letter to employees that day. That would mean exposing the company to billions of dollars in potential losses, "a risk far greater than we can take." 
Through a company spokesperson, Barton declined an interview request.
What happens next is unclear. Zillow's apps and websites recorded almost 3 billion visits in the third quarter. Its core online marketing business is on pace to grow 34% this year, and the strong housing market seems unlikely to dissipate anytime soon. Maybe some people will place a little less faith in the Zestimate now that Zillow has failed at valuing homes in the real world. But most people don't expect a website to spit out a precise value for a particular home.
What the CEO does next is another open question. Although Barton has come under fire, he owns a special class of voting shares, insulating him from calls to step down. People who know him say he's likely to stick around to get Zillow started on its next big thing before passing the baton.
Recently a new group of venture-backed companies, including Orchard, Knock, and FlyHomes, have been trying an alternate strategy for upending housing. Instead of focusing on buying homes and fixing them up, they offered bridge capital to buyers, allowing clients to make cash offers.
One clear benefit is that companies need only provide funds for the weeks it takes for their clients to get a mortgage approved, reducing exposure to market changes and making more efficient use of debt. A further benefit is that the service doesn't have some of the negative connotations associated with home-flipping.
It does require the kind of data chops for which Zillow was once renowned. Lately, the companies have taken to calling themselves power buyers, because they make their clients stronger competitors in bidding wars. Barton, a person familiar with his thinking says, likes the sound of it. —With Noah Buhayar
 
Read next: Baby Boomer Wealth Drives Up Cost of Living in Florida, Leaving Workers Behind