Will Early Investors Be the Big Winners in the Cannabis Boom?
A Guide to Cannabis Investing
(Bloomberg Businessweek) -- Amid a stock market rout on Oct. 10, shares of Aphria Inc., a cannabis producer, jumped as much as 17 percent after a report that tobacco giant Altria Group Inc. was interested in buying a stake in the company. Other pot stocks jumped on the news, and Altria's shares rose, too.
Investors have been cannabis crazy, bidding up stocks in pot-related companies. The Bloomberg Intelligence Global Cannabis Competitive Peers Index rose 103 percent in the 12 months ended on Sept. 28, outpacing gold, Bitcoin, and the S&P 500. Investor enthusiasm hasn't been hampered by the fact that most weed stocks lack earnings.
Outside the equity markets, though, pot is taking a little longer to catch on. Because it remains illegal on the federal level in the U.S., there are many barriers cannabis companies have to overcome before pot becomes a full-fledged financial asset.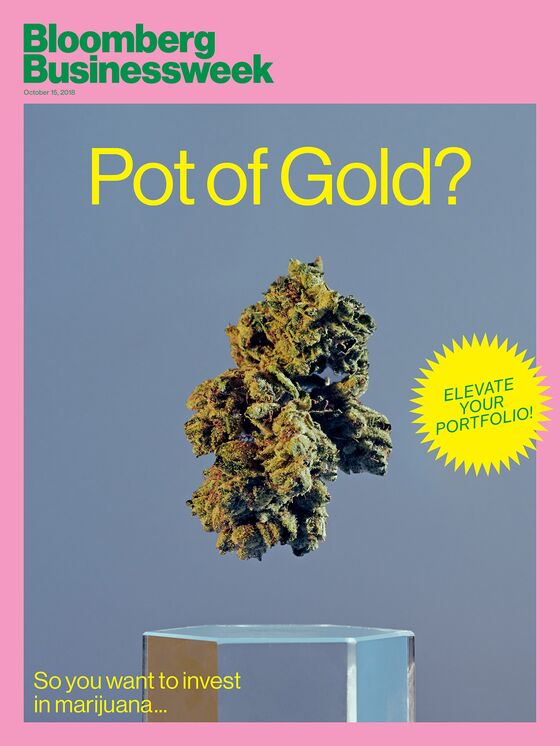 Aleafia Health Inc., an Ontario-based company that operates medical marijuana clinics across Canada and grows pot, recently filed to list on the Nasdaq. "Given the excitement in the industry, billions of dollars are being raised through equity," says Benjamin Ferdinand, Aleafia's chief financial officer. His company's stock already trades on the Toronto Stock Exchange. But if it wants to list in the U.S., Aleafia can't have any cannabis holdings stateside.
So companies with U.S. operations—such as the California-headquartered MedMen and Green Thumb Industries, which has its home base in Chicago—have listed on the relatively obscure, less stringently regulated Canadian Securities Exchange. The CSE completed C$1.4 billion ($1.1 billion) in equity raises in the first half of 2018, with almost C$1 billion coming from cannabis companies. That's more than was raised during all of 2017.
Banks—the traditional source of capital for emerging companies—are "cautious but becoming more interested," says Christopher Barry, an attorney at Dorsey & Whitney LLP who advises cannabis companies on financing and M&A. Canada's biggest lenders grapple with reputational risk and running afoul of regulators in the U.S., where many have substantial operations. Of the three biggest publicly traded cannabis companies, only Aurora Cannabis Inc. of Edmonton has secured access to a term loan and credit line from a major bank, the Bank of Montreal. Ferdinand says that the industry will need "more traditional access to capital" to grow and that the company is in active talks with banks to establish formal lending lines.
Getting traditional loans is a bigger problem in the U.S., where "a bank is not in a position to collect on those assets in the event a borrower defaults on a loan," says Daniel Shortt, a corporate attorney with Harris Bricken McVay Sliwoski LLP who advises cannabis companies on everything from licensing to financing.
While cannabis companies could also raise money by issuing bonds, it's not clear that bond investors would be as willing to jump into an industry with no established track record. But debt financing has been available through nontraditional sources such as specialized private lenders or other structured debt vehicles, according to Jesse Pytlak, an analyst at Cormark Securities Inc. "All these companies are racing to access capital as quickly as they can to build out infrastructure anywhere around the world where they can enter," he says.
Commodities including oil and copper have long had futures contracts, which allow buyers and sellers to lock in prices to assure the sustainability and profitability of their businesses. But futures contracts for cannabis flower—the female part of the plant consumed by smokers—might remain a pipe dream in the near term. The main reason: General consensus is that scale of the product requires U.S. legalization. And, second, prices vary markedly across the fragmented market in the U.S.—a condition that doesn't encourage the development of a nationwide industry standard.
And with different cultivation methods, Sour Diesel cannabis simply isn't as consistent as, say, sour crude. "Flower can have dramatically different cannabinoids and terpene profiles, as well as CBD and THC potencies that range from very low to very high," says Jonathan Rubin, chief executive officer of New Leaf Data Services LLC, which tracks cannabis prices. He reckons that industrial hemp, oils, isolates, distillates, and concentrates extracted from the cannabis plant are more likely to have futures contracts first. "To trade a future, you have to have a standardized contract and broad industry agreement and acceptance of quality standards."
To contact the editor responsible for this story: Silvia Killingsworth at skillingswo2@bloomberg.net