Work From Home Is Becoming a Permanent Part of How Jobs Are Done
(Bloomberg Businessweek) -- In the second-to-last week of December, 42.4% of U.S. workdays were worked from home. That's according to a monthly survey commissioned by a trio of economists studying remote work, who couldn't get the answers they needed from government data. It's probably the best measure we have of how entrenched working from home has become since the arrival of Covid-19.
Before the pandemic, WFH accounted for about 5% of U.S. paid full workdays, Jose Maria Barrero of the Instituto Tecnológico Autónomo de México, Nicholas Bloom of Stanford, and Steven Davis of the University of Chicago estimated on the basis of a government survey conducted in 2017 and 2018. That share catapulted past 60% in spring 2020, according to their Survey of Working Arrangements and Attitudes, and has held remarkably steady at a bit above 40% since May 2021, not long after vaccines became available to all working-age Americans.
The percentage has likely jumped in January, because of the omicron wave. As for what happens after, the survey also asks workers about their expectations for post-pandemic arrangements. Last spring the responses indicated they expected to work from home on 21% of workdays. By December that was 29%, and Barrero says he expects it to keep rising in coming months. The new normal we appear to be settling into, then, is one in which 30% to 40% of workdays are remote. That's for the entire workforce, including those with jobs that can't be done remotely, meaning the percentage is even higher for white-collar positions. It's the biggest change in generations in how Americans do their jobs.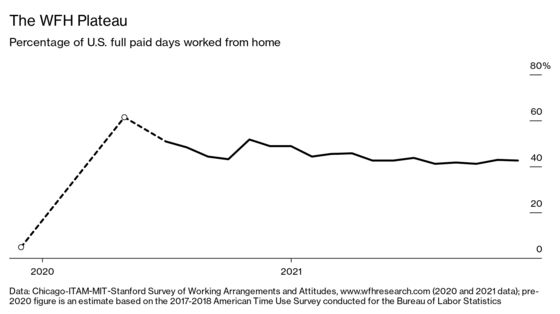 • Omicron Impact
In the first week of January, office occupancy was just 27.9% of the pre‑pandemic norm in the 10 cities tracked by access systems provider Kastle Systems International LLC, down from 40.6% at the beginning of December.
• Not Just Covid
In mid‑December just 11.1% of employed Americans reported doing any work remotely "because of the coronavirus pandemic," the Bureau of Labor Statistics reported.
• Education Gap
In a 2017-18 BLS survey, 51.9% of those with a bachelor's degree or higher said they could work from home, while only 11.1% of those with a high school degree or less could.