Where Is Russia's Amazon?
Where Is Russia's Amazon?
(Bloomberg Businessweek) -- In most countries, e-commerce is dominated by one or two behemoths, such as Amazon in the U.S. and Britain, Alibaba in China, and MercadoLibre in Brazil. In Russia, where the largest web store has less than 7 percent of the market, at least a half-dozen companies are in the running to become the king of online shopping.
That's set to change as the country's e-tailers gear up to spend more than $1 billion on their websites, warehouses, and delivery services. Those investments, starting next year, will help boost e-commerce in Russia to $52 billion by 2023, from $19 billion in 2018, Morgan Stanley forecasts, spurring a wave of consolidation likely to leave just a handful of major players. "It's been a breakthrough year for Russian e-commerce," says Sergey Libin, an analyst at Raiffeisenbank AO in Moscow. "Local internet giants are forming alliances with other heavyweights to conquer the market."
Internet search provider Yandex NV has teamed up with state-controlled Sberbank PJSC to create Beru, which seeks to transform Yandex's price-comparison site into a full-fledged web retailer with fulfillment centers across the country. Social network operator Mail.ru Group Ltd. is working with Alibaba Group Holding Ltd. to build a web shop offering all manner of goods. Ozon.ru, an online hypermarket backed by billionaire Vladimir Evtushenkov, raised $80 million this year and plans to more than double its warehouse space. Electronics e-tailers Citilink and M.video PJSC are expanding into a wider range of goods. And clothing specialist Wildberries is adding appliances, electronics, and more.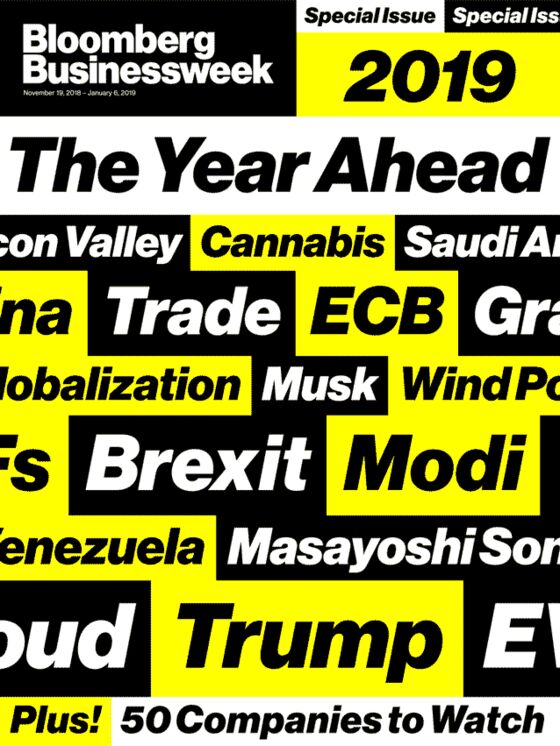 What's unusual about Russia's e-commerce landscape is the absence of Amazon.com Inc. Facebook Inc. and Google have made inroads, but Amazon and many other big overseas companies have been slow to invest in a country that has laws restricting foreign ownership and is under international sanctions for its annexation of Crimea. Even Alibaba, the biggest foreign operator, has only tiptoed in, mostly selling imported goods directly to consumers rather than investing in its own operations in Russia. One big advantage for the outsiders is that they're not required to collect the country's 18 percent value-added tax on purchases below about $1,100. "Logistics in Russia are difficult," says Fedor Virin, a partner at researcher Data Insight. "The cross-border model, without establishing a physical presence, has been the most successful strategy for international online retailers."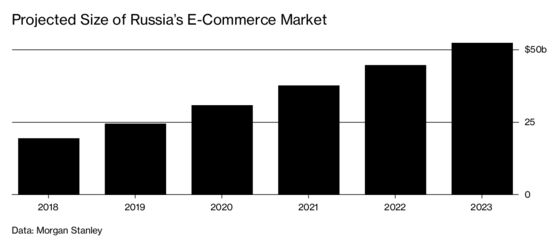 By many measures, Russia is primed for e-tailing growth. Internet and smartphone adoption is higher than in Brazil and India. There are now some 270 million bank payment cards in Russia, up two-thirds since 2012. And more than half of Russians buy online at least once a month, according to Morgan Stanley. "Money is pouring into Russian e-commerce," says Artem Sokolov, executive director of the Association of Internet Trade Companies, a lobbying group for web shops. "Next year the market will get a boost from a surge in sales of food and groceries, and the government is set to legalize online sales of alcohol and medicine, which will create a further push."
Much of the investment will go into getting goods to customers more efficiently. Russia ranks No. 37 in the Universal Postal Union's assessment of mail services—behind China, India, and even Moldova. Shipments routinely go missing, and until two years ago, the Russian Post didn't deliver packages to apartments in cities. Private courier services, meanwhile, are too expensive for most consumers.
That means would-be e-commerce players must invest far more in their own logistics operations than they do elsewhere. Wildberries, for instance, has a huge warehouse in Moscow as well as smaller facilities across the country, and it operates a fleet of 600 vehicles. Ozon runs its own courier service, which includes more than 5,000 self-pickup points and parcel lockers. "A good supply chain and expertise in logistics are the key to expanding online sales" in Russia, says Daniil Fedorov, director for corporate development at Ozon.
Russia's traditional retailers, of course, already have many of those assets, opening the door to online competition from chains such as X5 Retail Group NV and Magnit PJSC. Those companies, which have invested heavily in store networks and logistics, could either create their own e-tailing businesses or buy one or more of the online upstarts, says Ivan Fedyakov, head of researcher Infoline. While contenders such as Yandex and Mail.ru have the financial clout to sustain years of losses as they build their business, the newer e-tailers are largely dependent on cash flow to fund operations. "They'll find it hard to compete," Fedyakov says. "They're not sitting on piles of investors' cash, and they don't have a solid offline business." 
To contact the editor responsible for this story: David Rocks at drocks1@bloomberg.net
Get Your
Daily Newsletter
Get market moving news, top news & compelling perspectives
---