A First Step for a Family Biotech's Vaccine Against Alzheimer's
United Neuroscience's small Phase II trial appears to have overcome a decades-old hurdle.
(Bloomberg Businessweek) -- For two decades, biotech companies trying to tackle Alzheimer's disease have had little success. While vaccines have often shown promise for certain patients, they've come with devastating side effects for others—brain swelling, for example—because researchers haven't been able to reliably keep patients' immune systems from kicking into overdrive when exposed to the vaccines. Now, a four-year old Dublin startup believes it may be on to something.
To be clear, United Neuroscience Inc. hasn't solved Alzheimer's yet, nor has it claimed to. But previously unreported results from a small, recent United clinical trial show that 96 percent of patients responded, without serious side effects, to the Alzheimer's vaccine the company calls UB-311. The patients demonstrated improved brain function and showed a reduction in the protein plaque gumming up their neurons, the company's report says. "We are doing better than the placebo on all these things," says Chief Executive Officer Mei Mei Hu. "We can't make any claims yet, but we're pointing in all the right directions."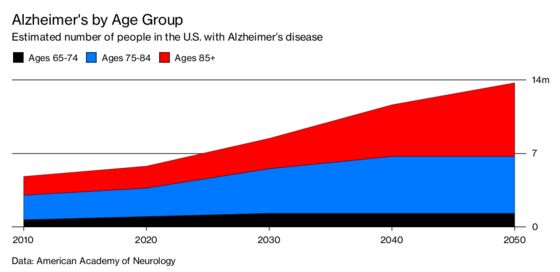 While scientists aren't sure what causes or exacerbates Alzheimer's, there are several prime suspects: amyloid, a group of proteins that build up in the body over time and clump together in ways that wreak havoc on the brain; tau, another family of proteins with similar issues; and inflammation in general. United's vaccine stimulates the patient's own immune system to attack amyloid, which some researchers believe to be the leading cause. The vaccine's job is to slow the proteins' clumping and, if possible, reverse some damage and restore brain function.
United's clinical trial, a Phase II study completed last year, tested the vaccine with a group of 42 patients who had mild cognitive impairment and appeared to be in the early stages of Alzheimer's. One set of patients was in the control group and received a placebo, while two other groups received three shots of the vaccine and then boosters either every three or six months over the course of a year and a half.
Although the small number of patients prevents United from drawing any major statistical conclusions, the company has been encouraged enough to move ahead with development of the vaccine, possibly with a larger partner, according to Hu.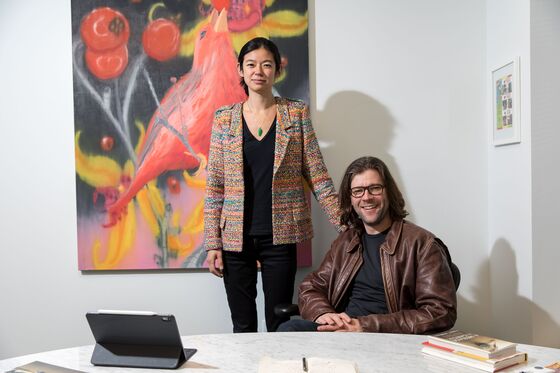 "They claim to get around the immune response, and it looks like they have been successful," says Frank Longo, chairman of Stanford's neurology department and co-founder of Pharmatrophix Inc., which is also trying to cure Alzheimer's. "So that's good." United says it's spent $100 million so far on vaccine research and development.
Hu, 35, has a résumé that reads part Ivy League all-star and part industrious hippie. She's a Harvard-trained lawyer who practiced at Cravath, Swaine & Moore, consulted for McKinsey & Co., then left to start an organic farm and solar power company in Hawaii with her husband, Lou Reese, a 37-year-old real estate developer. They ran the farm for a couple of years, watching YouTube videos to figure out how to, say, slaughter chickens, before expanding the family circle with their latest venture.
Hu's mother, Chang Yi Wang, is United's chief scientific officer and was the inspiration for starting the company. Wang has spent decades developing medical treatments and vaccines, including an affordable blood-screening kit for people in developing countries, as well as a vaccine that protects animals against foot-and-mouth disease and another that chemically castrates male pigs to keep their meat tasty and marketable. The vaccines have proved so effective at keeping pigs healthier that they've been used on billions of animals in China, Mexico, Brazil, and Russia. "My mother-in-law actually invented something that Harry Potters your balls and makes them disappear," says Reese, who's prone to gesticulate and toss his hair while Hu remains measured and direct. "The intensity of that as a son-in-law is unbelievable."
The family's big realization was that the same technology breakthroughs that made the animal vaccines work so well could likely be applied to humans. Hu and Reese persuaded Wang to give the research a go and lent their business expertise to taking her ideas out of the lab and into the field.
Yet targeting amyloid alone, without trying to control tau or inflammation, remains controversial, says Stanford's Longo. "Any therapy centered on going after amyloids is dependent on how accurate the amyloid hypothesis is, and that hypothesis continues to be questioned," he says. Also in the minus column: People using UB-311 would ideally start treatment before they showed symptoms and then receive a dose every six months. It's not a one-shot deal, and physicians can't confidently predict who will get Alzheimer's and dementia.
For now, United says it's focused on raising capital to fund a more conclusive UB-311 study and to keep refining its widening range of vaccines. The 35-person company is gearing up to start trials of UB-312, aimed at Parkinson's disease, and a second Alzheimer's vaccine meant to combat tau. "They have taken thoughtful initial steps with this very promising technology," says Eric Reiman, a leading Alzheimer's researcher and an adviser to United Neuroscience. "But this is still the beginning of the beginning."
To contact the editor responsible for this story: Jeff Muskus at jmuskus@bloomberg.net, Dimitra Kessenides