Unequal and Irate, Latin America Is Coming Apart at the Seams
The region's competing models of government—leftist populism and market-oriented liberalism—are both under threat.
In Chile, it was sparked by a minor increase in the capital's subway fare. In Ecuador, it was the end of fuel subsidies, and in Bolivia, a stolen election.
Latin America, which a decade ago harnessed a commodities boom to pull millions out of poverty and offer what many saw as a model of modernization, is in revolt. It's not another pink tide, nor is it a lurch to the right; the movement is more a non-specific, down-with-the-system rage. Furious commuters are looting cities, governments are on the run, and investors are unloading assets as fast as they can.
With almost three dozen countries and more than 600 million inhabitants, Latin America defies easy generalization, which makes it difficult to predict what will come next. A few weeks ago, Evo Morales, the longstanding president of Bolivia, seemed headed for reelection. Today, he and his top aides are in exile in Mexico while some in his country have taken to the streets again to protest what they say was the military coup that removed him.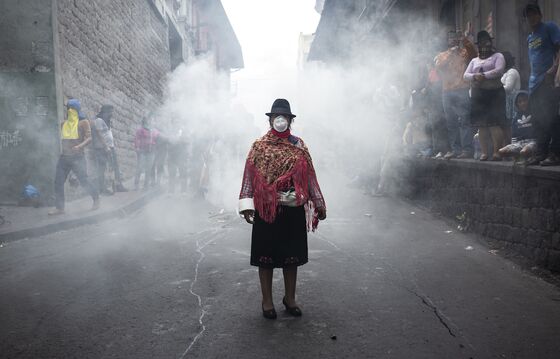 In that sense, there are parallels with the Arab Spring, which began in 2010, and the collapse of the Soviet Union two decades earlier. Both were unforeseen and moved in surprising directions, yet they offer lessons in retrospect. "There were a lot of cracks, but no one saw it coming," says Javier Corrales, a professor of political science at Amherst College in Massachusetts, of events in Bolivia and across the region.
Two common factors stand out, he suggests: commodity dependence and the middle income trap, referring to the stagnation that often sets in after a population climbs out of extreme poverty and then struggles to achieve further development. Latin America is the most unequal, lowest-growth major region in the world right now, offering a cautionary tale for other parts of the globe with similar dynamics.
"Inequality is the main cause of the disenchantment being felt by citizens throughout the region in the face of a stunned political establishment yet to understand that the current development model is unsustainable," wrote Alicia Bárcena, the executive secretary of the United Nations' Economic Commission for Latin America and the Caribbean, in a recent essay. The people want to eradicate the culture of privilege, she added.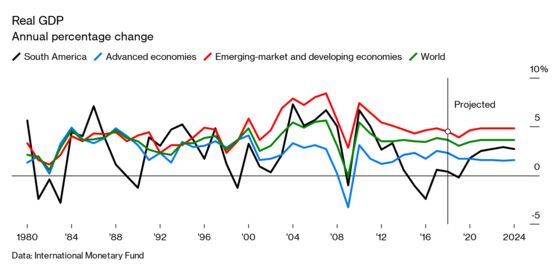 The region is caught between competing models of government: leftist populism and market-oriented liberalism. Governments of each type have been plagued by incompetence, corruption, and a failure to meet social demands. The result has been a growing fury toward the ruling classes, leading people to the streets. In Chile, almost a month of violent protests over the suspended fare rise have caused deaths and extensive property damage, challenging its image as South America's stablest and richest nation.
"People are angry at their political systems," says James Bosworth, author of the weekly newsletter Latin America Risk Report. "There's an anti-incumbent wave and governments haven't dealt with the roots of the problem, and those problems aren't going away."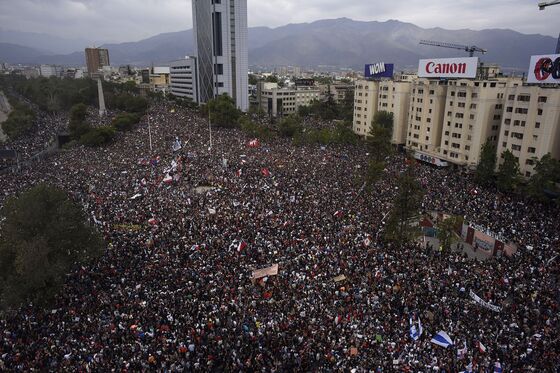 Political leadership remains in the hands of a few, who somehow keep cycling back. Morales had run Bolivia for 14 years. Chile's Sebastian Pinera and Michelle Bachelet have alternated in power since 2006, and Argentina's Cristina Fernandez is coming back as a vice president after ruling from 2007 to 2015. Having left jail on Nov. 9, Brazil's Luiz Inácio Lula da Silva, who ruled from 2003 to 2011, is an early front-runner for the opposition in 2022, despite having been convicted on multiple charges of corruption. Venezuela's Nicolas Maduro has been in power almost seven years, heading the Socialist movement founded by Hugo Chavez that has led the oil-rich country since 1999.
Technology is also playing a role. As smartphones and internet access spread, more people are tuning into real-time developments across the world and organizing quickly, often without leadership. In Chile, for example, it wasn't clear with whom the government could sit down to negotiate. On Nov. 15, lawmakers in Santiago announced they'd reached an agreement to rewrite the constitution, meeting one of the protesters' demands.
The authoritarian regimes in Cuba and Venezuela should be feeling nervous, Corrales says. "All of a sudden, Bolivia collapsed in this way, and it involved two groups that were loyal to the government—a certain union and the military," he says. Venezuela's Maduro has relied on his military in the face of numerous rallies protesting the rigging of last year's election.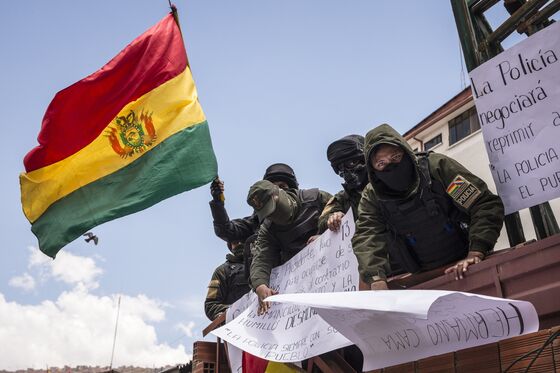 Centrists—such as just-defeated Argentine President Mauricio Macri—have little support in Latin America at the moment, just as in the rest of the world.
One of the reasons investors expected Macri to be reelected was his advantage as the incumbent, with the power of the state and public coffers on his side. But he lost in the first round of voting, a referendum on his failure to control inflation, protect purchasing power, lower poverty, and maintain jobs.
Eventually the tide of anti-incumbency may hit even outsiders, such as Brazil's rightist President Jair Bolsonaro. If seeing Macri lose wasn't enough to spook him, the raging protests and unrest in Chile should be. His government is doubling down on a reform agenda after already pushing through a pension overhaul and is counting on growth next year to cement support as he faces a challenge from Lula.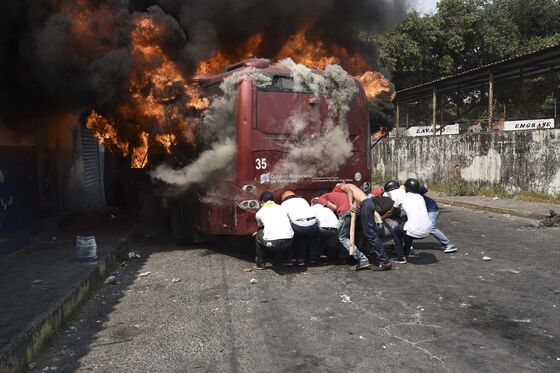 Like Bolsonaro, Mexico's Andres Manuel Lopez Obrador won in 2018 as an insurgent. The condition almost a year into his six-year term—low growth, rising crime, and declining investment—will complicate his plans and likely dent his still-high approval ratings. Ecuador's Lenin Moreno is treading lightly after violent protests that forced him to move the government out of the capital temporarily. After winning election as the successor to leftist Rafael Correa, he pivoted 180 degrees to rule from the center-right and investigate his former allies for graft. But popular pressure is forcing him to recalculate as he struggles to meet terms under an International Monetary Fund aid program, which required the elimination of popular fuel subsidies. 
Recognizing social inequality and attempting to fix it, however belatedly, is no guarantee that protests will die down. Venezuela's opposition leader, Juan Guaidó, organized the largest street demonstration in months on Nov. 16 in what he's dubbed a "permanent protest" against Maduro. In Colombia, unions and students called for a nationwide strike on Nov. 21. Some in Chile maintain that they'll only be satisfied if Pinera resigns.
"Anger at the political systems isn't going away and, in many ways, governments are trapped," says Bosworth, the risk report author. "There will be more protests, and they'll be more violent in 2020."
To contact the editor responsible for this story: David Papadopoulos at papadopoulos@bloomberg.net, Ethan Bronner