NYU, Duke Retain Lucrative Students With China-Based Campuses
(Bloomberg Businessweek) -- Neveah Sun was looking forward to studying at New York University this fall, majoring in psychology and journalism while experiencing life in Manhattan's Greenwich Village. Instead, the 19-year-old from the Chinese city of Suzhou spends her days at a WeWork office in Shanghai that NYU has converted into classrooms for a new program catering to students who can't get U.S. visas because of Covid-19. "At first I thought it was a little weird, but I'm getting accustomed to it," she says. "Also, we have a fantastic view."
NYU can accommodate students in Shanghai thanks to a joint venture it formed there in 2012 with East China Normal University. A separate degree-granting institution with its own admissions procedures, administrators, and almost 2,000 students, NYU Shanghai shares some faculty members with the New York school and sends many of its undergraduates to study there as exchange students. Now, NYU Shanghai is temporarily home to more than 2,800 additional students, most of them Chinese enrolled at the New York campus but unable to travel.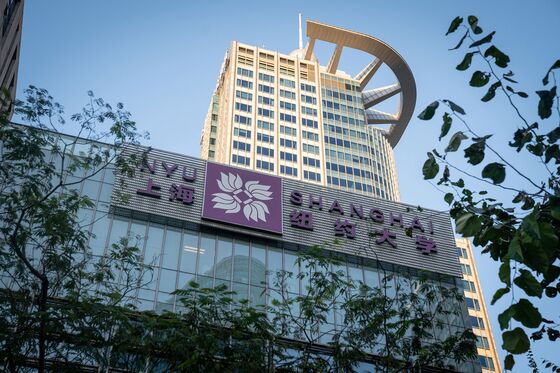 Other parts of Asia have seen foreign universities set up campuses with local schools, commercial companies, or investors in search of profit. But that business model doesn't work well in China, where the government is more protectionist, says Michael Bartlett, a partner at Singapore-based Alumno, an international education consultant. Instead, he says, many Western schools benefit from having Chinese affiliates, which can help them gain better scores in global rankings and greater opportunities for professors and students. "For some, it's about the reputation, having a name, and being able to punch above their weight in a key market," Bartlett says.
By hosting students like Sun who can't go abroad, those partnerships are helping foreign schools hold on to a good chunk of revenue: Chinese students typically pay full tuition, because they don't usually qualify for financial aid. And students being hosted by affiliated schools in China don't have to attend Zoom classes in the middle of the night because their professors are in a time zone half a world away. In China, where the virus is largely contained, schools are having in-person classes. "My friends at other universities are a bit envious," says NYU Shanghai Vice Chancellor Jeffrey Lehman. "Their students who are blocked from entering are taking all of their classes remotely, while our students are able to avoid that and feel a sense of community."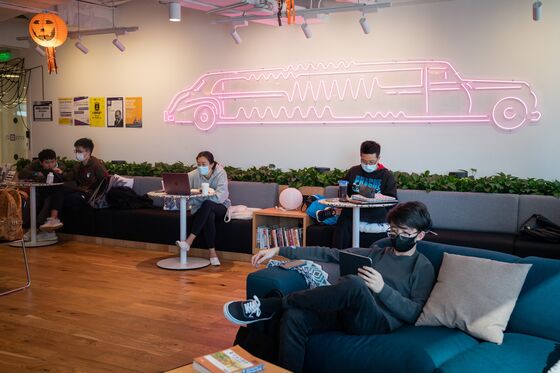 China accounted for one-third of the 1.1 million foreign students in the U.S. in the 2018-19 school year, the most recent data available, and those Chinese students generated $14 billion in revenue for U.S. colleges and universities, according to Rahul Choudaha, director of research at the Graduate Management Admission Council. Fewer students from China, he says, could cost U.S. higher education—already in a funding crisis—$700 million this year. Enrollment for international undergrads attending U.S. colleges has dropped 14% from last fall, according to data from the National Student Clearinghouse Research Center.
Having an affiliate campus in China can help U.S. schools provide temporary homes for students and retain the thousands of dollars in fees each one pays. At Duke Kunshan University, a venture near Suzhou between Duke and Wuhan universities, about 120 students who were supposed to be in North Carolina are taking a mix of in-person and remote classes. Several dozen University of Connecticut students unable to travel are studying at a Chinese campus of the University of Nottingham in Ningbo, which in normal years is the site of a study-abroad program for UConn students. A venture between England's University of Liverpool and a Chinese partner has added students at a campus in Suzhou, too. "China-based schools are increasingly attractive, because students can be in class without the threat of infection," says John Darwin Van Fleet, director of corporate globalization at Shanghai Jiao Tong University's business school. "This is a very good moment to be operating these campuses."
Kean University has had to close some facilities at its Union, N.J., campus to address a budget shortfall caused by a Covid-related decline in enrollment this fall. But the number of students is up at Wenzhou-Kean University, its joint venture in eastern China. WKU this semester added about 100 students who'd planned to attend other foreign schools, as well as some WKU students who would have spent the year in New Jersey. Kean gets 9% of tuition revenue generated by the venture: "Any revenue coming in would be very helpful," says President Lamont Repollet.
For NYU, which last school year had a budget of $3.5 billion (not counting its big hospital and medical school), the importance of the Shanghai campus is not whether it can generate a few million dollars of revenue but whether it can help build its global profile and compete for talent against Ivy League schools such as New York rival Columbia, which is much richer. NYU Shanghai says it sends some money to New York, reimbursing costs incurred when NYU hosts exchange students, but is independent financially and doesn't share profits or receive subsidies with its U.S. co-founder. NYU has about a dozen locations worldwide, including academic centers in Africa, Australia, Europe, the Middle East, and South America, as well as a degree-granting campus in Abu Dhabi.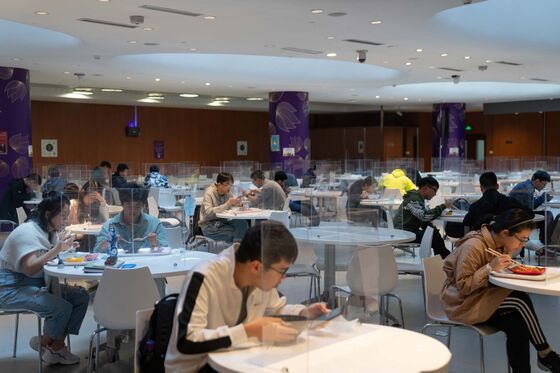 The worldwide outposts help improve the appeal of NYU back in New York, says Robert Kelchen, an associate professor of higher education at Seton Hall University in South Orange, N.J. Indeed, even though Chinese enrolled at NYU Shanghai get a break on tuition thanks to government subsidies, the joint venture hasn't hurt the flagship's ability to attract students from China. NYU had more than 8,700 students from the People's Republic in 2018-19, according to data from the university, up from about 2,100 in 2012.
The latest U.S. institution to expand in China is New York's Juilliard School, the renowned arts institution, which opened a branch in Tianjin in September. China's Ministry of Education in March also approved a partnership between Georgia Tech and Tianjin University scheduled to open in the southern Chinese city of Shenzhen next year.
Critics wonder if foreign schools are paying too high a price for exposure to the Chinese student pool. China scholar Jerome Cohen, founder and faculty director emeritus of the U.S.-Asia Law Institute at NYU's law school, warned on his blog in January of the threat to academic freedom on China's campuses from tighter controls by government, including changes to university charters to promote the role of the Communist Party. Foreign universities operating in the country should "expose the realities of contemporary education in China for world consideration," Cohen wrote.
NYU Shanghai last year began mandating Chinese students take a "civic education" course, similar to mandatory political education classes at other Chinese universities. (Non-Chinese students, who account for half of the school's undergraduates, don't have to take the class.) "You need to have political literacy in order to survive as a Chinese citizen in China," explains NYU Shanghai Chancellor Tong Shijun, previously the Communist Party secretary at East China Normal University. "That's an essential part of the Chinese education for Chinese students."
When it comes to its core values, NYU Shanghai maintains academic freedom and emphasizes that message with professors, says NYU Shanghai Provost Joanna Waley-Cohen, who's also a history professor at NYU in New York. "We tell them to teach and adhere to the standards of academic rigor that they always have," she says.
Still, despite the benefits, other schools have had second thoughts. Wesleyan University in 2019 ended efforts to open a joint venture in Shanghai, soon after the Middletown, Conn., school's president warned of "serious concerns about academic freedom and a host of related issues." And, in 2018, the University of Groningen in the Netherlands scrapped plans for a Chinese campus, citing insufficient support within the University Council, composed of students, faculty, and staff.
With relations between China and Western countries deteriorating and Chinese president Xi Jinping tightening the government's control over higher education, the climate is worsening for joint ventures with ties to both sides, says Philip Altbach, founding director of Boston College's Center for International Higher Education. Universities thinking about expanding in China "are going to be much more careful," he says. "There's going to be a major rethinking of how foreign institutions engage with Chinese universities."
For now, having a Chinese campus is paying off for NYU. "I want to go to New York so bad," says Cecilia Yiyue Chen, a 19-year-old sophomore at the Shanghai program for visa-less students. But with Covid cases surging in the U.S., "my family thinks Shanghai is way safer." —With Janet Lorin