The U.S. Army Is Finally Close to Replacing Its 1980 Fitness Test
(Bloomberg Businessweek) -- Here comes a leaner, meaner fighting machine: The U.S. Army is adopting a new fitness test for the first time in 40 years, part of a larger health overhaul aimed at making soldiers stronger, less prone to injury, and better prepared for 21st century combat. The change, in progress for years but delayed by Covid-19 and concerns about the test's design, is likely to become official this spring.
The old test—two minutes of situps, two minutes of pushups, and a 2-mile run—has been standard for soldiers since 1980. It's a good assessment of muscular endurance and cardiovascular fitness, says Colonel Kevin Bigelman, the holistic health and fitness director at the U.S. Army Center for Initial Military Training at Fort Eustis in Virginia. But "there are other key physical assets that soldiers need to have for success in combat," he says: Strength, coordination, agility, and balance are all critical.
The Army Combat Fitness Test (ACFT), which the Army has been piloting and tweaking since 2019, consists of six exercises administered over 120 minutes: dead lifts; medicine-ball throws; hand-release pushups; sprint-drag-carry exercises; leg tucks or planks; and a 2-mile run. It requires much more upper-body and core strength than the older test to more closely match on-the-ground demands such as carrying heavy loads, extracting injured personnel from the battlefield, and pushing and loading equipment.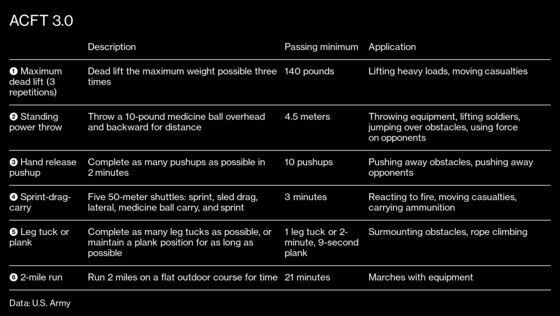 More than half of American soldiers experienced an injury in 2019, according to the 2020 Health of the Force report, and the Army spends about $577 million annually treating musculoskeletal injuries. Rising obesity and sedentary habits in the general population have made their way into the Army, and about 17% of soldiers are obese. Better physical preparation would lower the risk of injury, reducing the Army's medical costs and lost-duty days.
The nature of combat has also changed since the 1980s and continues to evolve. In a conflict with what the military calls a "near-peer adversary"—like China—soldiers wouldn't be able to count on forward operating bases, "where we are going to have superiority, where we are able to keep troops away from the frontlines," says Major Randy Ready, spokesman for the Center for Initial Military Training.
To prevail in a different kind of conflict, soldiers will need to be able to perform tasks such as quickly building a fighting position and moving over, under, around, or through obstacles on uneven terrain. Recent advances in military gear and technology can mean heavier equipment or mobility-limiting armor for soldiers to contend with.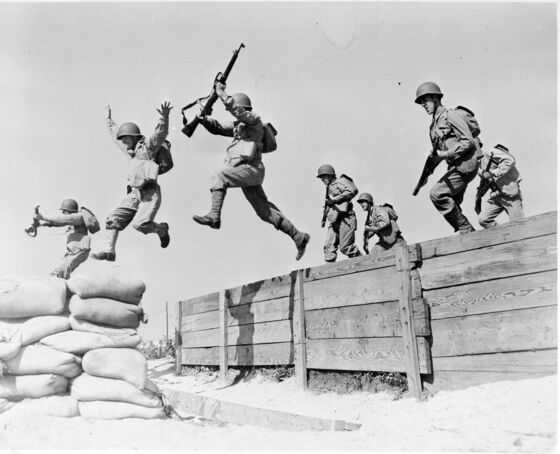 Helping the Army assess the new test, scientists at the Iowa Technology Institute at the University of Iowa are doing biomechanical analyses to determine if the levels of strength it calls for are similar to what's needed for activities such as lifting ammo boxes and digging holes. Although the dead lift, with three repetitions at 140 pounds, is challenging, for example, the exercise doesn't require as much strength as lifting and moving a body, according to Laura Frey-Law, an associate professor of physical therapy and rehabilitation science at the University of Iowa.
To pass the ACFT, which isn't yet compulsory, soldiers must score at least 360 points out of a maximum of 600, or at least 60 points per event. The scoring is the same regardless of age or gender. But that may change, and other things about the test are still up in the air, including how it will affect promotions and when it will become the test of record.
Last year the Pentagon found that women were failing the new test at a rate of 65%, while only 10% of men failed. Democratic Senators Kirsten Gillibrand of New York and Richard Blumenthal of Connecticut, who both sit on the Senate Armed Services Committee, have criticized the exam on the grounds that it could endanger the professional prospects of women soldiers especially and hurt recruitment and retention in less physically demanding specialties, such as cybersecurity, law, and medicine.
In the 2021 defense authorization bill, Congress instructed the Army to halt implementation of the test until independent reviews were conducted, and the Army decided not to count the test scores toward promotions. It is mulling using gender-specific percentile groupings when considering promotions to account for physiological differences between men and women.
An independent study of the test by Rand Corp. is expected to be released in December. Army leaders are hopeful that on April 1, the current ACFT "or something very similar" will become the test of record, Ready says.
The ACFT is the culmination of an ambitious and costly program the Army has modeled on professional sports and college athletics, which entails building fitness hubs and hiring everyone from physical and occupational therapists to dietitians and cognitive performance specialists to work with soldiers. So far, 28 brigades have access to these holistic health and fitness teams, and by 2030, 110 brigades out of more than 150 are expected to have it.
The Army "is kind of catching up to what has been the gold standard across professional sports and collegiate sports for a number of years," says Bigelman of the U.S. Army Center for Initial Military Training. "I'm not saying that every individual soldier is a world-class athlete, but they should be treated like an athlete and cared for like an athlete because soldiering is a physical profession."
 
Read next: How to Deal With Burnout—Performance Psychology Tips From U.S. Military Academy at West Point